Parking Lot Party: True fans are cars
Hang on for a minute...we're trying to find some more stories you might like.
The excitement of the crowd is buzzing throughout the packed room. As drums begin to pound, the anticipation quickly builds; anxious to experience how the music feels, what the beat will be like. Slowly, the stage illuminates with blazing yellow lights, and the song begins to play. Parking Lot Party, once again, is drawing quite the crowd.
Southeast is full of talent; from athletes to interior designers, we house them all. However, music is one thing that shines the brightest in the school, providing an outlet from the pressures of academics, and instilling a passion that lasts beyond high school.
One group of junior and senior boys has taken their hobbies further than they expected, forming a band that began last year at the school's winter talent show "Nite of Knights" (NOK). The group consists of Carson Dettmer (11), Jacob Pilker (11), Avery Watts (12), Canyon Skare (12) and Jack Dobson (12). They call themselves "Parking Lot Party", a name made up on the spot.
"It was after one of the NOK performances, and we went and got Sonic together as a band. We were all just sitting in one car in the parking lot, blasting music and drinking slushies, and we were trying to come up with a band name because at the talent show we didn't have a name," Dobson said. "I think it was Avery, who was like, 'we're having a party in the parking lot right now. Like a parking lot party,' and everyone was like 'ohhhhhh!!'" Although the group went through countless other options, they knew Parking Lot Party (PLP)was perfect.
So far, Parking Lot Party has had a handful of live performances. Last year's talent show, Nite of Knights, was their first performance as a group and also the reason they got together.
"Originally it was me and Jack trying to play a Harry Styles song," Watts said. However, the boys got to talking during cross country practice, and quickly realized that they each played different instruments that would perfectly contribute to a band.
"It was mostly a group effort," Dettmer said. "But I'd say it was Jack and Avery that got it going."
One by one, the members committed to performing together at NOK until they formed the Parking Lot Party group they are today. "It was Carson, Canyon, Jack and Avery, and they needed a second guitar so they texted me while I was on vacation and were like, 'Hey want to try and learn this song in like two weeks?' I was like, 'Okay', so we got it, it sounded really cool, and we did the talent show," Pilker said.
Pilker also had previous experience with the talent show. "My freshman year I did Nite of Nights with Abby and Ally Hall, Emma Lauterbach and my sister Grace Pilker." The group got told many times that they should try to continue their performances, but it just never happened. That's why everyone was surprised when Watts was contacted by The Bay to ask if PLP group would play at "Shindig", a benefit concert.
Before the contact was made, Parking Lot Party was nearly nonexistent for months. "There was a phase after NOK last year we just didn't get together for a while and we were kind of all doing our own thing," Skare said. "I was mostly playing with another band which is kind of taking a hiatus right now. Carson had some guitar riffs he really enjoyed and Jack was thinking about putting some lyrics to them." However, they quickly realized their little talent show band could actually turn into something exciting.
"There was one night when I came over with [Carson and Jack], and there was a specific instrumental that we put together that night. About a week later we had Jacob and Avery come with us and we put the whole instrumental together and were like 'wow this sounds really good, we could actually write our own songs' and it was kind of like an epiphany moment," said Skare.
Ever since, PLP has moved from strictly covering songs, to venturing into the world of songwriting. Although all of them pitch in to create songs, Dettmer is the main contributor. "Carson's a musical genius," Watts said.
Dettmer doesn't intentionally go out and make songs, it's a spontaneous thing that he enjoys being apart of, "I don't sit down and say I'm going to write something right now, I'll just be messing around on guitar and be like 'this sounds like a good idea' so I'll write it down on my phone."
Even though it may seem like writing songs is more difficult than learning a cover, all five members agree that the originals are a whole lot easier to master. "It's so easy [to learn originals] because it's ours," Dobson said.
All five members individually practice their parts until they feel comfortable with the song, but when there is a gig coming up, the schedule gets a little tighter so they can perform at their best. "Most of the time we get together about four weeks before our gig and lay everything out. Within that next four weeks we have, I'd say, close to ten or fifteen practice sessions, and the week before we get together a bunch to make sure everything is finalized and sounds good," Pilker said.
Now, with a mixture of mostly originals and a few covers here and there, group practices vary depending on time. "It's an interesting blend, and I'm excited to see where it goes with the songs we have right now," Skare said.
All of the members are involved in a variety of activities at Southeast, so it can be difficult to find time to practice, so they make sure to never put pressure on themselves. Skare explains it best: "It's not like our goal is to get out there and be famous, it's to play good music and entertain. To just have fun. We do it to have fun." Which is probably why so many of their friends and family members enjoy attending every gig and performance.
Some of the band's best memories have been made dancing on stage, having their names announced to the crowds, and looking out to see familiar faces cheering them on. The most recent performance at The Bay was a fundraiser for their organization, and it was also Parking Lot Party's first paid gig, which leads them to question, what will the future hold?
As of right now, the future is to continue gigs and opportunities at local places like The Bay. There have been other offers, but those results are soon to be released! Besides that, they plan on continuously meeting and practicing, but want to get in as many live performances as possible because, as Pilker said, "You can practice it a million times, but you never know how it's going to sound until you get up in front of people."
Also, they hope to record an Extended Play, which is similar to an album. The goal is to get it up on some sort of app so their friends and growing fans can enjoy their music any time.
However, after a year or so, the future of Parking Lot Party is undetermined since three out of the five members are current seniors. But don't let that stop you from going out and enjoying their fresh, original music and cheering them on as they continue to cause parties in parking lots all over Lincoln. After all, these five Lincoln Southeast students are a prime example of how to use your talents to the best of your ability!
About the Writer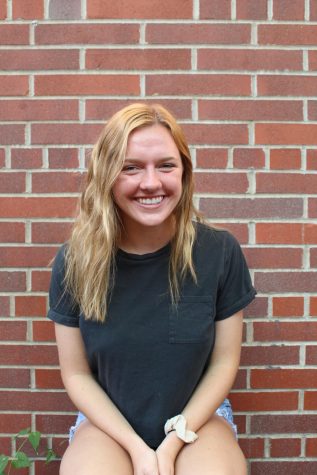 Chloe Heller, Co-Editor-in-Chief
Chloe Heller is a senior at Lincoln Southeast High School and has been a part of the Clarion staff for three and a half years. Outside of writing, she...