Behind the scenes of "She Kills Monsters"
Hang on for a minute...we're trying to find some more stories you might like.
Two cheerleaders walk up to the most popular football player in the school. He, being oblivious, doesn't listen to the warnings to stay back. He says to the team of Dungeons and Dragons players, "Don't worry. It's just a couple of cheerleaders. What's the worst they could do?" The cheerleader on the right suddenly rips through his flesh and grabs hold of his heart. The next second, his heart is out in the open and beating in the cheerleader's bloody hand. He immediately goes limp and crumbles to the floor. No more heartbeat and no more pulse. The witnesses are in shock as they look at the cheerleaders, but they knew something bad was going to happen to the football player. After glancing at his body, looking small and weak on the floor, they are determined to beat the two murderers. An intense battle breaks out. Arms are ripped completely off, people are pierced by two swords and blood is spilled.
From the back of the room, a loud "Hold!" comes from the director. The actors pause and relax. The scene is over.
Many people only see the scene as how it looks on stage, not taking into consideration how much work it took to create or how rewarding it was when it finally came together. Southeast's rendition of Qui Nguyen's "She Kills Monsters" could not be possible without the students putting their hearts and souls into the production.
"There's so many layers and components that just make this spectacular show and I love that we only have three performances, because then we get to start all over again. You know, tear it all down and start from scratch again," senior Aisha Monismith, a drama officer and one of the makeup managers for the fall play, said.
In the play, which Southeast presented Oct. 12-14, high school student Agnes Evans tragically loses her 15-year-old sister Tilly in a car crash. After Tilly's death, Agnes finds one of Tilly's friends, named Chuck. Chuck tells Agnes that Tilly was the creator of the popular role-playing "Dungeons and Dragons" (D&D) game, and he is the dungeon master, which is the person who rolls the dice and decides the fate of a game. Agnes is given Tilly's notebook which contains all of the D&D plans. Through encountering Tilly's friends and fighting evil with them, Agnes finds out what Tilly's life was actually like. "She Kills Monsters" is a story of regret, friendship, loss and acceptance.
"Even though it sounds really cool with 'Dungeons and Dragons,' and all these monsters and things like that, it's actually a story with a big heart because it discusses how we make assumptions about other people and how we don't really know who some people truly are," Theatre Director Tyler Lambley said. "[It's a story about how we] should take advantage of getting to know people before they potentially, unexpectedly pass away."
The fall play was created by many students working to memorize lines, learn combat choreography, build a set, create costumes and so much more. Everything, including theatre, needs balance. According to Cambridge Dictionary, "Balance in a work of art means that all the parts of it work together and no part is emphasized too much." There cannot truly be a good theatre program or show if there is a strong separation between people working to build sets and make props, and people acting on stage. Everyone has to work together to create a theatrical experience for the audience.
"Being part of a performance shouldn't be broken into the people who act and the people who do tech… without people doing both, it isn't much of a show," Theatre Tech (or, in theatrical terms, Technical Director) Heather Hillhouse, who goes by Heather, said.
For this year's fall play, "She Kills Monsters," tech was very unique and different. Origami dragon heads and claws were formed so the lead, Agnes, had a five-headed dragon to battle. Every actor in the play had both a human character and a "Dungeons and Dragons" character, creating twice the amount of costumes.. Makeup artists needed to figure out how a heart could be ripped out of someone's chest and how a throat could be ripped out of someone's neck. In the final battle between Agnes and the five-headed dragon, student lighting technicians needed to use lighting to help create the five-headed dragon and make it seem more believable.
The actors for "She Kills Monsters" put in a lot of work, too. A stage combat expert from Nebraska Shakespeare Company worked with the actors to choreograph combat scenes for the play. The actors came in almost every day after school to rehearse the play. The actors had to learn how to be a normal human character and a convincing "Dungeons and Dragons" character, which is harder than one might think. They have to fall into the mind of a monster. They have to sound like a monster, move like a monster and die like a monster.
"I play Farrah the Faerie. I just come on after intermission, and I'm one of the bosses, so I battle the heroes. I'm supposed to be this cute little forest faerie, but then it turns out I'm a complete badass," senior Carlie Thompson said.
On top of the actual acting, actors are also asked to work at least five hours behind the scenes doing anything they can to work in tech. This helps the actors be more appreciative of everything students working in tech do and to form a bond between actors and tech crews.
"Asking the cast to work on tech also helps them to understand the bigger picture of what theatre is and why things happen the way they do.  It also helps reduce the divisions that can arise between actors and technicians," Hillhouse eather said.
Theatre students balance tech and acting, but also find a balance between hard work and fun. According to Stagewise, an Ireland-based organization, there are eleven major benefits of theatre. They include: self-confidence, imagination, empathy, concentration, communication skills and fun.  
"It just makes me so happy," Monismith said. "That sounds juvenile or whatever, [but]when I'm in M Hall at 5:30 p.m. it is my prime-time. From 5:30 'till 8:30 whenever I leave, I'm just popping off."
Monismith also formed many friendships through theatre. "That's where those bonds really solidified. Like I would know who they [other actors] are obviously, but just messing around in that hallway and just [making] so many memories," she said.
In addition to the benefits of friendship and fun, Monismith also spoke of self-confidence. "I feel like it's impacted my life just because it's something I'm good at and it makes me feel good, like doing all this hard work and then having a quality output," she said.
Thompson has observed how theatre has improved her communication skills and has made her more responsible. "I used to be really shy and [theatre] helped me develop my speaking skills and my communication skills, and it keeps your inner-child because you have this sense of creativity and imagination that you need to keep when you're on stage. It also helps with responsibility because it's a big time commitment, you know, so it helps you become a well-rounded human being," she said.
Theatre brings people together. It doesn't matter if you want to be on stage or as far away from the stage as possible. Everyone brings balance to theatre. Without one thing or the other, theatre couldn't be what it is today. A show wouldn't be as good if there were just costumes on the stage with no one in them or actors just speaking in front of a white screen with no light.
"I think without tech, we really wouldn't have a show because when you think of a show, if you just saw people wearing everyday clothes, and there was no set, no lighting, it wouldn't be as theatrical because with the set, lighting, costumes and everything, it really sets the tone of the whole show. It just further envelops the person in the story, because that's the point of acting. It's just storytelling. So you want to make the person watching believe that they're in this place. Tech is what makes that, that," Thompson said.
About the Writer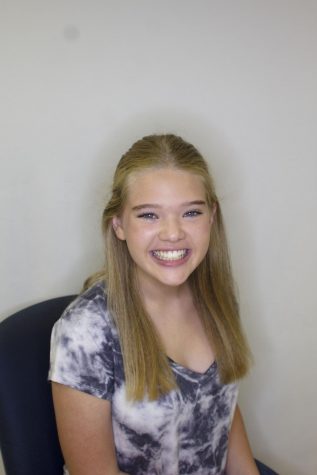 Elise Anderson, Staff Writer
Elise Anderson is a freshman at Lincoln Southeast High School. As this is her first year at Southeast, Anderson is excited to dive into journalism as a...