Ned and Walt: LSE therapy dogs learn sign language to help students
Hang on for a minute...we're trying to find some more stories you might like.
The weight room echoed with the clinks of machinery, the muffled grunts of students hefting weights and the encouraging words of the gym teacher. Everyone in the room was focused on completing their assigned lifting set. All, that is, except for Ned, who was lying quietly on the floor, looking around curiously and wagging his tail.
Although he wasn't hitting the weights, Ned, the therapy dog, was on duty in the weight room with his trainer, Cindy Skiles.
Skiles is an Educational Sign Language Interpreter who's worked with students for about 20 years. She's worked at Southeast for about a year and, though new to the community, she has made quite an impression. You may have seen her and her two therapy dogs, Walt and Ned, in the halls, between classes. But did you know that Walt and Ned know around 10 commands? These include the basics like sit and stay, but also fun commands like fist bumping. But here's the twist: they know them all in Sign Language.
Walt is a 4-year-old chocolate goldendoodle that has been working with sign language for about three years. Ned is a 3-year-old black goldendoodle and has been working with sign language for about two years. Ned is here every Friday as of now, and Walt is here every Tuesday.
Walt and Ned are both certified through a organization called Healing Heart, and they have to recertify their skills every 2 years. The dogs needed to go through certification, of course, but they also needed to go through social acclimations.
"We took the dogs everywhere, so they're acclimated to all kinds of environments. Everywhere we go, they go," Skiles said. "We go to Lowes, Home Depot, Scheels, Hobby Lobby, and they've [also] gone to Chicago. I think that helps acclimate them to their environments and exposes them to a lot of human contact."
Skiles chose her occupation because of a person she met who used sign language, and her love for it has grown since.
"I thought it was interesting, so I took classes, and it kind of chose me. I brought the dogs in because I saw a social gap between deaf students, and my thought process was that he [Walt] could bridge those gaps. It kinda opens people up…they want to begin to talk and it opens up a conversation."
The ability to hear is something that many people take for granted. Most students walk through the halls with earbuds in each ear, listening to their favorite song. It is hard for those who can hear to imagine barely hearing a thing. Or to imagine hearing nothing at all.  According to the organization Start American Sign Language, 10% of the United State's population (roughly 28 million people) have some degree of hearing loss. Two million of these people are classified as deaf (unable to hear anything). There are students at Southeast across the district and in classrooms all over the country that are deaf and have to adjust to learning at school.
Walt and Ned help with that adjustment. Since they are both therapy dogs, students need to be careful not to go up and pet them because they are most likely focused and working. However, students  can ask to pet them. Skiles actually encourages it. But she hopes that students ask politely, and as calmly as possible.
"Most people need to know that all dogs, even though they seem calm, and they're service dogs or therapy dogs, they still have [reactions] to loud noises, screaming, or yelling. How you approach them, [because they're such gentle dogs] is important."
About the Writer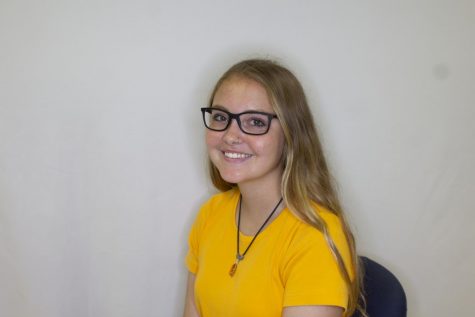 Keelie Kraft, Staff Writer
Keelie Kraft is a junior at Lincoln Southeast High School. This is her first year on the Clarion News Team and she is a staff writer. She enjoys taking...