Fantastic Beasts: The Crimes of Grindelwald Review
Hang on for a minute...we're trying to find some more stories you might like.
"Fantastic Beasts: The Crimes of Grindelwald" isn't a good movie, but it's not a bad movie either. "The Crimes of Grindelwald" is the sequel to "Fantastic Beasts and Where to Find Them" and continues the story set up in "Fantastic Beasts" by continuing to follow the strange yet charming magizoologist (a person who studies magical creatures) Newt Scamander and his friends on their adventures. In the movie, everyone's favorite Hogwarts professor Dumbledore enlists Newt to thwart Grindelwald's evil intentions of raising pure-blood wizards to rule over non-magical people.
"The Crimes of Grindelwald" suffers from something that many blockbuster sequels nowadays suffer from: overcrowding. Not only choosing to continue the stories of Newt, Tina, Queenie, Jacob and Credence from the first film, but adding heaps of characters, old and new on top of them, including a young version of Dumbledore, the mysterious Leta Lestrange, Voldemort's faithful snake Nagini (but as a human), and more. The movie turns out to be a bloated flick that could've used an extra 40 minutes of screen time to fully deliver what was promised, with both character and story.
The best thing to come out of this bloated film is Johnny Depp's silver-tongued radical Hitler-like Grindelwald, who never actually commits any crimes, as the title would have you believe (except for escaping prison in a glorious opening scene). Depp delivers an amazing performance as a magnetic villain who delivers speeches that might as well convince you to join his cause right that moment. Grindelwald's romantic ties to Dumbledore are hinted at in the movie, but not fully explored… yet..
Eddie Redmayne's Newt Scamander is still an uber-shy person who would rather spend time with his magical animals, but despite his character not changing a bit from "Fantastic Beasts", is still able to charm the audience without use of a wand. Although his lack of screen-time was a bit disappointing, Jude Law's Dumbledore is amazingly charismatic and an irresistible addition to the cast that manages to shine. Alison Sudol also does an amazing job portraying how alone Queenie is in this world (with her telepathic powers setting her apart) and how she just wants someone that's alone like her to love, which brings us to Dan Fogler's Jacob. Just as charming and always aloof as per usual, Jacob brings the comedy whenever he can and pounds home the emotions when he needs to.
Personally, I am a big fan of Katherine Waterston's whip-smart auror Tina, but in this movie she barely gets a chance to do anything. A brief cameo is had from "Fantastic Beasts" Seraphina Picquery (played by Carmen Ejogo), a personal favorite of mine, that left me extremely disappointed.
Zoe Kravitz had a really interesting character in Leta Lestrange – Newt's old girlfriend and his brother's fiancee. In the film, Lestrange battles some inner demons, but leaves viewers wanting more. Callum Turner as Newt's brother, Theseus, is good casting, but as with most of the other characters in this movie, did next-to-nothing (do we see a pattern here?).
Brontis Jodorowsky plays the 300+ years-old Nicolas Flamel and, despite taking some much needed screen time and coming out of nowhere at a time where you wish the characters could deal on their own, is quite pleasant. Ezra Miller returns as the supposedly dead Credence, who's in Paris to learn more about his past. Being the Macguffin (the item that everyone is after in a story, in case you didn't know) in this story, he doesn't get to do much but go where the plot wants him to and say what the plot wants him to say. He falls in love with Claudia Kim's Nagini who is already such a fan favorite but is criminally underused, despite screenwriter and creator J.K. Rowling's "pushes" for diversity.
Rowling does have a diverse cast, if you look at the poster, but it seems like tokenism to me that the characters of color only get one minute of screen time tops, maybe a handful of forgetful lines and are just plot devices to aid the main characters.
Let's not forget the love story between Dumbledore and Grindelwald that Rowling has been promising fans for years, with this movie being the optimal time to explore that. The movie hints at their relationship, but does anything real with it.
So many promises, J.K., yet none were delivered (maybe this movie should be called Crimes of J.K. Rowling). Rowling also pays no attention to character motivation at some points in the story and makes them do and choose things so absurdly stupid and out of character that they obviously only serve the plot.
Another bone that must be picked with Rowling is her utter abuse of her magical world by making up magic that breaks set rules in the world and also conveniently helps the characters get where the plot needs them to go or do something the plot needs them to do, for example some magical powder Newt has that has never been introduced before that creates a scene that tells him all that he needs to know to keep the plot moving, or at the very end with something akin to a large magical fence that only has one use appearing.
What Rowling does well, however, is introducing the reader to more aspects of the Wizarding World that makes you hope for more additions to the Harry Potter sections of Universal Studios' theme parks, such as a circus or the Parisian Ministry of Magic.
All in all, this movie isn't entirely rotten. It does the best it can do within its two hour and 17-minute run-time and continues to prove why Rowling's Wizarding World is one that accrues millions of fans and casts a spell on them, bringing them back to when they were kids.
About the Writer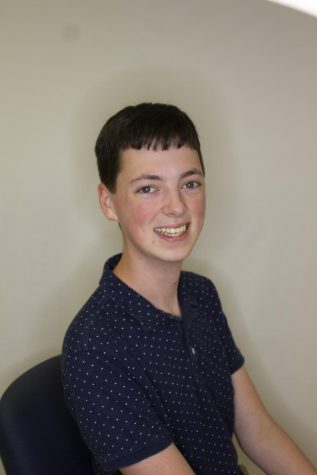 Seth Householder, Co-Editor-in-Chief
Seth Householder is a senior at Lincoln Southeast High School in Lincoln, NE and is Co-Editor-in-Chief of the Clarion News Team. He loves writing, directing,...