Huskers 2018 season aftermath is better than it looks on paper
Hang on for a minute...we're trying to find some more stories you might like.
4-8. Now, on paper, that looks bad for a team, but this was the exact same win-loss record as last year with former coach Mike Riley. What's different about this year, though? The fact that head coach Scott Frost has single-handedly changed the culture of Nebraska football.
If I could sum up the 2018 season with one word, it would be: progress. I know that we started 0-6 to kick off Frost's career, but if we still had Riley, things could have been much different. Under Riley, the players were not strong and they didn't hold up to what the fans thought of as Nebraska Football. All that glory in the 1990's and early 2000's is what a lot of fans remember about Nebraska Football and we need that glory to come back. Under Riley, things were easy. Practice was optional and Riley didn't treat his team like a Division 1 football team.
However, it is understandable that a 4-8 record doesn't look like that great of a start for Coach Frost, but we got better every single week. The Colorado game was kind of rough, but the differences in  coaching styles between Riley and Frost definitely showed on the field. Last year we had a Tanner Lee (in my opinion, if we didn't have him, we probably would've done a lot worse), but Riley set the offense up like a pro-style offense that clearly failed. Pro-style quarterbacks don't work in College football. The main source of frustration last year came in two areas: the offensive line and the secondary. In my opinion, last year we were the worst offensive line in the country, as well as the secondary and our rushing game was very weak.  According to Huskers.com, under Riley we averaged 107 rushing yards per game. Under Frost, we doubled it, which was also thanks to Devine Ozigbo, who averaged 7.0 yards per carry and scored 12 touchdowns.
With the first six weeks of games, we saw huge changes in the offense, which was to be expected since Frost is an offensive minded coach and previous Nebraska quarterback under Tom Osborne. At first you could still see some "Riley Laziness" as I call it, mostly because of penalties. Penalties and simple mistakes is what was the problem under Riley and you could see some of that sneak through in the early games.
Progressively, Frost squeezed out all of the "Riley" left in that team, and after we won against Minnesota, we actually looked like the Nebraska football team that we were once remembered as. Next year, we will have a positive record and some new stars will start to emerge, like Adrian Martinez and Maurice Washington. I think by the end of the season we will be close to being ranked.
I really like where this football program is going and Frost is the right man for the job. I hope in the near future we can see them holding the National Championship trophy once again.
About the Writer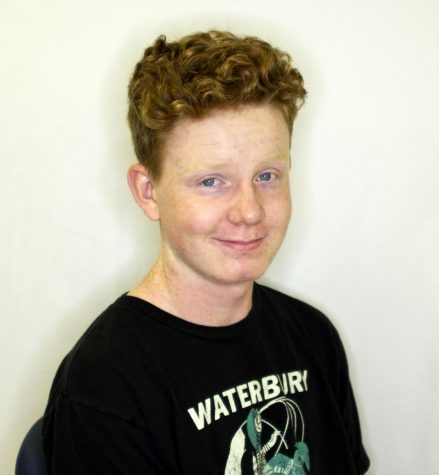 Nolan Hemmett, Staff Writer
Nolan Hemmett is a junior at Lincoln Southeast and a Clarion Staff Writer. He is in his first year on staff and is looking forward to the experience. Hemmett...