New class readies students for war with aliens, teaches how to fend off zombies
Hang on for a minute...we're trying to find some more stories you might like.
Hold onto your blasters, chainsaw arm attachments and spaceship keys, science fiction nerds — a new senior elective is here to satisfy your need for a class solely devoted to reading all types of science fiction, called Science Fiction Literature, of course. War amongst the stars? Check. Virtual reality players fighting over an egg? Check. A utopia of all women or a false utopia full of emotionless robots? Check. Zombie invasion? Check. A Shakespeare-worthy soliloquising monster? Triple check. Time travel with a small gelatinous blob? You name it, this class has something to read that you'd enjoy.
Allyssa Allaire has been teaching for four years now and is responsible for creating and teaching this course at Southeast. "Sci-Fi [Literature] has a lot to offer in terms of diving deep. "[The seniors] are at this age where this is [their] last hurrah of, 'Okay, how can I take what I'm learning in the classroom and apply it outside of the classroom,' and that's why I really wanted to create this because science fiction does touch so much on what the real world is like and how we can be on the good side of history," Allaire said.
The books featured in this semester-long class are "The Giver," "Herland," "Ender's Game," "Ready Player One," "Feed," "The Moon is a Harsh Mistress," "World War Z," "Frankenstein" and "The Time Machine." Senior Parker Luke was accidentally signed up for this course, but has enjoyed it so far. "[My favorite book was] 'Ender's Game.' It was fun, and a good story. I'd seen the movie and liked [it], but I liked the book even more."
In the class, you do a lot of reading and then you discuss what you've read. Allaire always tries to tie it back to how the text relates and helps students understand our own world, because most of the time students are reading these far-out, wacky stories that make little logistical sense but to find that connection to our world, to find the human aspect in it just makes an out-there story hit a little closer to home.
"It depends on how you look at it," Luke said. "If you're reading it to find other meaning in the books, it's important because there's a lot of questions that are raised about ourselves and our communities. [The stories] can be thought-provoking and the stories in them or the things that happen raise questions about how we should be living our own lives."
Toward the end of the semester, the class divided into literature circle groups, where five groups of four people got to read a book, approved by Allaire, and work on a project together. After two weeks of working together, they were given a full period to 'teach' the class, the themes of the book, an answer to how the themes of the book relate to our modern lives, and an activity tying into the book that the whole class can participate in. Ranging from a "World War Z" board game based on the well-known game 'Sorry' to a version of cornhole where students throw asteroids at the Earth and a class-favorite according some students – a themed breakfast to enjoy while diving into the books.
"Anyone who is a fan of science fiction in general, not just of literature, would enjoy this class," Allaire said. "I believe when we think of science fiction, we unfortunately get ourselves into the mindset of just aliens and dystopias, but it's so much bigger than that. I think that's what makes everyone such a big fan, especially with the hype around Marvel and DC right now and video games incorporating elements of the cyberpunk movement, it's all quite large."
It's a good time to be a sci-fi fan, both at Southeast and in the entertainment world. Science Fiction is offered for one period a semester for seniors only and is worth a try if you have a spare period. For those who aren't seniors yet? Note to self – add this to your schedule because this class is out of this world.
About the Writer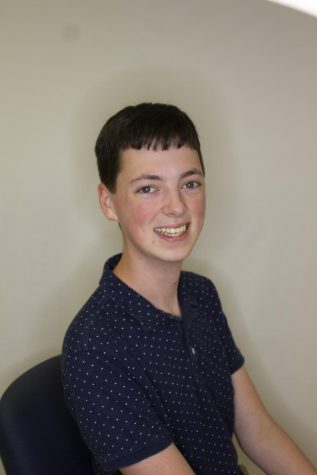 Seth Householder, Co-Editor-in-Chief
Seth Householder is a senior at Lincoln Southeast High School in Lincoln, NE and is Co-Editor-in-Chief of the Clarion News Team. He loves writing, directing,...