Furries of LSE: Inside the world of self-identified animals
Hang on for a minute...we're trying to find some more stories you might like.
Disclaimer**: In this world, all things bring judgement. As a journalist, my goal is to bring awareness into the inner workings of a concept as a whole, while remaining completely unbiased. Thus, we can more accurately have discussions and make said judgements being properly informed. In reading this story, try to take no sides until the end; assess and reflect after reading – or even do more research further into the subject to make your own sound conclusion. This story is meant to be read in its entirety for the benefit of the reader, not stripped bare into singular sentences and objectified to preconceived notions or opinions. Thank you.
On Oct. 30, 2003, the hit crime show, CSI, released an episode titled 'Fur and Loathing', detailing a homicide which left a man in a fursuit dead on the road. The episode was both criticized and praised by several social-media outlets – some claiming "it brought to light the disturbing sexual fetish" (via Reddit, 2015) these 'furries' had. Members of the aforementioned 'furry fandom', responded to this with backlash, they felt that the episode created a misconstruction of their identities, and wrongly painted who they are.
This controversy surrounding the episode, amongst many others, created the taboo topic that is the furry fandom today, though the fandom still continues to grow. In 2018, a CNN article titled 'Inside the misunderstood culture of furries' was released, detailing the stories of some fandom members experiences, opinions and feelings towards the public's ideas on furries, and the bullying they experience. "Anxious? Try becoming a 'furry'" (CNN). This first article was also met with some backlash as critics claimed that the members of the fandom should try seeking therapy for their 'apparent mental illnesses' instead. The article detailed furry lingo as well as stories on how people end up in the fandom in the first place.
Junior Chandler Scott is not a furry himself – but has multiple friends with their own fursona. Scott has recalled witnessing firsthand the ridicule that these self-identified furries can go through.
"When other people say, 'Oh, that's weird,' that just brings them down. And it even brings me down too – even though I'm not one. They like to push them away and stigmatize it and are very passionate about it," said Scott. "We have to get past that stereotype. I just think people aren't realizing that people not conforming to societal expectations is becoming completely normal."
The stigma associated with furries usually brings about the buzzword, fetish. People fetishize and oversexualize things they're not comfortable with. For example, as more and more people started coming out in the late 1900s, oversexualization of the culture occurred and, in 1968, the American Psychiatric Association categorized homosexuality as a mental illness in the Diagnostic and Statistical Manual of Mental Disorders, second edition.
Scott notes the idealistic view of furries is most often times connotated negatively.
"I think that most stories going around are when something negative happens that's not appealing to the public," said Scott. "Because of this, the public doesn't really know what happens behind the scenes. They don't choose to see the other side of it either. So all in all, [furries] don't receive a positive spotlight."
There is over-sexualization of anything, and it's valid in some regard, but often it's sensationalized and made a bigger deal than it is. Sexual aspects of a culture or identity only make up a small percentage, oftentimes not even nearing the double digits, yet it's most likely exploited because the idea of sex of a non-generic regard makes the common person uncomfortable (Vice).
With that said, onlookers have to understand where a line is drawn between understanding and stereotyping. More than 84% of the Furry fandom identify as male, and 61.7% reported having been bullied from ages 11-18. The fandom is demographically white, middle-class people under the age of 25, and a third identified as exclusively heterosexual (CNN).
Using this information, the stereotype goes to show most of these people were "commonly grouped as nerds who liked their video games, science fiction, anime and anything fantasy," (CNN). Often these people are categorized as the outcasts within our schools; stereotypes come and follow. Though these are not good assumptions, it helped find and build the furry community today. Often times, cultures, or in this case fandoms, are founded in an effort to find peace amongst our like-minded peers.
Dave Bond, a junior at LSE, has been a member of the Furry fandom since his freshman year of high school. He joined the community in order to express himself and create art.
His fursona is a calico cat, also named Dave.
"One thing about my fursona is that it has some traits that I don't have that I want, but I can't have right now. This is a lot relating to me being trans, that my fursona is a lot more masculine than I can be right now appearance wise, so that's important," Bond said.
Bond has found friends in this community that he says are some of the sweetest people he's ever met. Bond thinks that a lot of furries join the fandom because they're treated as outcasts in their day-to-day life.
"If you look at statistics, a lot of furries are LGBTQ+ or mentally ill. People want to find a way to discriminate against this community, but they're not realizing that members are finding comfort in this community because they're not comfortable in a body where you have to present yourself as this, this or this," Bond said. "That can damage you as a person. There's a way to go into this anthropomorphic character that can make you feel accepted, and we want that as people."
Bond feels that his fursona has made him nicer, and not as quick to judge. He's found that it's a way for people to express themselves, and because self-expression comes in many different forms, who is he to judge?
"It's not a fetish, even though that's what most people see. Whenever there's a group, people always see the negatives before they see the actual community," Bond said. "I don't want to say it's a place where outcasts go, but it kind of is. I guess it's more of a creative outlet where people can feel safe to express themselves when they can't in their real life."
Furries invest a lot of time into artwork. People can commission fellow fursuit community members for 'references' – which is like a small biography with pictures of the animal's fur, tail shape or any other custom pieces. From there they can get drawings of their fursonas to show off at conventions or submit an order for a full suit or head, which can cost anywhere from $500-$3,000.
Bond, an artist himself, loves the wide range of styles that fellow fursuiters can draw in. He also appreciates the furry fandom's persistent goal to commission emerging, as well as veteran, artists as much as possible.
"I've drawn my own fursona, but I've also thought of commissioning some of my friends because they have really cool art styles," Bond said. "Furries are really open about getting as many commissions as possible just to help out the community. It's really sweet, they're just misunderstood."
Scott feels the same. He wants to remind people that before they make judgements, they need to take some time to do research and get to know the members of the actual community.
"You have to put yourself in their shoes. I mean they're not there because it's a sexual thing, it's just a way to express themselves," Scott said. "And because you can put on this sort of mask, you can be yourself without a whole lot of judgement."
About the Writer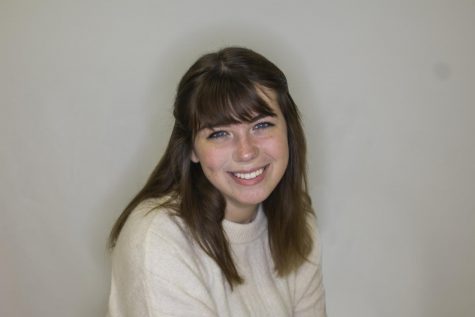 Syann Engelhard, Co-Editor-In-Chief
Syann Engelhard is a Senior at Lincoln Southeast High School. She currently holds the position of Co-Editor-In-Chief and Graphic Artist. Outside of newspaper,...