A Fractured Freedom: Even when it is under attack, the press still serves governed, not governors
Hang on for a minute...we're trying to find some more stories you might like.
Jamal Khashoggi was a father, a fiancé, a citizen of Saudi Arabia and the United States, a political activist and a journalist. On Oct. 2, 2018, Khashoggi was lured into the Saudi Arabian consulate in Istanbul and never left. He was murdered in the consulate – beheaded, fingers severed and dismembered – and then the 15-man team that was ordered to kill him dissolved the body in acid. The kill was ordered by the Crown Prince of Saudi Arabia, Mohammed bin Salman – because Khashoggi's stories were critical of Salman and the lack of democracy in Saudi Arabia. Khashoggi was using his platform and his right to a free press to shine a light on the corrupt doings of the Saudi government – exactly what the press was meant to do.
The role of a free press is to keep democracy in check. Journalists are meant to get their hands dirty and do the tedious research to find the needle of truth in a haystack of lies. The press keeps politicians honest, accountable to their electorate and always corrects them if their facts are wrong. They also allow the public to know exactly what they voted for and expose corruption. The Founding Fathers saw that this freedom was very important – important enough to add it to the Constitution as the very first amendment.
The first-ever recorded newspaper was created in 1690, published by Benjamin Harris. It was called Boston's Publick Occurrences Both Forreign and Domestick. The first-ever recorded case that established some protection of the press was the John Peter Zenger Trial in 1733. John Peter Zenger published a newspaper titled The New York Weekly Journal that included articles critical of newly appointed governor William Cosby. Cosby sued for libel, but the court decided that the defamatory statements could not be considered libel because they were based in fact. This was the first time that truth was a defense and a need for a free press was recognized.The free press was later protected further under the First Amendment, which was ratified in 1791.
Joseph Starita, a Journalist and Journalism Professor at the University of Nebraska-Lincoln, believes that the Founding Fathers had a vision for our country, and that freedom of the press was a crucial component of that vision. This is why it was protected in the very first amendment to the constitution. "It wasn't 2nd, it wasn't 8th, it wasn't 16th, it was 1st. They wanted to enshrine it and make sure that 'We the People' understood the vital role that the press was going to play."
Journalism went on, exposing a corrupt politician here and there. Then began the era of yellow journalism, where, in order to gain increased sales, newspapers would create sensationalized headlines (sound familiar?). This mainly applies to the two main competing rivals at the time, Joseph Pulitzer and William Randolph Hearst, publishers of the New York World and the New York Journal respectively, who in their fight for sales, caused the Spanish-American War, claiming Spain had blown up the U.S.S. Maine, when it really was just an accidental fire that ignited ammunition stocks.
Journalism evolved, to radio and then to television, with the likes of Walter Cronkite, Ed Murrow and Ed Sullivan becoming household names. Cronkite always had his facts right and almost never shared his own opinion, but one of the times he did, it was 1968 when the US was in the middle of the Vietnam War. Cronkite, who had been to the frontlines recently, said he doubted that the US could either win or lose this war, to which President at that time Lyndon B. Johnson said, "If I've lost Cronkite, I've lost Middle America."
Starita believes that journalism was largely to credit for ending the Vietnam war because the government was lying to the people that the war was winnable. "58,000 Americans died for that lie," Starita said. "It wasn't a winnable war and a courageous individual who worked in the Pentagon leaked this secret memo (the Pentagon Papers) to the New York Times that published it and that went a long way in helping to end a war."
1971 and 1972 were crucial years for journalism as The New York Times and the Washington Post were sued by the US Government for printing information obtained in the leaked Pentagon Papers. The case was taken to the Supreme Court and the ruling established that "the press was to serve the governed, not the governors." In 1972, the Watergate scandal occurred, and journalism led the front there on the eventual path to Nixon's resignation.
"It's the oxygen that democracy needs to breathe," Starita said. "If there's no free press, there's no democracy."
Thirty-six percent of Republicans and 13 percent of Democrats believe that freedom of the press "does more harm than good," according to a study by Vanity Fair and 60 Minutes. If the Founding Fathers did intend for the freedom of the press to be as crucial as it appears, they would be worried at the state of things in modern times.
"They weren't wrong about that then and we're not wrong in embracing and adopting their vision of a free press, and the fact that it is, to this day, the oxygen that democracy needs to breathe, and we need to make sure that there is always enough oxygen in the room, otherwise we don't have a democracy," Starita said.
In the world today, 13 percent of the population enjoys a press free of all restrictions, most of those people living in developed countries. Forty-five percent of the population has no free press whatsoever, those people live in countries – developed or not – with very powerful rulers such as North Korea, Russia, Cuba, Saudi Arabia, China and Egypt, according to a 2017 study by Freedom House, an organization that monitors freedoms around the world such as internet freedom and freedom of democracy. The World Press Freedom Index went down from 2017 to 2018, with many countries' press freedom ranking slipping and even more countries being classified as having "very bad" press freedom.
In 2018, 53 journalists were murdered, according to the Committee to Protect Journalists. In 2017, 272 journalists found themselves imprisoned because of their reporting, and 47 journalists were killed because they were investigating things their governments didn't want them to investigate.
"If you ever go down that road, if you ever think that a journalist discharging his duties to tell the truth, and you don't like that truth so you think the solution is to have him murdered, then you've got real problems," Starita said. "There are a lot of countries who adopt that philosophy. 'No, we don't want a free press, because a free press will just get in the way of our own greed and our own arrogance and our own ignorance.' People want to censor the press to eliminate a speed bump in the road, to eliminate a roadblock. People want to get their way, and if the media and the press are in the way, then they want to eliminate them."
President Trump constantly calls the news fake because the facts in it don't please him or are critical of him. 70% of facts he has stated over the past four years have been proven false, according to Pulitzer Prize winning institute Politifact. The White House suspended CNN's Chief White House Correspondent Jim Acosta and took his press pass and as a result, CNN sued Trump, dropping the suit after the White House returned the press pass. He sometimes creates "alternative facts" to make him look better but the news are doing their job and won't let him mislead the American public. The news are still fighting for the Founding Fathers' vision.
"We have a president right now who has a very strange relationship with the truth," Starita said.  "Who doesn't really believe in the truth, who has tendencies to want to punish the press to turn them into the enemies of the people, which is a very frightening phrase because that's the same phrase that Adolf Hitler used to try and turn the German people against the German media in the 1930s. It's the same phrase that Josef Stalin used when he was creating his autocratic dynasty in Russia in the 1940s."
Turning the people against the press has been used many times throughout history – and never once used by someone widely regarded as a "good person" in history. Benito Mussolini, Kim-Jong-Il, Mao Zedong, Fidel Castro and Saddam Hussein all said similar things.
"So when you hear phrases like that, when you see the sheer number of lies – lies – let's call them what they are, we have to push back against that – you all have to push back against that. You have everything at stake in a democracy, your age group. It's your world that you're going to inherit, so you have to constantly be vigilant, you have to constantly be on guard," Starita said.
In fact, enrollment in journalism classes at some universities have risen by about 50 percent due to the President's claims of fake news. The news outlets the President claims are "fake news" are normally just real news with a bias – the facts are there but the minute details are added or deleted in order to create a view of that story to suit that news outlet's bias. Most major news sources do it – CNN, MSNBC, Fox News, etc.
In this world of clickbait and politicians looking to capitalize on the polarization of the masses, the news is ridiculed. It's all politically charged sensation, fear-mongering, and spectacle with little to no actual news. Many do not trust the news anymore, in part thanks to Facebook who, during the 2016 election, had a "Top 20 Election Stories" section that advertised 20 differing coverages of the election. Some of these coverages were comprised of mainly fake facts and clickbait used to deceive readers into believing primarily negative items about both Hillary Clinton and Donald Trump; so extremely that by Election Day in 2016, 8.7 million people were engaging with fake news daily – compared to 7.3 million engaging with mainstream news, according to Reuters.
In a simpler time, the media once was a horizontal landscape, with all of America centered around three or four news outlets, watching Ed Sullivan's news reports on the weekends and tuning in to Walter Cronkite's on weekdays with the current edition of Time or Life Magazine on the coffee table. Now, it's a vertical landscape achieved through the explosion of the internet.
"Everybody now is being herded into their own vertical silo and they go into those silos and it becomes an echo chamber where they only hear their ideological biases being confirmed, and that's very dangerous. That's very dangerous. If you're hanging out in Silo A and you're only hearing Silo A's version of the truth echoing in your ears day after day, week after week, month after month. You're not the kind of citizen and we're not having the kind of democracy that Thomas Jefferson envisioned," Starita said.
There are at least a couple hundred thousand news sources out there today and over two million news articles are published every day. Of those 2 million or so articles a day, 61 percent of adults reported perceiving most of the articles they came in contact with were fake news, according to Statista.
"The bottom line is it takes much more work to find the truth in the public square of democracy because there's so much noise in the public square coming from this explosion of media outlets, and the danger in that is that in the old days, when I was an investigative reporter at the Miami Herald – and in the 1980s there was a lot to investigate in Miami; there still is – I had a rule for myself that I had to have triple confirmation of any fact that I put in a story. Now there's none of that," Starita said. "You can spout off on these insane radio shows, these insane cable shows, you can just throw out anything and there are lots of people who will embrace that as the truth and that is the biggest, to me, the most pernicious fear that we have in this country right now. In many ways, I believe it's the most pernicious problem. What happens in a democracy if truth no longer matters?"
Another issue found with our vertical news landscape – along with the bias echoing silos – is that some news isn't even news, it's entertainment; political commentary.
"The media – I'm not saying in any way shape or form that journalists are perfect, but when you say the media that includes a universe of different people," Starita said. "You have to pin people down. Sean Hannity and Rachel Maddow – are they journalists in the same way that Bob Woodward and Carl Bernstein are? Are you folding everybody under the same tent? Know there are lots of different branches on the journalism tree and some of them are entertainers. They're pundits, they're not journalists."
Many news outlets take opinions and brand it as news. It's just become a part of our 24-hour news cycle. The main outlets always discuss any information they receive in depth and that discussion is pure opinion. Sure, facts may be included but it's not journalism.
"Journalists are people who sit at a city council meeting for five hours to try and find out whether that tax levy that they pass at 10 o'clock at night for a new street that goes from Highway 2 to Yankee Hill Road is worth it, and if your tax dollars are going to be raised they stay there and they give you the information. Those are journalists and we need them at every level. City Council, Lancaster County, State of Nebraska, National, they need to be working hard at every level," Starita said.
Journalists are entrusted with one of the most important jobs in any democracy – to keep the people informed and allow them to make their own decisions about what needs to happen in their country.
"It has to keep feeding 'We the People' with the truth, the single easiest sense to explain this is something that Abraham Lincoln famously said which was 'Give the people the facts and the country will be safe.' That's what we need to do," Starita said. "It's not that complicated. Give the people the facts and the country will be safe. That's what good journalism needs to do."
About the Writer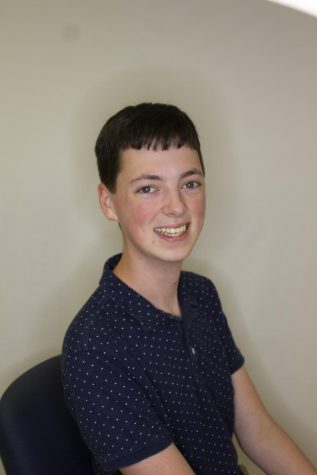 Seth Householder, Co-Editor-in-Chief
Seth Householder is a senior at Lincoln Southeast High School in Lincoln, NE and is Co-Editor-in-Chief of the Clarion News Team. He loves writing, directing,...