Bill Bryant: Behind the rose colored glasses
Hang on for a minute...we're trying to find some more stories you might like.
Driving 3,000 miles every month, staying up Monday through Wednesday just to make sure the best job is done, keeping up with sports from six different schools; the life of Bill Bryant prior to becoming one of the most friendly faces on the building security staff at Southeast was, to say the least, chaotic.
Bryant grew up in Lincoln where he attended Beattie Elementary, followed by Irving Middle School and finally spent his high school days at none other than our very own, Lincoln Southeast. His time spent in between graduating as a Knight and returning three years ago as a building security guard have been filled with everything from running a newspaper company to working at a dog food mill.
Although he admits he wasn't the best student, he is proud of his athletic accomplishments as a Knight. "I lettered five times; three years in track and two in cross country. I played football for a while but had a snowmobile accident and cut off the tips of my fingers," Bryant said. "I look back on that as a blessing only because I wasn't the biggest guy."
Bryant went on to run track for a couple years on scholarship at Platte Junior College in Columbus, NE, which is now called Central Community College. After his two years there, he then tried attending UNL, but realized it wasn't for him.
Between all of this, he met his soon-to-be wife, Linda, at a Nebraska Spring Game party after the game. "She was with a group of girls at a place called Uncle Sam's in Lincoln on 25th & O, and all the football players I was with made me go over to her table because they were asking the other three girls to dance."
Bryant said that he ultimately got peer pressured into asking Linda to dance, but his life wouldn't be the same if it didn't happen. "We were out there disco dancing and I was so bummed that I was doing what those guys made me do that I just asked her to marry me. She got really mad and marched off, but the funny thing is that I said, 'That's the girl for me.' So we continued dating for two years before we got married."
Growing up, Bryant spent a lot of time around sports media because his dad was a sports information director and associate athletic director for UNL, but he didn't intentionally try to follow in his father's footsteps. However, it seemed as if Bryant could never get away from journalism and media. "I took journalism classes and I also was a stringer for the World Herold; I would send in stats for basketball, cross country and track to get $10 here and there," he said.
"I worked insurance, worked at [a dog food company], worked at Goodyear, North American Van lines and was an apprentice insulator. I did a variety of jobs probably to stay away from what I ended up doing." Bryant never thought that he would end up being a journalist, much less owning a newspaper company. However, he thinks that all of his jobs leading up to journalism taught him the drive and work ethic he needed to be successful.
Bryant and his wife, Linda, owned an independent newspaper company for 33 years called, The Voice, in Hickman, Nebraska, where they covered 25 different communities. They got the opportunity to purchase it when the previous owners were retiring. Bryant had been working for the company for five or so years as the sports editor, but didn't hesitate when the opportunity to become editor-in-chief and owner arose. "I asked Linda if she would quit her job and take a $10,000 cut in pay to sell ads for our newspaper, and she [did]."
The Voice covered six different schools near or around Tecumseh, Nebraska, where it was based: Norris, Freeman, Palmyra, Bennet, Sterling and Eagle. At first, Bryant admits he had no idea what he was doing, but worked hard to improve on his journalism and photography skills. On average, the newspaper had nine staff members, including Linda and Bill.
The newspaper business was intensively laborious, which is why, for his first few years as an owner, Bryant typically didn't sleep Monday-Wednesday. "You had to type set it, wax it, cut it, proofread it, put the corrections down and then you had to slap it onto the paper. It was pretty much trial-and-error on my part because I really didn't have a lot of guidance," Bryant said.
Just over three years ago, the Bryant's sold the company. "We worked very hard to make it successful and when we sold it, it was very important to us that the couple who bought it was independently owned as well because a lot of the times when corporations buy publications, it kind of takes the personality out of it," Bryant said.
After finding the right couple they trusted to continue the success of the newspaper, Bryant found himself with more free time than he'd ever experienced. "I didn't know what to do with myself after working 70 hours a week and driving 3,000 miles a week!"
Now, Bryant is back at the high school he graduated from, constantly inspiring students throughout the school to be a better person. He works every school day from 9:30 a.m. to 6 p.m., and can be found helping students on their way out from late night rehearsals or showing fans the way to gyms or the pool at home sporting events.
To him, the most important part of his job is the opportunity he has to be able to get to know students. At Southeast, he is seen as a friendly face always available for a quick hallway chat. One of his main goals is to encourage students to get through high school, even if only by the bare-minimum.
"I have fun telling people that when I'm 85 and you happen to recognize me on the street with my walker, come up to me and say 'I made it,' because it's up to you to be successful. You're having trouble now with family, you're having trouble now with your decisions, you don't like the teacher, and all that stuff that is going on in your head. Just keep  in mind that there are people here, [at LSE], that are behind you. There's probably other people out there that are behind you too, but you're just not recognizing that."
Bryant is a firm believer in getting help, and to him, a successful life is built on relationships. Some of his best advice is, "You have to have trusted friends, family members and pastors, even if you aren't religious! There are people out there who will help you for free and counselors at school that bust their butts to help you."
So many students are struggling, but Bryant truly believes that everyone can make it. If you need the help, he believes you shouldn't have to give up. "It's out there," he said.
Next time you are walking through the halls, look for the man with the pink glasses. Go up to him. Ask him about himself. Southeast is full of the most incredible people and most of the time they are willing to share their experiences, growth and pieces of valuable advice. Bill Bryant is the perfect example of the fact that you never know how a person got to where they are today, and his story and beliefs are truly something we shouldn't take for granted. It's all about what's hidden behind those rose-colored glasses.
About the Writer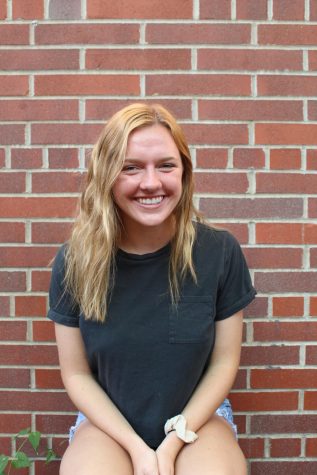 Chloe Heller, Co-Editor-in-Chief
Chloe Heller is a senior at Lincoln Southeast High School and has been a part of the Clarion staff for three and a half years. Outside of writing, she...