Hostless with the Most(l)ess: An Oscars Review
Hang on for a minute...we're trying to find some more stories you might like.
The Oscars. Just like any other awards show, it's a bunch of celebrities introducing movies starring celebrities chosen by other celebrities to receive awards presented by other celebrities so that more celebrities can be recognized for their hard work this year – and if that's not enough celebrities for you, then what satisfies your celebrity crave? People Magazine? This year however, the Oscars went celebrity hostless this year, with Kevin Hart stepping down from the job due to homophobic tweets dredged up from eight years ago, and it actually turned out decent. The night started with some of Saturday Night Live's best former cast members Tina Fey, Amy Poehler and Maya Rudolph cracking jokes about the hostless Oscars and the four awards that were to be presented during commercial break. Those four awards caused quite the ruckus when it was announced they'd be presented during the commercials but due to protests from some of Hollywood, they were squeezed back into the show.
The awards were all divvied up pretty equally, with "Bohemian Rhapsody" earning four wins and "Green Book," "Black Panther" and "Roma" all winning three apiece, even "Vice," "BlacKkKlansman," "The Favourite" and "If Beale Street Could Talk," landed at least one win.
Rami Malek won Best Actor for his role as Freddie Mercury in "Bohemian Rhapsody," and rightfully so – none of the other four in his category really offered much competition (he also fell off the stage after winning off-camera, which was a funny thing to wake up to in the morning).
Olivia Colman earned Best Actress for her role in "The Favourite" as the Queen (I guess you could say Queens are having a great time at the Oscars) and delivered the most adorable, genuine acceptance speech and beating out the predicted winner, Glenn Close, who had won every other Best Actress award this awards season up until this point, but I'm glad the Oscars didn't pull the old, unawarded actor is getting to a near-death age so let's give them an award shenanigan like they did with Gary Oldman last year for Best Actor.
The people's choice was very much Lady Gaga, but her awards campaign didn't do so hot. (There could be 100 people in a room who have heard this saying but there might still be one, so I'll say it anyways.) She still got her Oscar for "Shallow" from "A Star is Born," also, does anyone else get tired of her crying because she didn't expect to win an award, because we all expected she would get it no matter what (maybe she is a good actress after all).
Mahershala Ali and Regina King (Amy Adams will win an Oscar eventually…) won Best Supporting Actor/Actress for "Green Book" and "If Beale Street Could Talk," respectively.
Best Picture went to "Green Book," which upset me because after the mess of an acceptance speech that was Nick Vallelonga, Brian Currie and Peter Farrelly's when they won Best Original Screenplay, you can imagine my utter delight to see those three buffoons going back up to the stage to accept yet another award. Other people didn't like "Green Book" winning Best Picture, especially Spike Lee (he tried to leave the show when it won), for way more complicated and respectable reasons than I.
I was very proud of "Black Panther" and "Spider-Man: Into the Spiderverse" for showing that comic book movies aren't a joke, aren't a fad, that they're here to stay and they're only going to get better and more representative of our culture. Samuel L. Jackson and Brie Larson were definitely flaunting their cute friendship at this year's Oscars. (Where are my other Captain Marvel stans at?)
The Oscars this year weren't very political, they weren't as long as usual, they didn't really feel like many people were trying to top each other with jokes and the amount of people they could thank in two minutes and they certainly were pretty entertaining. Most of that amounted to having no host (although Julia Roberts casually telling everyone the Oscars were done at the end just didn't feel right to me), and that's fine with me. I think many award shows could be great without a host, and the Academy should definitely try it again next year, but I'll miss the opening monologue and the obligatory "Whaddya know, celebrities are human too, let's buy them pizza or shower them with chocolate and film them eating it, or take them to go see a movie right across the street."
About the Writer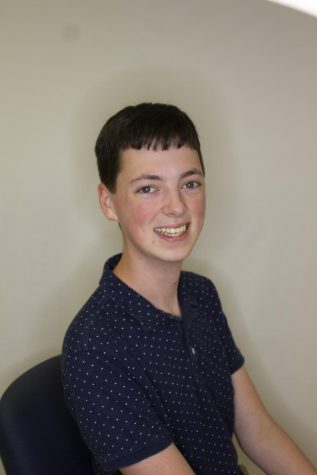 Seth Householder, Co-Editor-in-Chief
Seth Householder is a senior at Lincoln Southeast High School in Lincoln, NE and is Co-Editor-in-Chief of the Clarion News Team. He loves writing, directing,...