Six LSE students recognized for Nebraska's Young Artist Award
Hang on for a minute...we're trying to find some more stories you might like.
On Wednesday, April 3, six LSE students were recognized at UNL for Nebraska's Young Artist Award. These students include the following:
Junior Sadie Prenda recognized for Musical Theatre and Music

Junior Lydia Kingery recognized for Theatre Arts (specifically costuming)

Junior Harrison Hebb recognized for Visual Arts

Junior Kendrick Roach recognized for Music

Junior Lisle Gustafson recognized for Theatre Arts (specifically prop making)

Junior Kinsey Knorr recognized for Music
Out of the 178 students that applied, and the 73 that got the award, these six southeast students were awarded a $500 scholarship to the University of Nebraska-Lincoln if they choose to attend that college. Junior Lisle Gustafson was awarded for her work with theatre props. The application process for this award included certain requirements and qualifications based on the type of art applied for.
"I submitted sketches and finished product photos of props that I made from last year's musical and this year's fall play," Gustafson said. "It was some fish that I had made for the musical, and the five-headed dragon that I built for the fall play."
The students were allowed to bring one teacher along with them at the ceremony in which they were awarded for their work. Gustafson chose LSE English teacher Tressa TeKolste. "I brought Ms.TeKolste because she has been there for me through all of my struggles as an artist and a student, and I'm very blessed to have her as a friend," Gustafson said.
Gustafson believes that art plays an important part in many aspects of life. "Art is a way that someone can express themselves. It is really important in all aspects. People usually think of paintings or drawings or singing as art but it is so much more," Gustafson said. "It's a community of people who all love [each other] and share the same crazy ideas and learn from each other on how to express them, and it's truly beautiful to see what people can create together."
About the Writer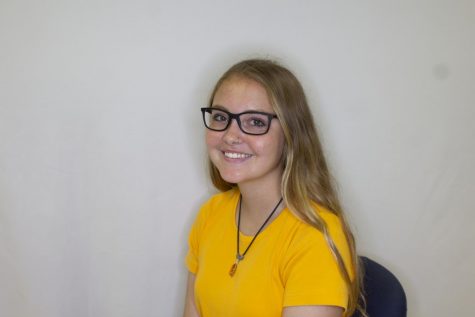 Keelie Kraft, Staff Writer
Keelie Kraft is a junior at Lincoln Southeast High School. This is her first year on the Clarion News Team and she is a staff writer. She enjoys taking...