Senior Colton Harris wows crowd with sax solo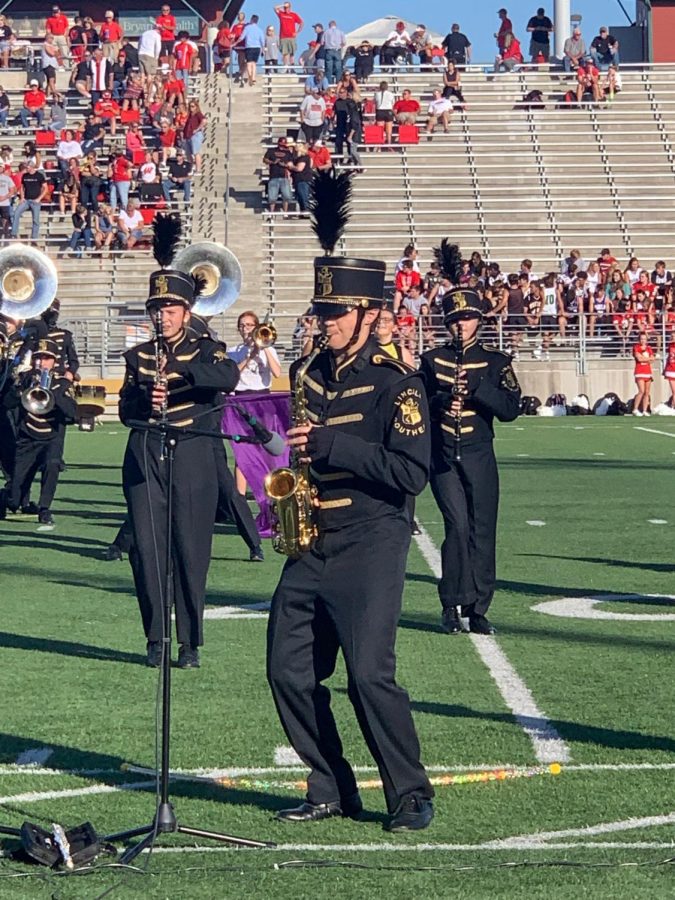 For some, Friday the 13th is one of the spookiest days of the year. However, for LSE senior Colton Harris, one Friday the 13th is a day that he will never forget.
On Friday, Sept. 13, the LSE Marching Band performed the first and second movements of this year's marching band show (there are three movements total), titled "Bent," during halftime at the LSE Knights varsity football game, where they played against Omaha Westside at Seacrest Field. Harris held the spotlight, as he performed a solo on his alto saxophone. His solo has two parts, the second part being longer and more difficult, and they are both in the first movement of the show.
"I've performed my saxophone solo during the marching band performance at the halftime show of every home football game so far, and will continue to for the rest of our home football games at Seacrest Field," Harris said. "[However,] what made my performance on [Sept.] 13 special, was that the student section was cheering for me. They had done the same at our first home football game, but it was really cool that they still liked my solo the second time. When I got cheers from the crowd, it made me more confident as I was playing and it was just an awesome experience for me overall."
Harris' solo was challenging and took a lot of time to master. He spent most of the summer practicing and preparing for his solo. Harris practiced about five days a week, about one or two hours a day.
"The solo has a ton of 16th notes and eighth note triplets (really fast notes) that were a pain to get under my fingers, especially because the song itself is at a fast tempo," Harris said. "I often got really frustrated with myself trying to practice, and it frustrated me even more knowing that the only way I was going to improve these super fast notes was to just keep playing them over and over again until they felt natural. After practicing it so much, it almost feels like muscle memory when I play it. By the time that auditions for the solo rolled up in early August, I was able to play the whole solo, including the ending. "
According to Harris, the alto saxophone is very unique compared to other instruments, and that is why he chose to play it.
"I like the saxophone because it produces a really cool and unique sound that no other instrument can compare to," Harris said. "When I chose to play the alto sax in fifth grade, I didn't know much about it. I picked it because it looked cool and I liked how it sounded in jazz and pop songs."
The reason this year's show is titled "Bent" is because of the strange formations and lines the marching band forms on the field.  The band show this year is different from last year's, as last year the title was "Trapped in Time." Last year, there was a narration for the show that talked about how time is a construct. However, this year with "Bent," there is no narration, but there are many unique elements of the show.
"One of the special features of our show is the amount of featured players there are. In the first movement, there's a duet by [seniors] Avaé Muir (flute) and Amber Tannehill (mellophone), and then my solo finishes it. Then, in the second movement, there is another duet by [juniors] Nadya Miller (flute) and Taylor Velgersdyk (alto sax)," Harris said. "These featured parts are what make the show more interesting. Some other interesting features of our show are the cool sound effects that are played on the speakers, like when we transition from the second to the third movement. The drumline is also featured at certain points in the show."
This year, there are about 180 students in the marching band, including color guard and percussion.
"People should join marching band for a lot of reasons. You can be a part of a big community with a lot of fun people. Marching band is great if you like challenges. So far, marching band has been the most challenging thing I've ever done because of the amount of work, skill and focus it requires. But, it's all worth it in the end when you get to be proud of yourself and the whole band for doing their best after every performance," Harris said. "After doing marching band (especially after freshman year), you will have greatly improved on your instrument. Marching band is just a great experience because of all the fun and amazing things that can happen."
After senior year, Harris plans to continue gaining experience with being involved in a marching band and try out for the Cornhusker Marching Band, as he has heard that it's a "once in a lifetime" experience to be in a college marching band.
"I'm very glad I decided to join marching band freshman year because now I realize that it's been one of my best experiences in high school. My solo will definitely be one of the highlights of my high school days when I'm older," Harris said.
About the Contributors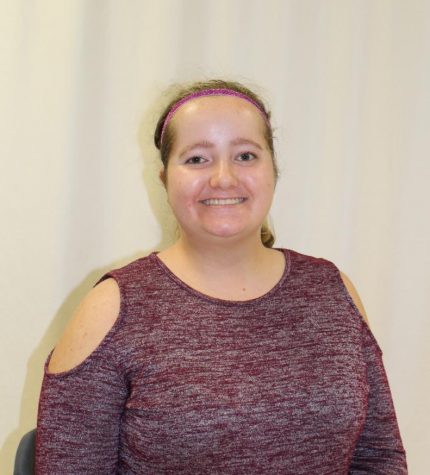 Caitlynn Cook, Copy Editor
Caitlynn Cook is a senior at Lincoln Southeast High School, the copy editor of The Clarion and an influencer for PragerFORCE, the student ambassador program...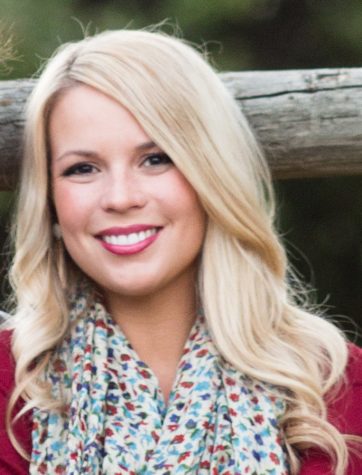 Brianne Clark, Adviser
Brianne Clark is the Adviser of the Clarion News Team. This is her fourth year at Southeast High School. She loves going on runs with her Golden Retriever,...