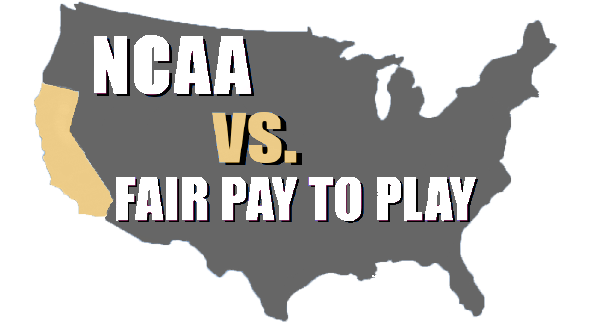 On Sept. 30, California's Fair Pay to Play Act, otherwise known as bill SB 206, was signed into law by California Governor Gavin Newsom. As a result, collegiate athletes in the state of California will be eligible to be paid for their name, likeness and image come Jan. 1, 2023, when the bill goes into effect.
According to the National Collegiate Athletic Association (NCAA), college athletes are considered "amateurs" and do not hold any professional status. This means they are prohibited from earning any money resulting from their athletic talent or identity other than for educational purposes in the form of a scholarship. The Fair Pay to Play Act would change that and allow athletes to earn money from things such as endorsement deals and other opportunities resulting from their athletic ability and identity. 
Criticism over NCAA's amateurism status has been vocalized for quite some time. However, bill SB 206 is the first of its kind to counter such a guideline. As a result, and to no one's surprise, the disputes between California and the NCAA has opened a hot topic of conversation in the sports community.
Although the Fair Pay to Play Act does not mean universities will be paying their athletes, it could create a few problems for college athletics. Many question whether turning the title from "amateur" to "professional" for college athletes is really even necessary. Considering sports like football and basketball, athletes on scholarships are already receiving full-rides covering all of their tuition and more. 
LSE baseball coach, Montana Jones has seen his fair share of former players moving on and playing at the collegiate level. Most recently, star pitcher Logan Van Treeck now plays D1 baseball at Lipscomb University. Jones emphasizes the importance of opportunity for education that sports provide.
"I think a college education and a degree is the ultimate payment," LSE baseball coach Montana Jones said. "That will help [athletes] land a job to get actual pay later on." 
Compared to most students, many athletes will also leave with less debt than their non-athletic peers. However, Jones does agree that profits from athletics could be used elsewhere.
"Universities should use this money to build athletic apartments," Jones said. "It helps with [athletes'] living situations and the players don't need to worry about living off campus and living expenses, etc."
Other local, big name coaches including Nebraska women's volleyball coach and Nebraska head football coach, Scott Frost, have also voiced their opinions on the Fair Pay to Play Act. When the topic was brought up in a football press conference, Frost took a balanced approach on the subject. Simply put, he does not want to see it hurt college athletics.
"I just hope at the end of the day that college football and college athletics survive in a way that allows opportunities for all students that want to compete to compete," Frost said. "It's a slippery slope and I hope there are smart people that can navigate it so it ends up in a good place."
As for Cook, the California native volleyball coach seems a little skeptical of the idea of allowing athletes the opportunity to earn money.
"It's gonna be really hard to police, and we'll probably have to triple our compliance office," Cook said.
As for the NCAA itself, they believe there could be even bigger concerns. With the new law comes a potential ripple effect across the national landscape of college sports. After the passing of bill SB 206 in California, a handful of other state legislatures including Illinois and New York, proposed similar bills. With ultimately no success, the organization did what they could to prevent the law from being signed by Newsom.
In their letter to Newsom, in order to prevent his signing of the bill, the NCAA stated, "We urge the state of California to reconsider this harmful and, we believe, unconstitutional bill…" 
However, the NCAA does go on to state that change is within their interest. "[We] hope the state will be a constructive partner in our efforts to develop a fair name, image and likeness approach for all 50 states," the NCAA said. A couple weeks later the bill was signed, anyways.
Though had California not been so progressive with the Fair Pay to Play Act, questions remain as to whether the NCAA would even consider such statements in support of athlete compensation.
As for California, they will undoubtedly be stripped of potential NCAA National Championship opportunities if schools across the nation continue to abide by the NCAA's current regulations. If they weren't prohibited from such competition, most of the top athletic recruits would have their sights set on California leading to the Golden State having not only the best recruits, but the best teams.
For the rule to work effectively across college athletics, it needs national support. Since the signing of bill SB 206 in California, other states, including South Carolina, Illinois, Pennsylvania and New York, have immediately followed by proposing similar bills within their state legislatures. 
To think all 50 states would not only propose, but accept similar bills with ease, is a longshot. If this were to happen, there also runs the risk of variation in bills from one state to the next. However, the push may be enough to force the NCAA into action and change its national policy for over 1,000 of the schools it oversees. Yet if the policy turns national, there may still be implicit recruiting advantages with certain states having more promotional opportunities for athletes. This concern however might only be able to be addressed and answered on a trial-and-error basis when the law goes into effect. The NCAA has its expectations of what might happen, but the reality is no one is sure on how the effects will pan out.
Ultimately, whether spectators support or oppose the Fair Pay to Play Act, the talk on whether athletes should be able to make money for themselves will be heard for years to come. The historical significance might even compare to the likes of such laws as 1972's title IX. No doubt though, the NCAA and state legislatures will have a busy timeline before California's bill SB 206 goes into effect January of 2023.
Meanwhile, after a unanimous vote on Oct. 29, the NCAA has stated it will change amateurism regulations for each of its three divisions by Jan. 2021. It has not yet been said how or what new regulations will go into place and if other state legislatures, like California, will continue to intervene.