Fall Sports Wrap-up
Hang on for a minute...we're trying to find some more stories you might like.
Football:
The Knights' season ended after No. 7 seed Omaha Westside won the quarter-final rematch in upset fashion with a 35-0 final score, on Friday, Nov. 8. Southeast entered the playoffs as the Class A No. 2 seed after going 8-1 in the regular season. After a 35-10 first-round win against Omaha North, the Knights fell one game short of the semifinals for the second consecutive year. The loss also broke Southeast's nine-game winning streak. However, the Knights were not defined by one playoff game. In district play this year, they went undefeated, winning four games to claim the A-1 District title. They also went undefeated in city and conference competitions claiming both the city and conference titles as well. Moving forward, the Knights will have a lot of spots to fill as they graduate a large and talented senior class, including college prospects Teivis Tuioti, Issac Gifford, Isaac Appleget, Xavier Trevino and Nick Halleen. Next year, players Derek Branch (11) and Jake Appleget (10) will look to take on even bigger roles as they lead the Knights into the 2020 football season.
Volleyball:
The Knights finished the 2019 season 20-16 after a district-final loss to Pius X on Oct. 30. Southeast may have been one of the more consistent teams in Class A this year, beating the teams they were meant to beat, while unfortunately being unable to get over the hump when playing the state's volleyball powerhouse schools. However, one of the highlights for the Knights continues to be the strong play from three-year starter, Brittany Wulf (11). Wulf finished the season with more than 400 kills and was the difference maker in a lot of tight contests this season. Although the Knights will return their best player in Wulf, they will need a lot of growth and spots to fill after losing nine seniors.
Boys Cross Country: 
The Knights ended their season placing sixth at districts in District A-1 on Thursday, Oct. 17. Throughout the year, the team struggled to piece together a strong top-five group of runners. However, the Knights stayed consistent within that top five and will return four next year while losing Ethan Koerwitz (12) to graduation. The Knights can remain hopeful for the 2020 season as they return key runners, including Corey Krueger (11) and Carson Lauterbach (10), but will need a very productive off-season or need new faces to step up by the time the new school year starts.
Girls Cross Country:
The Knights finished sixth at districts in District A-2 on Thursday, Oct. 17, but did qualify two runners, Chloe Heller (12) and Ellyn King (12), for the state championships in Kearney. While at the state championship, Heller and King finished in 34th and 29th place, respectively, in their last race in Knights' uniforms. As for next year, their vacancies will be a huge question that the Knights will have to fill when looking to improve after this season. Their state championship experience will also be missed as they are responsible for six out of nine state-qualifying spots secured by the Knights over the past four years (Heller four appearances, King two appearances). Corynne Olsen (10) will be the lone returner with state experience for the Knights after qualifying in 2018.
Girls Golf: 
Although the Knights finished 12th in the state tournament on Oct. 14-15, there remains a lot of buzz and excitement surrounding the team. That's because the Knights will return all five of their state championship golfers next season. The only other state-qualifying team returning all five of its core golfers is Omaha Westside. Adalia Maiyo (10) and Ansley Sothan (10) will undoubtedly continue to be the spotlight for the Knights the next couple of years after their 18th and 22nd-place finishes in the state championship.
Boys Tennis:
The Knights finished in seventh place after the conclusion of the tennis state championships on Oct. 18. The highlight for the Knights was the fourth-place finish by the No. 1 doubles pair in juniors Graham Peterson and Grey Gergen. Overall, the tennis team was yet another Southeast fall sport roster filled with young talent. However, the Knights will need to fill vacancies after losing No. 2 doubles player, Max Sokolov (12), and No. 2 singles player, Joel Sanford (12), to graduation. Two players to keep an eye on for next season will include Peterson after competing as Southeast's No. 1 doubles for the third straight year, as well as Jackson Miller (9) who took over the responsibility as Southeast's No. 1 singles player as a freshman.
Softball:
The Knights finished their season with a 17-21 record after a 9-13 district loss to Bellevue West on Oct. 9. However, the season will remain a historic one, particularly for Rylan Ewoldt (11). This season, Ewoldt broke the Southeast record for the most home runs in a career (51 and counting). With her senior season still ahead of her, not only will her home-run tally undoubtedly continue to increase, but it might even surpass the state record next year, which is currently held by Lincoln Southwest alum, Emma Kauf (59), who set it in 2018. Ewoldt finished the year receiving second-team Super State honors while committing to Boise State on Oct. 21. Karis Gifford (11) and Amanda Schamderer (12) also received All-State honorable mention honors. As for the team itself, the Knights will have to fill four starting roles next year after saying farewell to seniors Kaeding Rassfeld (P), Estrella Uribe (CF), Schmaderer (C) and Trinity Babcock (3B).
About the Writer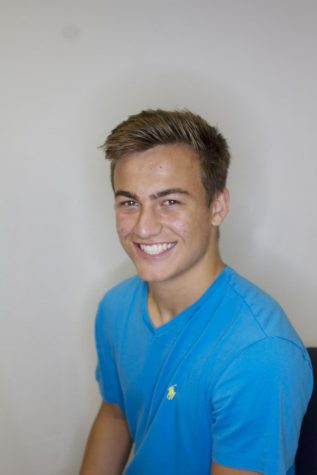 Reis Jensen, Sports Editor
Reis Jensen is a senior at Lincoln Southeast High School. This is Reis's second year with the Clarion and is currently the Sports Editor. He is passionate...