With latest bond issue, LPS is ready to revamp its athletic facilities
For the first time in 20 years, Lincoln Public Schools (LPS) will be adding not one, but two new high schools. The project will be very similar to LPS's last construction of high schools, when Lincoln Southwest and Lincoln North Star were built in 2002 and 2003. It's also similar in that one high school will be located on the north outskirts of town, while the other high school will be built in the complete opposite direction, just south of Lincoln's current city limits. The northwest site, located off Northwest 48th St. and West Holdrege St., plans to open in 2022. As for the south site, located off South 70th St. and Saltillo Road, the plan is for it to open the following year, in 2023.
This time around though, LPS plans for more than just two new high schools. Instead, it includes a huge expansion of athletic facilities to be used by the whole district. According to LPS Director of Athletics, Kathi Wieskamp, $13 million of the project will be allocated just for new athletic facilities, with an extra focus on facilities used by the whole district. These district-wide facilities include tennis courts, softball fields and soccer fields at the south location, while the north location will have a football field, track and baseball fields.
"Adding two new high schools to the already challenged facilities' needs make it necessary to add additional athletic facilities," Wieskamp said. 
This provides more flexibility for school athletic offices to schedule games without the concern of conflicting with another school's athletic schedule as well.
Like any other high school, the two sites will also have their own facilities, which won't have to be shared by all of Lincoln's high schools. With the introduction of these two new athletic programs, an immediate increase of competition within the capital city can be expected. Lincoln Journal Star sports writer, Ron Powell, even entertained the idea of Lincoln schools forming their own athletic conference. All seven of Lincoln's Class A schools currently hold membership in the Heartland Athletic Conference (HAC), which plans to add it's 12th-member school this fall. Although it may be needed in the future, LPS officials are satisfied with where they're at with the conference now.
"We have not discussed breaking away from the HAC," Wieskamp said. "We have a strong conference and a great working relationship with our conference schools and plan to continue as members at this time."
There's no doubt when the two new Lincoln high schools are built, they will also join the conference, expanding the total to 14 teams, considering no one else is added. Although the new schools will only be home to roughly 1,000 students each, it is expected that they will opt into Class A immediately and start competing with other schools in the district as well as the conference. Wieskamp said that although it's a board decision, the "initial thinking is that they will be Class A regardless."
However, the bond's current state isn't perfect. From where it stands now, the financials of the deal don't cover everything LPS envisions.
"[The $13 million] does not fully fund those projects," Wieskamp said. "They will have to be phased in as additional funds are acquired. An additional $11 million will need to be raised to complete our vision."
Part of the bond is supposed to include updates to current high schools as well. The big project many are waiting for are new turf fields for current Lincoln high schools who are in desperate need for them. However, the exact plan and information on that project is still up in the air.
"With the impact the coronavirus pandemic is having on our world, there are not a lot of definitive answers other than turf at the existing high school fields," Southeast Athletic Director Dr. Toczek said. "However, the turf is only partially funded at this time. Also, the timeline for turf has yet to be determined." There's no saying when it will happen, but the idea for everyone is sooner rather than later. Track upgrades are also expected to follow once turf is put in place.
Regardless of how it plays out, LPS is ready to take the next leap forward. This leap could not only benefit surrounding schools in Lincoln, but the city itself as well. With new facilities, the district has big plans for the future.
"We believe that there could be opportunities to host additional state championships here in Lincoln for NSAA championships," Wieskamp said. 
Currently, Lincoln hosts the state girls and boys basketball tournaments at Pinnacle Bank Arena. Just last year alone, the NSAA made a profit of $550,000 from the tournaments, while even more is said to be spent in the Haymarket as thousands of fans come from all over the state. Add in an extra state tournament or two with the new facilities, and you could see even more money start to flow through Lincoln.
Nonetheless, there's excitement stirring for high school athletics in Lincoln, all of which will soon come to fruition in the next couple years. For the most part, it seems the future is very bright and in good hands for high school sports.
About the Writer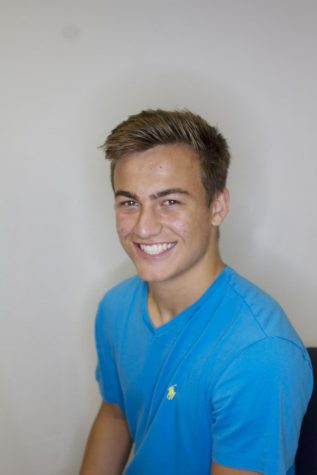 Reis Jensen, Sports Editor
Reis Jensen is a senior at Lincoln Southeast High School. This is Reis's second year with the Clarion and is currently the Sports Editor. He is passionate...