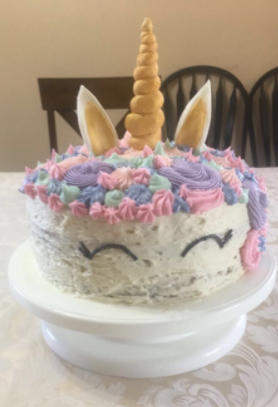 Phrases like "the quarantine 15" have been circulating through the media, poking fun at the expected amount of weight people might gain during this time of high stress levels and extreme boredom. With all of this extra time on people's hands, many major news sources like USA Today, the Los Angeles Times and Readers Digest, have come up with different lists that have creative ideas for things to do while we are all encouraged to stay in. 
One activity that is on almost every list has been baking, and for good reason. While making these tasty treats, that may or may not be contributing to that quarantine 15, it actually has been shown to relieve stress and anxiety. After all, stress is just desserts spelled backwards. 
In an article titled, "Baking is the Best Way to Alleviate Stress—Yes, Really," by Sarah Weinberg on Delish's website, Dr. Mary McNaughton-Cassill, a clinical psychologist and professor of psychology at the University of Texas, San Antonio, explains the sort of zen state that most of us get while baking. 
"There is a rhythm or pattern to baking… It feels familiar and can even lead to a mindful state," McNaughton-Cassill said.  
Humans are naturally wanting routine, and McNaughton-Cassil describes that generally speaking, that's what baking is. While fulfilling that rhythmic need, baking also is a way for people to get creative and ignite all of the senses. 
"Baking, according to psychologists, triggers our senses of smell, touch, taste and then, finally seeing our end result. They say having something tangible to show for your work will bring a feeling of accomplishment," Amber Pankonin, a registered dietitian, told reporter Kamri Sylve in her article titled, "Psychologists Say Baking Reduces Stress and Anxiety," on 10/11's website. 
In this social media age, even while being separated, we are still able to show off our baking creations on platforms like Facebook and Instagram. Not only can we just share our breads, cookies and cakes, but it has also become a place where baking lovers can connect and share ideas and recipes. 
"So often we knock social media, but I think this is a time when it actually can be really, really healing because it makes you feel much less alone. People who have common interests, they're able to find them through places like Instagram and they can feel the love of the community," Valerie Van Galder, a mental health advocate who's worked closely with the Depressed Cake Shop, said. 
It was just a couple weeks ago that Van Galder started the hashtag #bakeyourmindoffit to give people a place to share what tasty creations they have made to relieve stress and anxiety. 
This super fun baking trend has spread all over the world and has hit home for some Lincoln Southeast students.  
Kinsey Knorr (12) has made over 17 tasty treats during quarantine, saying that she has found that baking was relaxing and fun. 
Lemon blueberry mini cheesecakes, cosmic brownies and cherry chip cookies are just some of the foods that Knorr has made during her time in quarantine. 
Another Southeast student, Ksenia Govorkova (10), found inspiration from YouTube bakers when making her sister's unicorn birthday cake. 
While Pinterest and Instagram have been the typical places for bakers to get recipes and inspiration, TikTok is becoming a fan favorite for quick and simple recipes. 
Recipes for whipped coffee, edible cookie dough, churros, beignets and various cakes and cookies (and more) all can be found on TikTok, and have become quite popular as people are getting more into the baking mood. 
Pankonin explained why she believes that baking has become such a wonderful way to de-stress during quarantine. 
"I think it can take your mind off of what is going on in the world and give you something else to focus on for 30 [or] 40 minutes," Pankonin said. "Whatever it is, [baking is able] to give your mind a break from what is happening in the rest of the world," which is definitely what everyone needs a little bit more of right now. 
Click here for a TikTok churro recipe! 
Click here for a TikTok edible cookie dough recipe! 
Click here for TikTok's five-ingredient peanut butter cookie recipe!