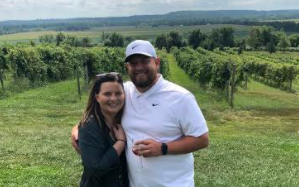 Photograph by Jessica Thompson
Canadian rock band Bachman-Turner Overdrive sings about how they're taking care of business (in their hit song "Taking Care of Business" of course), and while Jessica Thompson isn't necessarily taking care of it, she is definitely teaching it. 
Thompson is currently in her sixth year of teaching in the Business Department at LSE and says that, although she loves the rich traditions, the best part of LSE is the staff and the students.
While she has taught at other schools, she says that here at LSE, "We all look out for each other and want everyone to succeed."
Thompson hasn't always wanted to be a business teacher though, explaining that when she was a kid she actually wanted to be a surgeon. 
Once she got into high school, Thompson said that her original inspiration to become a teacher actually came from one of her own teachers in high school. "I knew I wanted to be a teacher when I took marketing in high school.  My marketing teacher was AMAZING and I thought, 'how amazing would it be to be able to have impacts on student's lives like she did'."
After that, Thompson made sure to prepare for her future teaching career by taking, "LITERALLY every business class offered in high school", even advanced keyboarding, and minored in accounting for college. "Business is something that makes sense to me," she said.
Because of her passion for business, she feels that teaching classes like Take Charge, a required business class here at LSE, are beneficial for students because they really prepare them for their future.
"We like to call it Adulting 101. I would have loved to have learned about credit and student loans and what I might want to do when I was in high school."
According to a Forbes article titled Student Loan Debt Statistics In 2020: A Record $1.6 Trillion by best-selling finance author Zack Friedman, the US student loan debt total for 2020 is roughly 1.56 trillion, making it the second highest consumer debt category. These statistics show just how important it is that students get the business and financial education so they can learn how to minimize debt and choose a career pathway that is best for them. 
Thompson's favorite part of helping students learn how to handle their education and financial matters is being with the students and forming connections with them. Obviously this past year has been challenging for that to happen due to COVID-19 and online schooling. Not only has Thompson felt the challenges as a teacher, but also as a student, since she just graduated from graduate school in May. 
She describes her unique school experience by saying, "Grad school for me was all online, so adjusting to that format was very challenging. My school postponed graduation until Aug. 1 this year but we were over cautious and I chose not to walk for graduation.  It was pretty anti-climatic in the forms of graduating. Although, it has given me great perspective with the challenges my students are having now."
While she has spent a lot of time working on her career and growing her talents in the business world, she also has a lot of exciting things going on in her personal life too.
Thompson is a new dog mom, recently got engaged, and is currently learning sign language, Thompson is staying busy inside and outside of school. 
Thompson's relatively new addition to the family, Jasper, was an unexpected delight. 
"I swore I would never be a dog mom and then I became a dog mom. Jasper is a year-old Havanese and is spoiled beyond recognition."
Her journey to becoming a dog mom all started when she went with her in-laws to get a dog, and noticed a second dog in the same pen.  
"My in-laws picked their dog and while discussing the details, I picked up the last dog. Because it was a cute puppy who could not hold a puppy?! Then I fell in love. When we got to the car I just couldn't leave without him. So my in-law's dog and our dog are brothers! Casper and Jasper!"
Thompson is connecting with future her in-laws in more ways than the bond over dogs, she's also learning to sign so she can communicate more effectively with them as they are both deaf. Over the summer, she has taken sign language classes so she can get better and improve her signing skills. 
She says, "They are great at teaching me signs when I am with them, but I want to get a more formal education to learn at a faster pace.  It is frustrating to want to tell a story to them and knowing they might not pick up on all my (fantastic) jokes."
While this has been one of the many reasons she has worked so hard at signing, the biggest driving reason behind it all was so they would never be left out of a conversation they are having as a family. Her in-laws originally met in a school for the deaf, so her fiance and siblings grew up knowing sign language. By learning how to sign, it eliminates that language barrier and makes family time more inclusive for everyone. 
She says that in order to communicate effectively, she practices a lot by "watch[ing] a lot of ASL news pages on Facebook," since they have closed captioning, and she "[tries] to pick up signs and then my in-laws are great at teaching me signs when we are together."
Thompson says that out of the things she has learned how to sign, her favorite things to sign is "I love you."