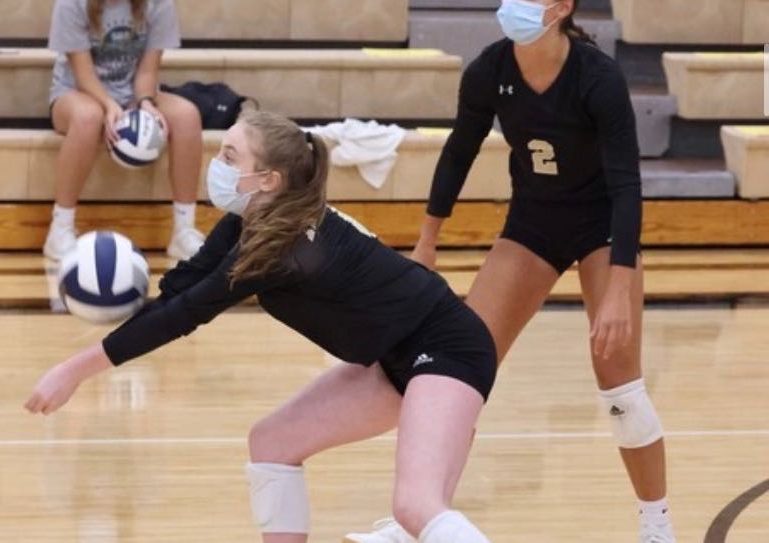 Freshman Lucy Cogan, makes the LSE Varsity volleyball team for her first year in the program. Lucy's position is defense specialist.
Varsity is a huge step in Cogan's athletic career, and she knew she had to step up her game if she wanted playing time. This placement wasn't a huge shock for her since Lucy has been playing with the juniors and seniors for open gyms and tryouts, but it definitely took others by surprise. 
"Everyone told me I was going to make JV probably, so honestly, I was just expecting to make a team. I mean of course everyone wants to make Varsity, but I wasn't expecting to make Varsity my freshmen year because that, like, never happens," she said. 
Cogan is a busy girl that likes to get involved. She also plays basketball and used to do theater. What got her started in volleyball was her mom, who had played in high school and spent some time coaching at Waverly. Her mom was even her first coach, starting out on a YMCA team, and then eventually moving to club. Cogan says that her parents are supportive and always want her to do what makes her happy. 
Cogan's first Varsity game was actually against Waverly High School, on Monday, Aug. 24. Waverly's team this year has two Nebraska commits, so the Knights knew that it would be a tough game. To her surprise, Cogan got plenty of playing time, and even two aces, which is when a serve can't be returned by the other team. 
"I was pretty excited but I was also kind of upset," she said, referring to the fact that due to COVID, there is reduced fan capacity and only immediate family members are allowed to attend games. "It wasn't as exciting because there weren't as many people there, no supporters."
Playing on Varsity has opened up some huge opportunities for Cogan to start out her freshman year. She's already been able to make many new friends and is getting the chance to play at a way faster and more intense pace than ever before. Although she has no experience playing with girls at this level of competition before, Cogan feels confident that she belongs where she is and hasn't had any major struggles to keep up with the Varsity tempo so far. 
Cogan claims that she is a pretty confident person, but definitely feels more comfortable while playing sports. 
"I'm definitely more confident on the court. Once you're on the court you just kind of forget that everyone else is there and you just kind of get in your own zone and you make a mistake and you try to fix it, " Cogan said. 
Cogan isn't sure what she plans to do with her future after high school yet, and is just going to go wherever her life takes her, even if volleyball isn't in the mix of it. All she knows is she is looking forward to defending the court for the next four years, and will hopefully lead the LSE volleyball team to many more victories in the future.