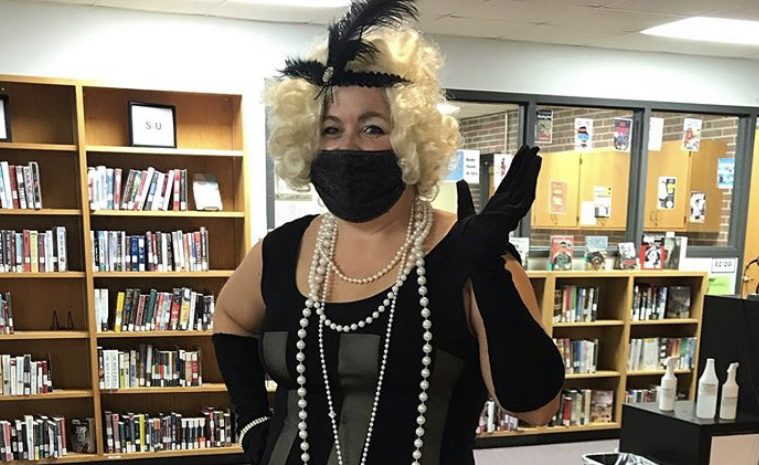 Spirit Week has been a yearly tradition that has inspired teachers and students alike to look towards their creative side when getting ready for school. Each year, Student Council (StuCo) chooses different topics for each day, with this year's themes being Decades, Tourist, Holiday, Jersey, and Knight Pride to end the week. 
Both students on Zoom and at school were encouraged to participate in this Lincoln Southeast (LSE) tradition, and neither party disappointed. On Monday, English teacher Mrs. Anthony brought the 'Roaring 20s' to 2020 in her shimmery flapper girl inspired look. Math teachers Mrs. Herbin and Mrs. Fischbein went for a gnarly look in their throwback to the 80s. Matea Jerkovic (12) was feeling groovy in her 70s throwback, and a group of 10th graders dressed up together to celebrate different decades from the past.
Tuesday brought tourists, cameras, and all the hawaiian prints to LSE, feeling as though students and teachers were all tourists in their own school environment. Amanda Holding (9) and Lauren Koerwitz (9) celebrated this day by wearing leis and a classic Hawaiian print shirt. 
Holding has really enjoyed participating in spirit week as she said, "Spirit week has been really cool. Walking into a school full of decorations, streamers, and posters on Monday; it really just showed lots of school spirit and made Southeast seem so welcoming! Especially during these crazy times, it kinda felt like things were (almost) normal again."
While these different themes are some beloved ones from the past, a new addition to spirit week brought the creativity and enthusiasm to the literal doorsteps of education.
StuCo sponsors Autumn Wardyn and Julie Krueger created a competition between teachers to decorate the doors to their classrooms, with a trophy waiting for the grand prize winner that was designed by Wardyn.  
"I was trying to come up with a way to involve as many staff/faculty members as possible this year when I came up with the Door Decorating Derby contest just a week before StuCo was going to be rolling out spirit week," Krueger said. 
She didn't think that most teachers would be able to decorate their doors as many have their metaphorical plates full trying to teach remote and in-class students. 
"My hope was that we would get at least 30 people to decorate doors and I am just blown away that more than 60 staff have participated by decorating their own door or helping out a coworker with concepts and decor," Krueger said. 
Teachers have gone all out for this competition, bringing their A game with Jurassic Park, Maui, London and Paris coming to life on their doors. 
Krueger continued by saying "…it meant a lot to me that this number of individuals were willing to pull out the construction paper, glue guns, glitter and markers to help bring some spirit and fun to the halls of Southeast for students this week."
Wardyn has divided the competition into different sections so teachers can win where their strength lies. There's awards for the best theme, referring to the five themed days during the week, and then specific details regarding the decoration and execution of the idea. These five categories are clarity of theme, craftsmanship, surprise element, dazzle razzle, and continuity of theme. Of course the winner of it all will feature the champion with the most votes. 
"…our distinguished panel of judges will be exploring the spirited halls of Lincoln Southeast. They will be using [a] rubric to guide their decision," Wardyn said. 
Regardless of who wins, just creating the doors and providing a unique way to make school a little bit more fun is what matters. 
"It was such a fun project in that so many teachers stepped it up in putting their artistic abilities and personalities on display for all to see," Krueger said.  "Truly, I can't thank the staff of Southeast enough for getting behind this project and bringing it big time.  What an awesome place to work at for sure!"