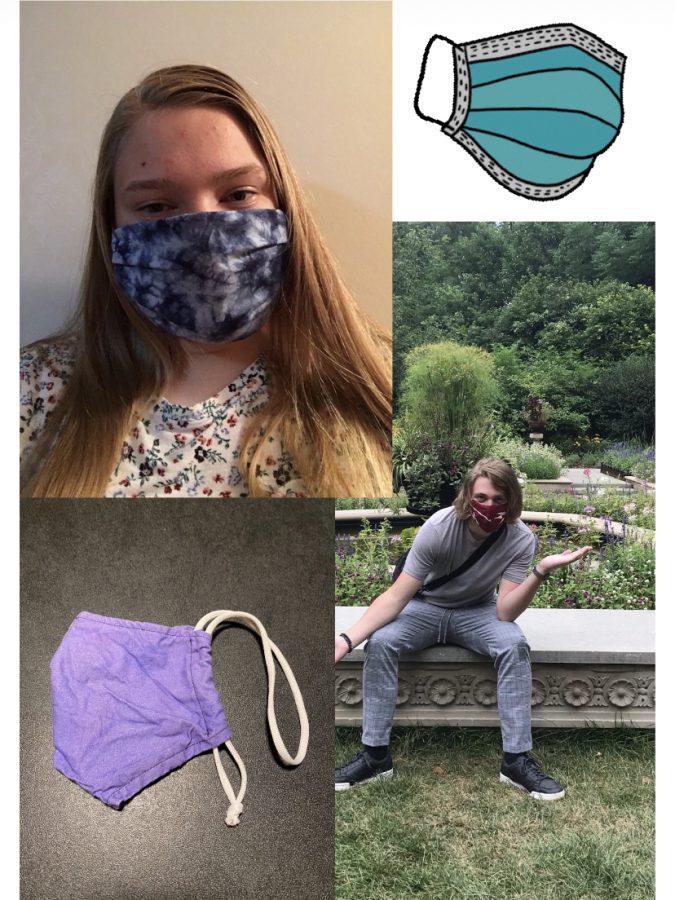 In the past couple months, masks have become such an integral part of our world. Starting in February, millions of people prepared to lock down in hopes of staying healthy and steering clear of COVID-19. Recently, shops, businesses and stores have started to reopen, with most having a mandatory mask mandate. With these rules in place, the American mask industry has skyrocketed from 2.86 billion to a whopping 7.24 billion during the years 2019 and 2020. With masks becoming so important, creative entrepreneurs and fashionistas have found new ways to express their unique style by making or wearing out of the ordinary masks showing how fashionable wearing a mask can be. 
Celebrities such as "Home Alone" star Macaulay Culkin, singer, songwriter and actress Lady Gaga, fashion brands like Pretty Little Thing and David's Bridal and even a couple Lincoln Southeast students have learned to embrace mask wearing in the most fashionable way. 
Before COVID-19, masks seemed to be a thing of the past, with the 1918 Spanish Flu being the most recent outbreak in history where a mask mandate was put into place. 
The Centers for Disease Control and Prevention (CDC) first started advising people to wear masks starting April of 2020. According to the CDC's website, COVID-19 is spread, "through respiratory droplets produced when an infected person coughs, sneezes or talks."
Masks help to protect others from an infected individual's droplets, therefore helping to stop the spread of COVID-19. 
According to the CDC's website, "Everyone should wear a mask in public settings and when around people who don't live in your household, especially when other social distancing measures are difficult to maintain." 
Since masks have become mandatory in the majority of the states, 33 to be exact, some people have decided to take this mandate and turn it into something quite magical. 
Over the course of the pandemic, different styles of masks have been specially made for celebrities, as even the rich and famous have to follow the mandatory mask rules when out and about in their everyday lives. 
On Oct. 7, Macaulay Culkin posted on his Instagram a picture of himself sporting a mask that paid homage to his younger years when he starred in the movie "Home Alone". This mask, that featured his distinct hands over the cheek face, was accompanied with the caption, "Just staying Covid-safe by wearing the flayed skin of my younger self."
While Culkin was poking fun at his Home Alone role in his younger years, it was a great reminder to people that while they may be over COVID-19, COVID-19 isn't over yet.
Other stars, like Lady Gaga, decided to showcase their unique masks in a different way. Gaga has been known for years to elevate her looks above and beyond the average celebrity, and when it comes to masks, it's no different. 
At the 2020 Video Music Awards, hosted in August, Gaga came in a very fashion forward manner, sporting four different masks throughout the event. It seemed that for every public speaking appearance, there was a special mask to match her outfit. 
Matching masks and outfits have become something to think about in the minds of fashion icons and trend setters, but one fashion company, Pretty Little Thing, has decided to make mask wearing more convenient than ever. 
They have taken a new approach to the classic little black dress, and put a more COVID-19 friendly spin on it. While this black long sleeved mini dress is not only stylish but also safe as it features a built-in mask to cover the wearer's nose and mouth.  
Mixed reviews have come from this dress, but it's popularity has soared enough for it to sell out in every size, and sparked the creation of a black long sleeve jumpsuit sporting the same attached mask
While Pretty Little Thing is reinventing the LBD to be more COVID-19 safe, David's Bridal is turning another classic dress into a fashion forward statement to keep everyone healthy.
David's Bridal announced the creation of their mask line on Instagram June 25, featuring black and white masks for brides, grooms, and the whole wedding party. 
These masks are made out of an assortment of different laces to match brides' dresses and come in a variety of colors and sizes, each with adjustable ear loops. 
While masks have been adapted for convenience and stylistic purposes, the main reason for masks is for their every day purpose to protect the wearer. 
Inspiration to make masks has come to people in various ways. LSE junior Mindy Bartles was inspired to make her own mask in order to show off her sewing skills, save money and utilize her creativity in another crafting project. 
After deciding she was going to make her own mask, the first step was finding a template and pattern. She found a free pattern online, then crafted the masks from leftover fabric and free handed the pleats to finalize the mask.
Once she got done making her first mask, she found out how fun and easy they were to make and decided to make more. 
"I have made a total of 15 masks. I made seven for myself, but then also made ones for my parents, grandma and close friends," Bartles said.  
Bartles describes how she has carefully thought about her designs, making special adjustments to make the mask safer and more versatile. 
"All of my masks are double sided, so you can have more than one design per mask. This also makes my masks safer as there is double protection from particle[s] getting onto/in your mouth [and] nose area," she said. 
Bartles makes these masks as personalized as possible, allowing the future wearer to choose a specific color or design. 
To add in an extra comfort factor, Bartles made sure to make her masks "extra wide which means they better cover your nose and your chin for better protection."
Other students like Wolfgang Sturm (11) and Caroline Haws (12) have made their own masks out of things they have from their own house.
Sturm used an old Hawaiian shirt as fabric for his do-it-yourself mask, and Haws used cotton fabric with space for insertable filters to make theirs. 
Regardless of what color, size, shape, or design is on a mask, as long as it does the job, that is what matters.