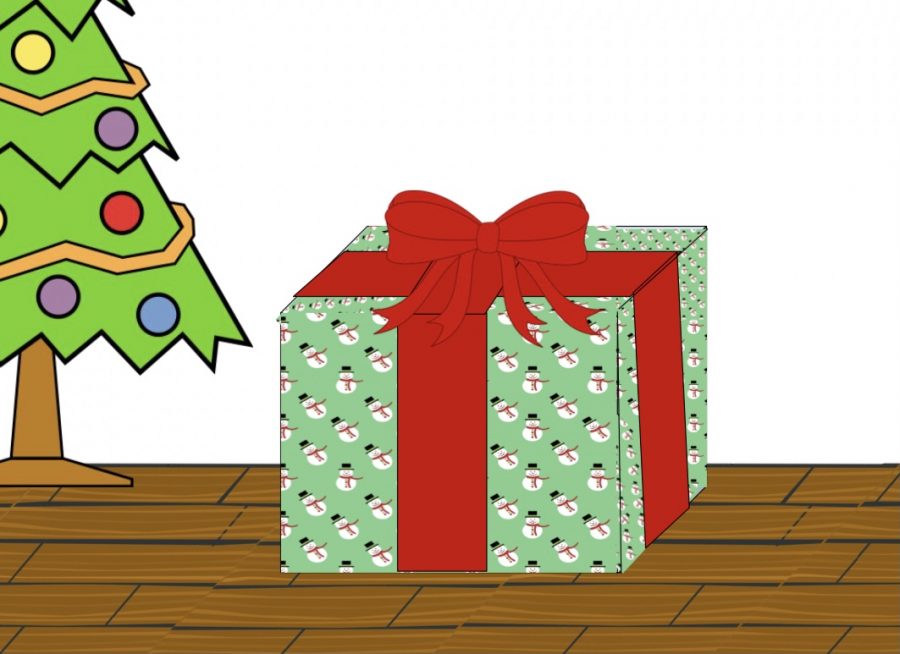 Graphic by Chloe Fitzgibbon
With the holiday season rapidly approaching, many family and friends are indecisive about what to get their teenaged loved ones. Speaking from experience, teens are the most difficult age to shop for. They want very specific things and nothing more. Their wish list ends up being a string of exact pictures, making it impossible to surprise. Many are focused on the latest trends because, well, they're trendy for a reason. 
But there are also many teens out there who don't know what they want. Or, maybe you are getting a gift for a friend and don't want the awkwardness of asking for a wish list. If any of these complications are the case, we may have a solution: our student survey asked what teens at Lincoln Southeast (LSE) want for Christmas. 
For starters, with the answers to the poll largely being girls, the most popular choice by far are clothes. These ranged from pajamas to sweaters to shoes. Clothes are a staple on every gift list, and most teenagers can never have enough. As a female teen, clothes always make up the majority of my list every year. If you're struggling to figure out what to choose, here are a few favorites this year and places to look: 
Brandy Melville and Shein- While some say the fast fashion industry is corrupt, brands like these are among the only affordable places to get trendy clothing. You can almost never miss when buying an item off of these websites. It's also much easier and safer to shop online rather than in-person. 
What to buy: crop-tops, mom jeans, jackets, patterned pants, sweatshirts
Cute workout clothes: Everyone loves to look good when they work out; it can help keep them motivated. If the teen you're shopping for likes to exercise maybe consider some shorts, leggings or tank tops
Go comfy: Many said that they want pajamas, sweatpants and sweatshirts. My personal favorite is this extremely oversized blanket-like hoodie called "The Comfy" which costs around 40 dollars. 
Shoes: These are a necessity to complete a look and are always a hot ticket item every year. Some of the most popular shoes right now are Air Force 1s, Air Maxes, Doc Martens, Nike Blazers, high-top Converse and Ultraboosts. 
While clothes as gifts are a more common ask with girls, they can make great presents for guys as well. For example, many like shoes, and most of the shoes listed above are versatile for all genders. Additional favorites for teen boys tend to be flannels, hoodies, sweatpants, and shorts (preferably 5 inch in-seam). 
Some LSE students also said they wanted money and gift cards to certain places. Many people would say you can't go wrong with this route since it is simple and the recipient gets to decide specifically what they want. Gifts like these are especially good for people you don't know as well or for those who are extremely difficult to shop for. Plus, teens are always in need of money since we're almost always broke. But this gift idea does have one major downside. In my opinion, receiving money and gift cards is somewhat underwhelming and can come off as unthoughtful. It is not nearly as enjoyable to have to go out and decide what you want with the money rather than someone surprising you with a more creative and exciting gift. 
Getting into a more pricey category, teens are always into the latest electronics. Some said they want a new phone, Apple Watch and hairstyling tools. The majority of males said that they wanted gaming consoles and video games. This year, the gaming consoles to get are the Xbox Series X and the PS5, and the video game that everyone wants is "Call Of Duty: Cold War". 
Food is also a great go-to, especially for lower budget gifts. It is consumable and will never turn into clutter, and plus, who doesn't love receiving their favorite food as a gift? 
Here are an additional few honorable mentions: 
A DVD of a favorite show or movie
Room decor items 
At-home workout equipment
Instruments and records of favorite albums for music lovers
Beyond all of the material wants, consider the spirit of the season. Perhaps the best gift this year is beyond our control; many just wish for the pandemic to finally be over so that they can see their loved ones for the holidays.