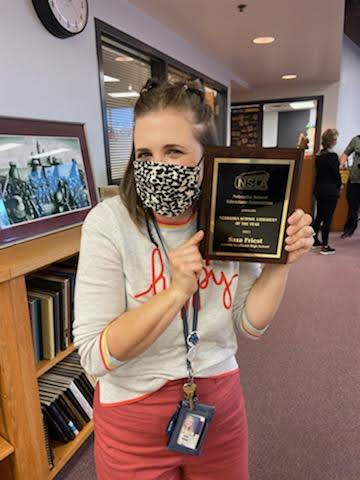 Lincoln Southeast High School (LSE) is making history once again. On Oct. 15, 2021, LSE librarian Sara Friest became the first recipient of the Nebraska School Librarian of the Year Award. 
Lincoln Public Schools (LPS) district office library coach Emily Jacobs and LSE Administrator Crystal Folden surprised Friest and set up a congratulatory celebration to honor Friest's esteemed work. 
"I was honestly so shocked. There had never been an award like this before. If I'm being honest, I'm still trying to let it all sink in," Friest said.
The Nebraska School Librarians Association (NSLA) describes this award as "[being] based upon an individual's demonstrated creativity and innovation in the profession through instructional opportunities and programming. Nominees for the Nebraska School Librarian of the Year must be current NSLA members.The recipient is given a plaque at Nebraska School Librarians Day and a year of membership to the NSLA."
Friest said that her original fascination with libraries and books stemmed from childhood obsessions and currently has been influenced by the "many librarians across LPS that are making magic in their libraries." 
"Since the time I was very young, I've always been obsessed with putting my books in order on the shelves (alphabetical by author's last name, of course). Any time I got a new book, I rearranged them all. As I grew up and DVDs were a thing, I kept those organized as well.  It wasn't until I was much older that I decided to embrace my organized nature and become a librarian," Friest said. "I had no idea what a perfect fit it would be." 
Over the years of her being a librarian, she has found that it's the ideal blend of everything she loves: "Teaching and collaborating, reading and researching, technology and social media, crafting and creating, learning and exploring.  I could go on and on. If I wasn't a librarian, I don't know what I'd be." 
While the library setting has changed since she was a student, it has prompted her to make it a more welcoming environment for everyone. "[The] library should be loud and fun –  the place where everyone wants to go," she said.
As for her favorite part of the LSE library, it is "having the support of the students and teachers and administrators. It's allowed me to adopt the motto 'brave before perfect' and that gives me the freedom to try new things … and to sometimes fail.  But also … I LOVE planning events and finding ways to bring people together," she said. 
It was this positive and radiant attitude towards her job that prompted LPS Coordinator of Library Services Joy Harvey and Jacobs to initially nominate her for this award. 
"I'm so delighted to be honored as the first-ever Nebraska School Librarian of Year! The surprise ceremony will be one that I will remember forever. I absolutely love the work that I get to do as a school librarian but it's work that I can't do alone," Friest said. "I am so grateful for everyone who has supported me here at LSE and for everyone that has inspired me. Go Knights!!  I'm excited for the opportunity to stretch and grow as I try to live up to such a distinction."