Charlie Puth pleads for your attention on new album, "Voicenotes"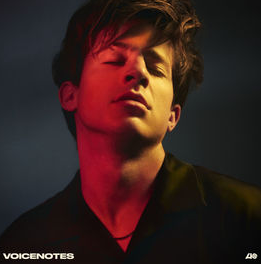 Seth Householder, Copy Editor
May 14, 2018
Charlie Puth has only been in the music game for a split second, but he has spawned numerous hits, such as "See You Again," "One Call Away," and "We Don't Talk Anymore," from his first studio album, "Nine Track Mind." He has constantly bashed his first album, calling it "not me." With his second album, "Voicenotes," Puth seeks to undo and one up what "Nine Track Mind" sought to do.
The first track of "Voicenotes," "The Way I Am," is an intricately relatable and personal anthem that helps ground Puth as a likeable dork who isn't seeking fame. Then comes the catchy second track and first single which reached number five on the charts, "Attention," and it paints a story of a girl that will do anything to get Puth's attention. "LA Girls" comes next, with Puth stating that he misses east coast women and that he shouldn't have gotten involved with the girls in Los Angeles. Then yet another catchy tune, the second single, "How Long," in which Charlie and his love interest reveal that they've both been cheating and plays heavily on the insecurities of twenty-somethings while dating.
Next comes "Done for Me," the third single which features the ever-excellent Kehlani. Listeners may feel a sense of nostalgia as the bouncy synth is reminiscent of 80s pop and constantly ties back to the previous three songs. "Patient" is the fifth track and it is a very calm, personal song in which Charlie pleads with his lover to start over with him and allow him to explain. A Boyz II Men feature is used to bolster "If You Leave Me Now" by making it entirely acapella, something rare in the musical industry.  In "If You Leave Me Now," Charlie pleads with his lover to stay a while longer in the relationship (a whole lot of pleading in this album if you ask me). I had a strong gut feeling I would like the next song, "Boy," before I listened to it, and I did. Another song in which Charlie is pleading, this time pleading for his lover to stop treating him like a boy. It has a funky tune and Charlie's vocals go all over the place.
"Slow It Down" is the next track and the opposite of its title. It sounds more like a house beat than the rest of the album with a bit of acoustic guitar. In this song, Charlie is pleading for his girl to slow down how fast their relationship is going and that maybe this won't work out for them. The next song is the evergreen genre of changing the world. "Change" which features the ever calming voice of James Taylor (the song sounds exactly like one of his songs, too). This song was first played during the March For Our Lives to add a bit more meaning to it. On this, Charlie and James plead for people to get along. Then on "Somebody Told Me," it is brought to Charlie's attention that his girl has been cheating on him and he asks her why she didn't tell him. The beat is futuristic and you could definitely run to it. The twelfth track, "Empty Cups" has a very 90s-esque grunge beat to it as Charlie and another man's girl have some fun after emptying a few cups of alcohol (hence the title) in secret. The final track is called "Through It All" and it is reminiscent Southern-gospel, with a choir backing Charlie at points. It serves as a bookend to the crazy journey through the cheating and relationship detour that was "Voicenotes," stating that he finally has found himself yet again.
In conclusion, none of the tracks on "Voicenotes" are truly terrible, but there are definite favorites like "Done For Me," "Boy," and "Empty Cups. "Voicenotes" is a nice story of Charlie's relationship woes and is down-to-earth and relatable through the 80s synth-pop. Grade: A
"Voicenotes" is available now at any place where CDs are sold for 10 to 16 dollars.