Humans of LSE: Dana Clements
Hang on for a minute...we're trying to find some more stories you might like.
For senior Dana Clements, her journey at LSE has been one of immense opportunities for self-discovery and finding her niche within her community. Clements has been a member of LSE theater since her freshman year, alongside LSE's trap team. She also has a passion for art and piano, all of which she's been doing for over 10 years. Through her involvement, Clements has been able to grow into herself and who she strives to be.
"I used to worry about what other people would think of me all the time. I obsessed over it, and started trying to force myself into a mold of someone that I thought others would like, especially when it came to my appearance. I kind of got consumed with it, and lost myself for a while. Since then, I have learned that I need to just be me and live my truth, and if someone happens to disagree with that, then that's okay," said Clements. "Now, I wear clothes that I like and do my hair the way I want to, even if that means being a little unconventional sometimes. I've been more adventurous with my art recently, too, which has been the most freeing experience of my life. It was a hard lesson to learn, but now that I've embraced my true self, I'm more happy than I ever have been before."
Clements has also made many new friends along the way that have also helped her grow immensely as a person.  She is proudest of her personal growth over the last year and feels she has become more confident and more comfortable with who she is, and is generally a happier, healthier, version of herself. Last year, she took on some leadership roles during theatre shows, and was elected president of the Drama club, both of which are things that she didn't think she was capable of doing.
"My friend Shannon is one of the kindest people I know. We have known each other for awhile, but got really close last August because of a community theatre show we did together. We've been inseparable ever since then," said Clements. "We have so much in common that sometimes we joke that we're the same person, and the universe just messed up and put us in the same dimension. She is my rock, and I would trust her with anything."
Clements is also very involved in all things artistic – she considers it a part of herself rather than just say, a hobby.
"My art has become a refuge for me. Whenever I'm feeling stressed, sad, or just overwhelmed, I sit down and create something. It's therapeutic in a way that nothing else can compare to. It's also my favorite way to express myself, as cliche as that might sound. Sometimes it's hard for me to put my thoughts into words, so I use art as a way to process and communicate my feelings and experiences."
Clements is excited for what her future will hold, and for now she's taking things one day at a time.
"As of now, I don't have any set-in-stone plans for my future. I know that I want to go to college and experience lots of different things. As far as what I plan to do for a career, all I know is that I am someone who has a deep-seated need to create things, whether that's through live performance or visual art," said Clements. "I hope to pursue a career in the arts, since that is a part of my life that I would be incomplete without. I want to live my life to the fullest, be genuinely happy, and be at peace with myself."
About the Writer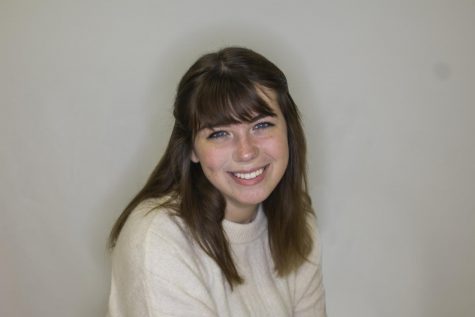 Syann Engelhard, Co-Editor-In-Chief
Syann Engelhard is a Senior at Lincoln Southeast High School. She currently holds the position of Co-Editor-In-Chief and Graphic Artist. Outside of newspaper,...