"Hate Still in Our State": Protestors gathered in downtown Lincoln to voice opposition to Nebraska Family Alliance
Hang on for a minute...we're trying to find some more stories you might like.
Protesters gathered on the sidewalk in front of the Embassy Suites Hotel in downtown Lincoln on Friday, Oct. 26, to voice their opposition to the people meeting inside – the Nebraska Family Alliance (NFA).
The NFA, founded in 1988, has a history for advocating and donating funds to relinquish LGBT community members of their rights. Kelvin Cochran of Atlanta, Georgia, attended the gala as a speaker and to advocate his book – which details the supposed "correlation of homosexuality to pedophelia and beastiality."
It was cloudy and overcast that afternoon, but that didn't stop the people who met outside the Embassy Suites with signs and questions.
"Are you going to the gala? I wish you wouldn't."
The gala attendee drops his wife's hand – raising a finger at the protester – and says, "I discipline my kids because I love them."
Silence and confusion ensue.
"How did that even correlate?" a protester asks. Heads are shaking.
If you've never been to a protest, there's a lot of honking and waving; one man even stuck his head out the window to yell, "I support the s*** out of you guys," to the protestors. Often times, the organization being protested makes no appearance – questions are raised and tensions are high. But on the rare occurrence, the gaps between  anger and agreement can be bridged – understanding can be reached. People have these kinds of conversations every day, but often times they aren't at the epicenter of two dueling sides.
Mary Downing attended the gala, but she stopped outside to talk to the protestors and in the end, she wished them a good night.
"I'm all for equal marriage and stuff, but I'm pro-life and my beliefs align with [the event] and that's why I'm here," Downing, who had her own pro-life booth at the event, said.
Andira Losh, one of the organizers of the protest, remarked on how she thought this comment was a tad hypocritical.
"It continues to be a shock to me that people can claim to have loving compassionate values and at the same time, do work to undermine people's ability to live, to be respected and to have the same rights that anyone else should expect to have," Losh said.
Losh spent majority of the rally encouraging passerbys to vote, there was no cynical comment, just a genuine interest to gauge voters.
"Voting is vital in the political climate as it exists now," Losh said. "People need to do something to stay the tide of dangerous reactionaries in power who are taking away rights, damaging people's lives and ironically – damaging people's lives."
Losh joined in the early stages of the protest's organization and notes how groups like NFA need to be opposed.
"I saw the importance of responding to these sort of fundraisers for hate groups – and I wanted us to stand up against it and to know about it and be aware that Embassy Suites is knowingly hosting this, even though they've been informed – and in the past have stated a policy of inclusion," Losh said. "They're still welcoming a hate group."
Losh wasn't alone in her efforts and preparation as she was joined by John Skinner, fellow organizer and LGBT community member.
"Our goal here is to make it as uncomfortable and costly for them as possible. It is kind of fair to say that we are trying to make them feel how they make us feel,"  Skinner said. "In moments of weakness, when I might think that making somebody on purpose is a bad thing to do – I take some comfort in knowing that they've been doing that to me, and people like me, before I was even born."
Skinner brought on this discomfort in asking difficult questions to the attendees. These questions were mostly met with the turning of a back or a middle finger and curse word. Skinner said he felt good making their nights a little less enjoyable.
He also wanted to make the point that his actions – in essence – were products of their own doing.
"They have been protesting against LGBT rights since the mid-2000s, and they were and still are highly against the legalization of gay marriage. I do believe they're much older than that and that they have horrible history," said Skinner.
However, when Skinner made the call to Embassy Suites, there was no response – no statement. Embassy Suites is an extension of Hilton Hotels – a company that has advocated for LGBT rights in the past, as well as provided benefits to employees and members who stay there.
"[The NFA] just rented the space," Skinner said. "We only found out about this event three days before it took place, and we were hoping that Embassy Suites could be convinced to cancel it and ask the organizers politely not to come back in the future, or perhaps just issue a statement if they didn't feel that they could get it cancelled. They could've issued a statement about their opposition to the ideology of this group – yet they refused to do all three of those things. We went all the way to the top – to the general manager, and we tried to get ahold of the Hilton corporation and we didn't get a response."
Skinner and Losh alike only had one goal in mind though – to make their voices heard. They said they are sick and tired of having to advocate for themselves when there's no real reason to other than societal discrimination.
"They're spreading ideas that are bad and doing decades of damage in the future," Skinner said. "We need to do everything we can to try and stop that so the next generation doesn't have to."
About the Writer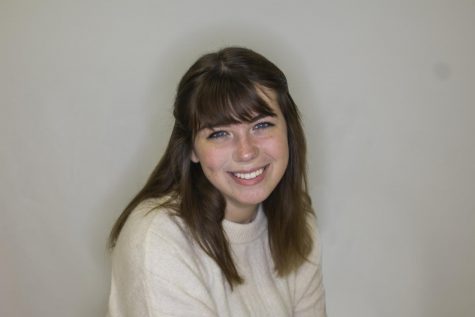 Syann Engelhard, Co-Editor-In-Chief
Syann Engelhard is a Senior at Lincoln Southeast High School. She currently holds the position of Co-Editor-In-Chief and Graphic Artist. Outside of newspaper,...