Knights stun #1 Thunderbirds in an improbable comeback
Hang on for a minute...we're trying to find some more stories you might like.
On Saturday, Dec. 8 the Lincoln Southeast Boys Basketball Team looked to rebound against Class A number one, Bellevue West, after an upsetting 71-47 loss to Pius X the night before. The Pius loss left the Knights with less than 24 hours to prepare for one of the toughest opponents of the season, a game in which many predicted a strong win to come from the Bellevue West Thunderbirds. Junior Max Renn had other plans.
"[We] threw the loss away on Friday and just said 'next game' and moved on from Friday and really focused our attention on Bell' West," Renn said. "We knew it was just another basketball game and we prepare the same way."
However, early in the game it seemed like preparation did not help to stop the powerhouse Thunderbirds. After a slow start from the Knights, Bellevue West jumped on a quick first half lead. With 5:31 left in the second quarter, the Thunderbirds led 29-8, the largest lead of the evening. Shortly after, a timeout was called by Knights' Head Coach Jonah Bradley. A timeout in which the game would totally flip afterwards.
"Bradley said we just need to start finishing our layups, that lead to us being down [by] so much. We kinda just focused more," Renn said.
For the Knights, that's all it took to start chipping away at top ranked Bellevue West's lead. By halftime, a once 21-point lead settled to 34-24, still a 10-point cushion for the Thunderbirds. It wasn't until 5:05 was left in the fourth quarter for the Knights to claim their first lead since the first bucket of the game. The lead officially switched at the hands of Renn after launching a three-pointer to put the Knights ahead 49-48. Southeast further cemented their position and victory after key free throws from sophomore Ajantae Hogan down the stretch. When the final buzzer sounded, Southeast had outlasted Bellevue West 64-57 in an improbable comeback and spectacular showing in Prasch Gym.
Renn finished 4-4 from deep, hitting all his threes totaling for 12 points on the night. Other notable performances include a team-high scoring effort from Hogan who dropped 22 points, his third consecutive game scoring at least 20. Knights senior leader Michael Anderson also scored 16, and it can't go unnoticed that the Knights finished 15-16 from the free throw line, a key part of Saturday's victory.
Moving forward, Southeast now prepares for a matchup against city rivals Lincoln Southwest.
"We just got to stay focused at practice," Renn said. "If we want to win a bunch of games like we say we want to, then we're going to have to practice that way."
The game this Friday is sure to bring a bunch of noise as the rivalry game always draws big crowds. Tip off starts at 7:30 p.m. and parking will be limited as Southeast will host speech and swim as well.
About the Writer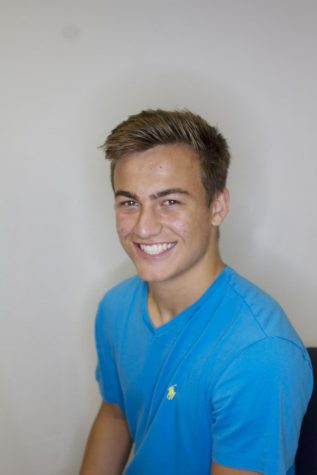 Reis Jensen, Sports Co-Editor
Reis Jensen is a junior at Lincoln Southeast High School. This is Reis's first year with the Clarion and is currently the Sports Co-Editor. He is passionate...