Varsity Girls Basketball falls short against East
Hang on for a minute...we're trying to find some more stories you might like.
On Friday, Jan. 11, the Lincoln Southeast Girls Varsity Basketball Team chalked up their eighth loss of the season against the Lincoln East Spartans. Despite the result of their performance, the girls showed nothing but fight and resilience, and are hopeful for the games to come the rest of the season.
"I was optimistic going into Friday night's game because I knew we could use players such as Claire Strong (12), and use her height as an advantage. I also was thinking we didn't want to lose by 40 points again," senior Meg Hatfield said.
However, there's no denying that the Knights were missing one of their key players Friday night. With a neck injury during the middle of the week, the Knights were forced to play without shooting guard, Mackenzie Toomey (11) in a game against her former team and school.
"It was different considering she's played in every game this season. Since it was East though, we ended up thinking 'Let's just do it for Kenzie.' I think we handled it well," Hatfield said.
Seniors Cassie Nash, Meg Hatfield, and Murphy Grealish provided a much needed spark for the Knights. During the game, Hatfield and Grealish handled the ball well. Nash was able to use her impressive speed and ball handling skills to her advantage, and was able to break the pressure given from the Spartans. Another contributor from the senior corp, was Claire Strong, who led the way in scoring for the Knights, with 12 points.
"We practiced breaking their press a lot, because we knew that was going to be something hard during the game. We also just worked on our outside shots and layups like always, and also on some fundamental stuff," Hatfield said.
Putting a lot of hard work into practice was a critical component in Friday night's game. In the first half, East ran an intense full court press and then moved into a 1-3-1 press which caused issues for Southeast. It was vital for the Knights to perform well on the defensive end. However, the Spartans were able to knock down many three pointers in the first half. The Knights managed to end the first quarter 10-12, down by only two points, and the second 21-23, falling short by two points once again.
Despite the game being so close throughout the first half, East began to pull away during the third quarter. East pulled back their full court man-to-man press, and introduced a one-three-one press. This caused many turnovers, leading East to score 25 points in the second half. At the end of the third quarter, the score was 24-38, Southeast trailing by 14 points.
Southeast had holes in their defense, allowing East to make many high percentage shots that pulled them ahead by too much to make a comeback. The final score was 34-48, the Knights losing by 14 points.
Despite their loss Friday, the Knights returned to Prasch Gym the next day, Saturday, Jan. 12, and defeated the Marian Crusaders 50-34. Their next game will be this upcoming Friday against Omaha Bryan.
About the Writer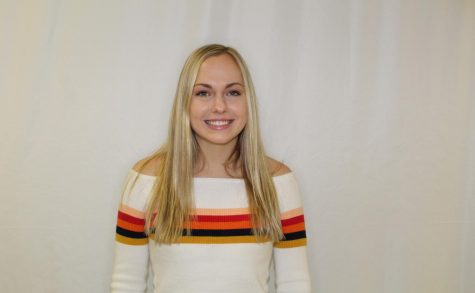 Ellyn King, Staff Writer
Ellyn King is a junior at Lincoln Southeast High school and this is her first year on the Clarion staff. She plays soccer here at Southeast and also runs...