Southeast dive falls to Millard West, performs well individually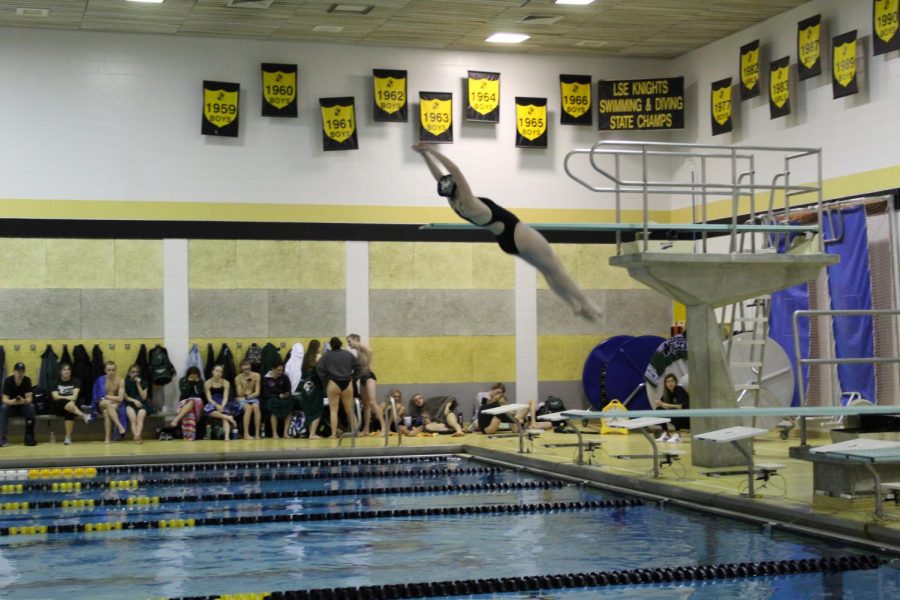 Landon Heller, Staff Writer
February 4, 2019
On Thursday, Jan. 17, the LSE Swimming & Diving Team lost to Millard West, 60-126. It was a good match, but the Knights were not able to pull off the victory. However, all of the divers had a good meet individually.
"My favorite part about diving is the people and the experience that comes with it, it's a really close group," sophomore diver Brady Koolen said. The dive teammates cohesiveness really affects how well they dive.
"My favorite part of diving is it pushes you to do things you wouldn't normally do and my teammates are really cool," senior diver Baylie Brewer said.
Scoring in a dive meet is different than most sports. Judges score the dives based on the diver's form as they flip, jump and enter the water. After each dive is awarded points, the total points are then multiplied by the level of difficulty of that particular dive.This makes it so that the divers need to do well on their dives, but also challenges them to earn more points for their team by doing harder dives.
Diving practices are not easy. The divers are put through very tough workouts and dry-lands. Dry-lands are workouts, which take place out of the water, that the divers do to increase their strength.
"A typical practice usually starts with our warm-up, which is a few somersaults, handstands and other stuff and then we do sit-ups and push-ups and stuff, and then we do diving for two hours and then we finish with conditioning," said Koolen.
When asked what she would say to a person wanting to participate in dive, Brewer said, "Just come and try it because you never know if you're going to like it or not and no one's good at the beginning; it's just a learning experience for everyone everyday."
If you are interested in diving, you are strongly encouraged to join the LSE Swimming & Diving Team.