LSE Archery Team competes at first tournament of the season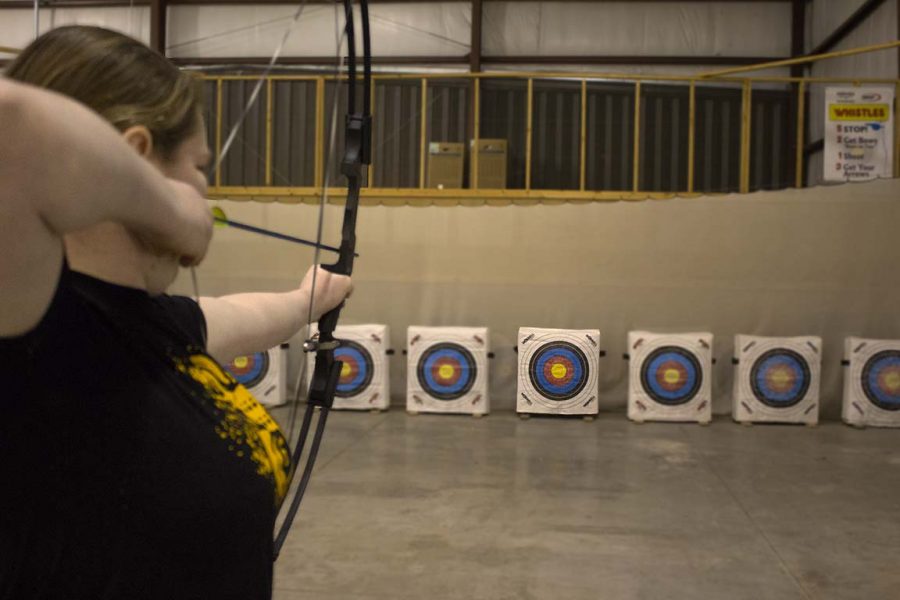 Alyssa Johnson, Photography Editor
February 1, 2019
On Saturday, Jan. 26, the LSE Archery team competed in their first tournament of the season hosted by North Star High School and held at the Outdoor Education Center in North Lincoln. Sophomore Matthew Gruhn came home with the second-place medal for high school males, tying with first place with a score of 284 out of a possible 300.
"I was kind of disappointed," Gruhn said. "Every single tournament I lose first place by a point or by a number of tens or nines."
Archers are scored first by their total amount of points throughout six rounds with five arrows each. The six rounds are divided up at 10 and 15 meters, with a practice round before each distance. After the scores are sorted, any ties are determined by the highest amount of tens, then nines, until one archer holds more than the other. Gruhn lost first place to a Bellevue senior after tying with 17 tens, and having 10 nines compared to 11.
Although the single-point difference would be disappointing to just about any archer, Gruhn takes second place proudly and looks forward to the rest of the season.
"Saturday was a good start," Gruhn said. "I feel like we are going to do pretty well."
The team overall shot lower than usual, but senior Paige Trevarrow believes it to be because the tournament was earlier in the year than in the past.
"I feel confident about the way the rest of the season will go," Trevarrow said. "We have a lot of really strong-shooters on our team and I think we will see improvements from the whole team."
Southeast is part of a group called South Lincoln Archery, ran by Bob Bruner. LSE students are joined by students from Southwest High School and Scott Middle School.
"Our team isn't quite as big as some of the other schools," Trevarrow said. "But we've done well in the past, even with smaller numbers."
Both Trevarrow and Gruhn has set goals for themselves for this season before the state competition in March. Trevarrow hopes to finish strong and place at state again this year in order to qualify for nationals held in Louisville, Ky. She also hopes to see some personal growth overall as she finishes off her last year at LSE. Gruhn sets his goal as shooting a 290 at a tournament this year, which would be his personal-best score.