Injured: The greatest comeback from sports' greatest setback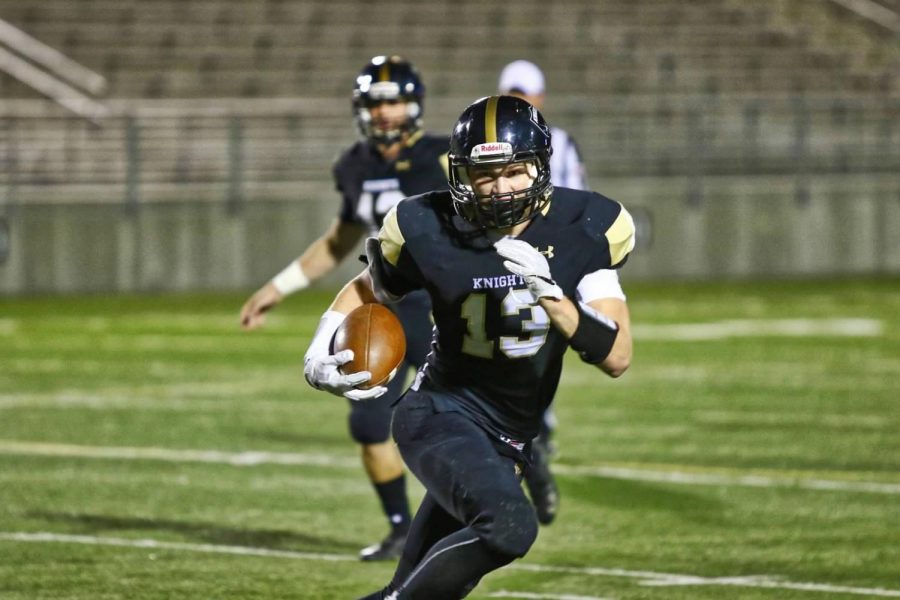 Grasping at his knee, junior Isaac Gifford hobbled up and down the sideline, pondering what might have just happened in the previous play to cause his sudden rush of concern. He knew he had tweaked his knee after a hit from the Pius linebacker, but he believed it was minor and something he was just going to have to battle through. Obviously though, something wasn't right. He paced up and down, trying his best to stretch it out all while avoiding the trainer, making sure he could still compete in the close contest. It was a risk an athlete like Gifford was willing to take. He finished playing the game that night, but would learn that the battle with his knee would turn out to be more than just a tweak…
From a concussion to sprained ankles, or in Gifford's case, a knee injury, there is one similarity in all injuries that can be tied together with one word: unpredictable. Athletes train and prepare almost daily and year-round for the rigors of the sport, both physically and mentally, but often times, injuries are just one of those areas that will never be perfected or completely unavoidable.
Gifford's injury came in October, in the middle of the Knight's football season against the Pius X Thunderbolts. After taking the ball and carrying it through the line, he was met with a hit from a Pius defender to the lower part of his body. A hit like this was nothing new to the Knight's running back, and yet, after the awkward contact with his knee, Gifford knew something wasn't quite right.
"I felt [my knee] pop, and I was like 'that is not supposed to happen,'" Gifford said. However, the junior managed to push through the rest of the game. Even at the end of the game, Gifford was clueless as to the extent of his knee injury. "I didn't really realize it until the next day that it was actually hurt."
That small tweak soon turned out to be a meniscal root tear. The injury would prevent Gifford from finishing the football season. It would also force him to sit out a decent portion of the upcoming basketball season.
"I was pretty angry that I [had] to sit out [for the] playoffs and not be able to play with my team," Gifford said. "It's tough, but it is what it is and I had to get over that and support my team and be with them no matter what the circumstances."
Not only are injuries frustrating, as Gifford described, but they are also often times confusing. Gifford was able to finish the remaining three quarters of the game on an injury that would sit him out for months to come. For junior swimmer, Abby Ertz, confusion with her injury was no different.
During the middle of her freshman season, Ertz started experiencing hip pains. Initially, she believed it was no big deal and that it was just a result of the hours of work being put in the pool.
"At first, I didn't think anything was wrong. I thought I was just sore and it would all blow over in the matter of a few days," Ertz said. After spending many days in the athletic training room attempting exercises to help the issue, it was suggested that she see an orthopedic doctor. After x-rays and other tests, she was informed she had tendonitis and bursitis in both hips.
Following the injury diagnosis, Ertz was forced to make a rather tough decision.
"The orthopedic doctor said it would take from a year to two years to get rid of [the injury] completely," Ertz said. For an athlete like Ertz, a prolonged recovery time was not going to cut it, especially when she was closing in on her goal to make it to state that year.
"I put in so much work and I didn't want to see that all go to waste." Similar to Gifford's situation, instead of giving up, she buckled down and fought through the pain for the rest of the season. Through many practices filled with tears, aches and pain, Ertz was able to make it to state and place ninth as a freshman as well as helping her team to a second place finish in the relay.
Although both Ertz and Gifford were able to find a way to make things work, many other athletes struggle to find similar coping methods as well as a strong work ethic. Often times the psychological struggle can be too much for them. Southeast Athletic Trainer, Cindy Benda, describes the process through injury as being similar to grief.
"[Athletes] move through the grief stages just like a person would do that loses a loved one," Benda said. "The five stages, denial, anger, bargaining, depression and acceptance are a part of the framework that makes up our learning to live with the one we lost."
It can be hard for athletes to keep their head up and transition through these stages, especially with substantial injuries that demand long recovery times.
"An athlete can get stuck in the depression phase," Benda said. "And that prevents them from continuing to do their rehab and daily activities." Southeast's athletic trainer is not the only one to see these patterns take place either.
A study from the National Collegiate Athletic Association further cements the claim by stating, "Another problematic response to injury is depression, which magnifies other responses and can also impact recovery." Furthermore, it goes on to describe how these effects can "decrease the quality of life" for athletes so dependent on the successes and failures of their own athletic performance.
To break these habits, Benda, Ertz and Gifford all gave similar advice for struggling athletes, highlighting the importance of determination even through debilitating injuries.
"Keep pushing through, but take care of your body to focus on your goals. Do it without hurting yourself," Ertz said.
Benda agreed with this, saying, "Mental toughness and determination are the best characteristics to have, as well as a healthy group of friends, and staying connected to your team by going to games and practices." She also said that it's important to stay physically active, even while sidelined.
Gifford, like the others, encourages a beaten down player to stick with it. "Pain is temporary. It will go away."
Whatever circumstances with injury an athlete may be going through, it's no doubt that too much time and effort, as well as sacrifice, has been given to their sport. Giving up is simply not an option. Athletes must battle through pain, and when they can't, they must wait out the recovery time and work tirelessly to return to their respective sport. But the most important thing athletes can do, is to never throw in the towel.