Review: Super Bowl LIII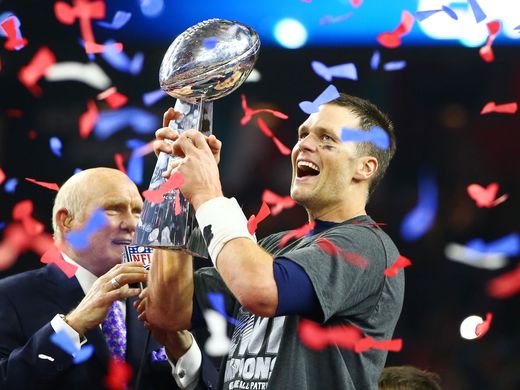 Marko Jerkovic, Sports Editor
February 7, 2019
We're still here, we're still here
The greatest sports dynasty of all-time. That's what many consider the present day New England Patriots, and after Sunday's results even many Patriots haters now have to face the facts. In the 18 years that New England has had the coach-qb tandem of Belichick and Brady, they have won 16 AFC East Divisional titles, 14 AFC Championship Game appearances, 9 trips to the Big Game, and a six titles.
The sixth title of the dynasty came on Sunday's Super Bowl LIII against the young NFC representative – the Los Angeles Rams, led by 23-year-old quarterback Jared Goff, and 33-year-old head coach Sean McVay.  Compare that with the experience of the Patriots side with 41-year-old quarterback Tom Brady and 66-year-old head coach Bill Belichick. Brady's six Super Bowl rings are the most by any player, ever, breaking a tie with former 49ers and Cowboys linebacker, Chuck Haley, who won five titles in the 90s. Then there is Belichick, who already had the most Super Bowl titles of any coach with five, when he won Super Bowl LI back in 2017. He passed former Pittsburgh Steelers coach Chuck Noll, who formally held the record with four Super Bowl rings.
So Brady, Belichick, and the Patriots have been great and we have known that for some time now, but; How exactly was this the greatest defensive Super Bowl of all-time; Why do the commercials seen to be getting worse; Why Adam Levine should take off his shirt less; Is Bill Belichick secretly a sith lord; Why a punter should have won MVP; and why the Patriots dynasty isn't going anywhere, anytime soon. Not all, but some of those questions will be answered in my review/analysis/rant/discussion of Super Bowl LIII
I miss Puppy/Monkey/Baby
Just a quick disclaimer, I will excluding any trailers from this, as well as the star studded NFL 100 Gala, as great as it was. Anyway, there are three different types of people who watch the Super Bowl: football fans, casual fans and commercial watchers. Unfortunately, this year's commercial line-up left viewers feeling cheated. The highlight might have been Bud Light killing off a not-so-beloved mascot, in a confusing possible Game of Thrones crossover. Or maybe that Michelob Ultra AMSR ad; no, ok well maybe the Backstreet uh.. Men, or what about weirdly depressing and morbid Pringles and Amazon Alexa ad? The point is, the ads really didn't stack up to the high expectations that years past have created. However, this doesn't mean that this year was devoid of any good commercials. The Harrison Ford/Amazon, Jason Bateman/Hyundai, and Steve Carrell/Cardi B/Pepsi ads were bright spots. Here's to a rebound of great ads during Super Bowl LIV next year. I'm looking at you Bud Light.
You call that a 1st Half?
Let's just skip to the end where New England had a 3-0 lead at halftime, courtesy of a 42-yard Stephen Gostkowski field goal for New England with 10:29 remaining in the second quarter. This was the second lowest scoring half in Super Bowl history, behind the Pittsburgh Steelers 2-0 halftime advantage over the Minnesota Vikings in Super Bowl IX.
Before I go any further, let me just say that this half's result had more to do with great defense than bad offense. With that said, the Rams were held to just 57 yards, one first down, 0 points, all lows for a half in the Sean McVay era, oh and the Rams were the 12th greatest offense of all-time this season. The defensive game plan, developed by Bill Belichick and defensive play caller Brian Flores, will studied for years. It is unfathomable that an offense of such caliber could be rendered so inept. Pro Bowl running back Todd Gurley had less than 25 yards, while wide receiver Robert Woods was completely shut down, with New England Pro Bowl cornerback Stephon Gilmore shadowing him all half, holding him to just 13 total yards. The veteran Rams offensive line could not give Goff a clean pocket to throw out of as Goff only completed five passes for 52 yards in the first half. Patriots wide receiver Julian Edelman out gained the Rams on his own with 93 yards on seven first half catches.
It was at this point that a couple scary thoughts to have while watching a Super Bowl or any football game crossed my mind. First, that a kicker or punter could win MVP, because let's be honest if you had to pick a first-half MVP it would either be Edelman or New England punter Ryan Allen. The second is that there might not be a touchdown all game, which is to put it lightly, sad. Thirdly, is Bill Belichick human? The answer is that we can not confirm or deny.
Travis ScNOT in the halftime show a lot
Maroon 5 is alright, Travis Scott is solid, and Big Boi was, well, there, but something just wasn't right. Maroon 5 got good chunks of some of their biggest radio hits in, as the leading act should, but Travis Scott and Big Boi did not get anywhere near adequate air time. To me this really boils down to trying to fit too much into a single halftime show. The halftime show ran longer than 30 minutes, which is just too much. Maroon 5 is a popular act, and certainly could support a halftime show on their own. While they are no Rolling Stones, Paul McCartney, or Beyonce, they definitely could have held their own show for 15 minutes. That being said we can't forget that Maroon 5 was reportedly the NFL's fifth option to perform at the halftime show, after numerous musical acts declined to perform due to the Colin Kaepernick controversy, and showing their support for the athlete turned activist.
I've never been so excited for a single touchdown in my entire life
The third quarter of Super Bowl LIII was just as uneventful as the first two, with the lone highlight being a 53-yard field goal by Rams kicker Greg Zuerlein with 2:11 remaining in the quarter. This score also ended a streak of eight straight punts to start the game for the Rams, which is the first time that has ever happened in the Sean McVay era.
The game finally got going when the Patriots started a possession with 9:49 left in the 4th from their own 31. On the first play of the drive, Brady hit Gronk with a stunning touch pass for 18 yards. Then, later in the drive, Brady again connected with Gronkowski down the seam for a 29 yard reception down to the Rams two yard line. Then on the very next play, exactly 53 minutes into the Super Bowl, Patriots rookie running back Sony Michel scored the first touchdown of the game behind the block of fullback James Develin. The drive took 2 minutes and 49 seconds, went 69 yards, in 5 plays. It was a stunning display of discipline and precision, and was the Patriots at their most clutch in this game.
On the ensuing Rams possession, Jared Goff finally established a rhythm, beginning to find Cooks and Reynolds in the passing game, as they methodically marched down the field. Then as the Rams approached the red zone for the time in the game, Goff made his biggest mistake of the game, in the biggest moment. Goff took a shotgun snap and looked for Cooks who was running a go route, and All Pro corner Stephon Gilmore picked off the pass at the three yard line with 4:17 remaining.
Then with the help of back-to-back 26-yard runs by Sony Michel and then Rex Burkhead, the Patriots moved the ball all the way to the Rams 33 yard line. On the next series, the Rams defense made a stand holding the Patriots to a 4th and 1. This forcing a 41 yard field goal attempt by Gostkowski, which he made, extending the Patriots lead to 13 to 3, with 1:12 remaining in the game. This sealed the victory for the Patriots, with a final score of 13-3.
SB LIII MVP and Postgame
New England Patriots wide receiver Julian Edelman, was named Super Bowl LIII MVP, his stat line included 1 rush for 8 yards and 10 catches for 141 yards. Edelman is just the 7th wide receiver to win MVP honors and the second Patriot receiver to do so when Deion Branch won it for Super Bowl XXXIX. Due to the historic defensive performance, many questioned whether Edelman was the rightful recipient of the MVP.  Dont'a Hightower who had two tackles, two sacks and one pass defended, and cornerback Stephon Gilmore who had eight tackles, three passes defended, and one very timely interception, were both names that came up as more deserving recipients of MVP. Some might have even said running back Sony Michel should have been MVP as he had 18 carries, for 94 yards, and the only touchdown of the night. In my opinion, the voting was correct. While the defense was historically good and Michel did score the only touchdown, Edelman was the only thing working for the Patriots in all four quarters, and Brady's favorite target was highly used.
How bout them ratings
The ratings, as it turns out were not great. The Super Bowl viewership did not bounce back for Sunday's Super Bowl LIII. In fact, this year's average viewership wound up even lower than last year's 103.4 million, which was the worst viewership since 2009's 98.7 million. Well, this year's game finished with a total audience delivery average of 100.7 million viewers across all platforms, including CBS' own streaming (which had some hiccups) options, Verizon mobile properties, NFL digital properties, and ESPN Deportes television and digital properties. And while that was a streaming record (with an average minute audience of 2.6 million), Kevin Draper of The New York Times tweeted that CBS said just 98.2 million watched on CBS alone. Now, there are a number of reasonable factors to explain this. First, New England Patriots fatigue. This is their ninth Super Bowl appearance in 18 years, and more recently their 4th appearance in the past five years. Second, pretty much the entire state of Louisiana didn't watch the Super Bowl. I think we all know why. Third, this game might have been boycotted by many casual fans over the Colin Kaepernick controversy, as many musical acts also did in declining to perform at the halftime show.
16 Super Bowl stats to impress people with
With 6 rings, Tom Brady has more Super Bowl titles than any player in NFL history

With 8 rings, Bill Belichick has more Super Bowl titles than any person in NFL history

At 16 total points, this was the lowest scoring Super Bowl in history

At 3 points, the Rams are tied for the least points in a Super Bowl with the Miami Dolphins from Super Bowl VI

Julian Edelman passed Michael Irvin for the second most receiving yards in Super Bowl history, behind only Jerry Rice

At 11, the New England Patriots have the most Super Bowl appearances of any NFL team

At 6, the New England Patriots are now tied for the most Super Bowl victories with the Pittsburgh Steelers

Julian Edelman is only the seventh wide receiver to win Super Bowl MVP

Julian Edelman is the only offensive player to win Super Bowl MVP without scoring a touchdown

At 1, this Super Bowl had the least combined plays in the red zone, 5 was the previous record in SB II & XXXV

45% of Rams' plays went for zero or negative yards

This was the first time the Patriots won a Super Bowl by more than one possession

The over/under for the game was 56

Rams punter Johnny Hekker had a 65 yard punt the longest in Super Bowl history, breaking Ryan Allen's record of 64 yards from Super Bowl XLIX

The Patriots are just the third team in NFL history to appear in their third consecutive Super Bowl, Miami Dolphins: VI-VIII, and Buffalo Bills: XXV-XXVIII

At one point in the game the over/under dropped to 9.5