Dunks for Dollars doubles initial goal, raises $10,000 for Lincoln Backpack Program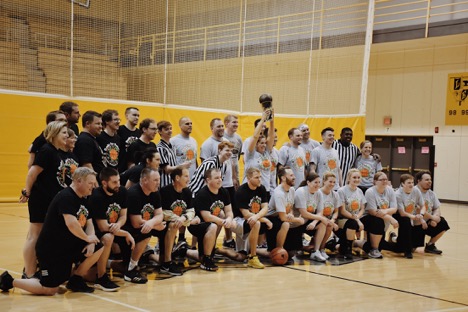 Hang on for a minute...we're trying to find some more stories you might like.
On March 20, 2019, the Southeast community joined a feat of friendly competition raising money for the Backpack Program of Lincoln. Doubling the initial goal of $5,000, Southeast raised a grand total of over $10,000. The event started with the Unified game, and following, attendees all joined in song to celebrate Will Dirrim's eighteenth birthday. Julie Krueger, having won three of the last four years when it comes to Food Bank donations, said it was her favorite part of the night all together.
"The fact that so many students and staff participated in singing happy birthday to Will meant a lot to me," Krueger said. "Will truly embodies the very definition of Knight Pride and it was the hands down a defining moment of the Dunks for Dollars event."
Krueger is thankful that service is such a strong component of the LSE mission statement. She feels lucky to be working somewhere like Southeast where that is valued so heavily.
"Making contributions to the Lincoln Backpack Program and the Food Bank are just some of the ways Southeast works collectively to make positive impacts on others. This organization is especially important to me because it helps fulfill such a vital need for students attending Lincoln Public Schools," Krueger said. "The fact that we were able to contribute over $10,000 to this organization says so much about the Southeast community as a whole. I have to say, what I saw take place on March 20 in Prasch is something I will remember for a long time. It made me proud to be a Knight."
Krueger finds faith in God and prayed that the event would be a success.
"I was confident that we would reach our goal of $5,000 that we set in November because I had just heard the message in church based on Matthew 21:20-22 [in which Jesus replies], 'Truly I tell you, if you have faith and do not doubt, not only can you do what was done to the fig tree, but also you can say to this mountain, 'Go, throw yourself into the sea,' and it will be done. If you believe, you will receive whatever you ask for in prayer.'"
Krueger said she kept this message as her focus when working on any planning for Dunks for Dollars this year.  As the night of the event got closer, she said she turned the entire thing over to God and prayed that it would be a success.
"Knowing that we doubled our goal speaks to this verse and my focus this year. So, in a nutshell, the fact that we doubled our original goal is a really humbling experience for me and a reminder to myself that God is truly good."
Senior Sara Petersen played a big role in the event planning as well, and notes how the energy and sense of tradition keeps getting bigger and bigger. Petersen values the strong sense of community that Southeast possesses when it comes to planning and getting involved in events like these.
"We started planning for Dunks this year almost immediately after 2018 Dunks For Dollars. We pick out an organization we want to raise money for and this year the Backpack Program really stood out. The more you learned about how much it impacts the city of Lincoln, the more you want to help," Petersen said. "The really intense planning came down to asking teachers to participate, picking a theme (Smith vs. Smith, Leader vs. Leader), finding a date to reserve the gym and asking the spirit squads to participate."
"We were also able to get the event mentioned in the Lincoln Journal Star which was incredible. Overall everyone has their part, and it takes a village for sure, but seeing the result makes it all worthwhile."
Petersen is sad that it is her last year helping plan the event, but she knows that efforts will continue to grow. Both Krueger and Petersen are part of the Random Acts of Kindness club, which planned the event alongside LSE Administrators Rob Baltensperger and Kara Graham – with backing from administration, staff, LSE's Student council as well as members of the Lincoln community.
"The rough process is brainstorming ideas in club and then taking those ideas to administration for "fine tuning" and just so they can help us figure out how to go about doing what we want to do. Student Council members are so helpful with volunteering for some of the jobs on the day of and working lunches since just the club members can't cover all three lunches for multiple days," Petersen said.
Petersen also explained that Arlin Yrastorza, LSE parent and member for the Lincoln Acts of Kindess Club, donated the prizes for this year's event. "It is for sure a group effort and everyone plays a part," Petersen said.
Both Krueger and Petersen want the staff to know on all fronts how much they rely on them, and how thankful they are. Without the staff, students, custodians, administrators and sponsors, the event wouldn't be possible. Especially seeing which students root for which team, and come out to see their past or present and favorite teachers play ball.
"I absolutely want to do what I can in the coming years to help plan and/or participate in events that make a positive difference in the lives of others. I love a challenge and finding solutions to where there is a need so I'm all in if the right opportunity presents itself," Krueger said. "With that, I absolutely can't accomplish anything without the help of a lot of other of other people so it would have to be for a cause that the majority of staff and students can get behind similar to the Lincoln Backpack Program in order to make the event a home run."
About the Writer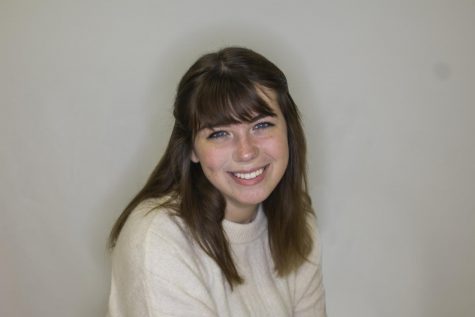 Syann Engelhard, Co-Editor-In-Chief
Syann Engelhard is a Senior at Lincoln Southeast High School. She currently holds the position of Co-Editor-In-Chief and Graphic Artist. Outside of newspaper,...