Humans of LSE: Spencer Smith
Ellyn King, Staff Writer & Opinion Editor
September 3, 2019
Hang on for a minute...we're trying to find some more stories you might like.
For senior students at Lincoln Southeast it's a year full of lasts. This past summer students prepared for it all. Last football games with best friends, last dances and the last year of being kids.
But for senior Spencer Smith, it's a year full of firsts. Instead of starting his senior year at Governor Simcoe Secondary School, he will be attending Southeast. Smith moved from St. Catharines, Ontario, Canada, to play hockey for the Lincoln Stars. He is not the only one to make such a massive change; joining him are Michigan teammates Owen Michaels (12), Jacob Bauer (12) and Dominic James (12).
Smith has lived in Canada his whole life, and when he was just 3 years old, he started playing hockey. Since then, his career with hockey has progressed to another level. This past fall, he committed to play hockey at the D1 level for University of Massachusetts-Amherst.
Then, this past April, the Lincoln Stars started contacting Smith and his agent. They contacted him again in June and asked if he would want to play for the Stars.
"I kind of just gave it a chance. I liked Lincoln when I first came and visited it, so I thought it was the right place to go," Smith said.
Moving 1,027 miles and to a new country sounds like it would be an awfully hard decision, but Smith knew this was something he needed to do.
"Especially because I'm going to the University of Massachusetts-Amherst as a true freshman, [this is] somewhere that I needed to play [to prepare]," Smith said.
Smith admits that it was difficult moving away from his family for the first time. Even his parents were initially against him moving all the way to Nebraska to play hockey. In the end, they supported him in his decision, though, knowing that this would help advance his hockey career.
Seemingly, the transition for Smith has been smooth sailing so far. "Everybody's just so easygoing here. It's a lot easier to meet new people than I would have thought," Smith said.
Smith instantly made  friends with the boys from Michigan upon arrival at Southeast, and he is more than excited for the upcoming year.
"I've never played in front of a huge fan base. I've heard that the Lincoln Stars have an amazing fan base," Smith said. "I'm also just super excited to meet new people and have a wonderful year in Nebraska."
If you ever get the opportunity, be sure to go support Spencer Smith and the other Stars players throughout their season. The first home game of the season will be on Oct. 11, at the Ice Box.
About the Writer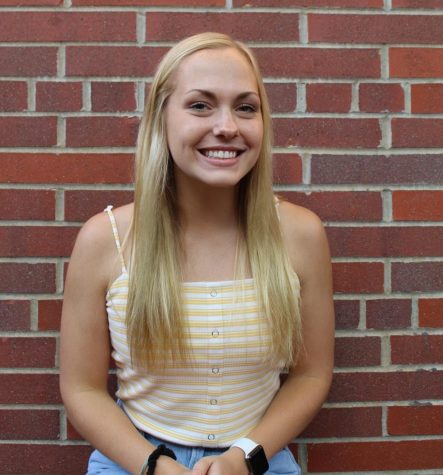 Ellyn King, Staff Writer & Opinion Editor
Ellyn King is a Senior at Lincoln Southeast High school and this is her second year on the Clarion staff. She plays soccer and also runs cross country....