The Trade Offensive: As trade war continues, farmers feel the pressure
In modern society, the globalized world relies on trade for many products people use. The world's growing interdependence of the world's economies, cultures and populations has been brought together by cross-border trade in goods and services, technology, flows of investment, people and information.
The United States is ultra-reliant on China for trade. In 2018, the U.S. and China's good and service trade totaled $737.1 billion. In the past year, President Trump has dramatically increased tariffs on Chinese goods, leading to what many economists have called a "Trade War." 
The tariffs increase the cost of Chinese imports at the expense of U.S. buyers and sellers. U.S. companies pay for the tariffs to let that import in, meaning that the goods they bring in will be more expensive for customers. In turn, the tariffs' revenue goes straight to the U.S. government. China is "paying" for these tariffs in their economic shrinkage they have suffered. Since tariffs make it harder for American companies to buy and import Chinese goods, China's economy has suffered a blow. A war is not a war without retaliation, so China has increased its tariffs on some U.S. products. 
"Economists appreciate globalization. Economists will typically think without borders, and without nationalistic viewpoints," Chris Salem, an economics teacher at Lincoln Southeast High School, said. "Typically, trade barriers are things that economists, in the theoretical, do not like."
Trade wars aren't a new thing in the U.S. The first trade war in U.S. history really began with the Boston Tea Party in 1773, when angry colonists threw hundreds of chests of tea into the Boston Harbor in protest of unfair taxing by the British. Since then, the U.S. has had around six other important trade wars in history. However, this is the first time in the U.S.'s 240-year history that they've engaged in a trade war with China. So, why now for this massive trade war?
"The thing with this trade war is that it's so deeply rooted in politics," Salem said. 
Trump initially kicked off the tariff hike due to Chinese theft of intellectual property. Examples of this can be found back in April when the Chinese wind turbine company, Sinovel, was fined $1.5 billion after two of its employees bribed an American superconductor employee for a stolen source code. 
"[China's] not going to back down. But I think there's some sort of political rhetoric at play here, because I don't think President Trump seems to understand the sort of economic game board that he's playing with," Salem said. 
Importantly, agriculture in the U.S. has suffered from this trade war. Nebraska agricultural economist, Jay Rempe, reports that 35 percent of Nebraskan farmers are operating on a loss and another 15 percent are dangerously close to bankruptcy. These international trade disputes have hurt revenues and the total loss could be devastating.
"It is a large loss. What that represents is lost potential sales or revenues to farmers and ranchers in the state," Nebraska Farm Bureau senior economist Jay Rempe said
The Trump administration has given out $28 billion in financial aid to farmers to keep them afloat. A survey conducted by Purdue University shows more money is needed to keep these farmers operating. Net farm projections are forecasted to be down 29 percent from 2013 and debt will reach $416 billion in 2019.
"In America, the big get bigger and the small go out. I don't think in America we, or any small business, have a guaranteed income or guaranteed profitability," U.S. Secretary of Agriculture Sonny Perdue said. 
The reason farmers are struggling is because Trump's tariffs are so high that China has now started to buy their agricultural needs from other countries. China is now starting to buy soybeans from Russia, wheat from Canada and corn from Brazil, rather than suffer economic shrinkage from buying U.S. agriculture. In the past year, those three markets, in those three respective countries mentioned, have been experiencing growth just from China's spending and those markets in the U.S. have fallen dramatically. 
According to the American Farm Bureau, in 2017, China imported $19.5 billion worth of U.S. agriculture, mainly being soybeans, dairy products and pork. Just a year later in 2018, that amount dropped to just $9.1 billion.
Due to China's unwillingness to purchase U.S. agriculture, the U.S. is now focused on looking for new markets in Asia, like Japan (as of Sept. 8), who pledged to buy $7 billion worth of corn. New markets also have opened in Europe, where soybean imports into Europe have increased from 30 percent to 75 percent. 
"China is the largest market on the planet, not only for food but for a lot of things as well. So Europe and Japan are small potatoes," Salem said.
Another industry struggling to get by is Ethanol. Ethanol is fuel produced from agriculture crops, mostly from corn but also from soybeans, wheat and other crops. When burned by cars, it releases much less carbon than regular gasoline and it's renewable. 
The U.S. Environmental Protection Agency (EPA) has granted 31 waivers to smaller oil refineries, lifting the mandatory production of ethanol and blending that ethanol with gasoline. Refineries can ask for a waiver if they can prove they are in financial trouble. Under the Obama administration, the highest amount of waivers the EPA had to give out in a single year was eight. Trump's EPA has a total of 80 waivers given to small oil refineries. 
What these waivers are doing is saving oil companies hundreds of millions of dollars because that mandatory quota of ethanol vanishes. 
"Without the tariff protection we would probably supply 90-plus percent of all (ethanol) import needs(China) had,"Chief economist of the U.S. Grains Council, Mike Dwyer said.
A lot of these refineries are in small towns and they average around 50 workers. Not only will those 50 workers lose their jobs, but the truck drivers who move that product to markets might lose their jobs as well. The farmer who grows the corn and sells to that refinery is now in trouble, all because that refinery asked for a waiver because they were suffering from the trade war. 
A developing story out of Washington began on Oct. 3, when Trump opened a new front in the trade war. Washington put a 25 percent (or $7.5 billion) tariff increase on a wide variety of European-made goods, from clothes to scotch and whiskey. But this has nothing to do with whiskey, it involves a 15-year dispute between the U.S. and European Union about aircraft company subsidies. These government subsidies given to Airbus have seriously hurt the American aerospace industry. With the investigation into the Boeing 737 Max and the two crashes that grounded all flights across the world, Investigators have found that there could have been something wrong with an automated system called an MCAS, The MCAS helps the plane automatically stabilize when the nose tips too far up. According to both planes black box data, it was revealed that their could have been a malfunction in this system causing the crashes. This has caused Boieng stock to drop. Airbus is set to overtake Boeing to become the world's largest producer of airplanes because of this.
With the coming 2020 presidential election, the trade war situation could be one of the biggest subjects commented on by the other candidates. It will be interesting to see what kinds of plans the Democrats might reveal in resolving this issue. 
"Trade wars are good and easy to win," Trump tweeted.
Well, it's almost been a year, and no clear victor has emerged from this dispute. 
About the Writer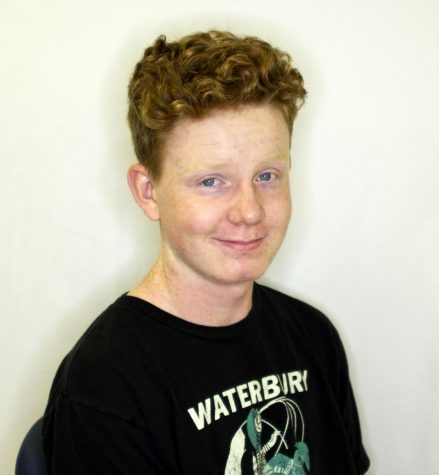 Nolan Hemmett, Staff Writer
Nolan Hemmett is a senior at Lincoln Southeast and a Clarion Staff Writer. Hemmett spends his time fishing with his brother and watching movies.