TikTok: The app that is changing the look of social media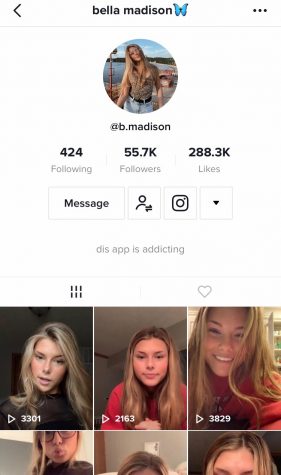 Over the past year, TikTok, a social media video platform used to create and share short lip-sync, comedy and talent videos, exploded in popularity among teenagers. However, TikTok is really the result of the evolution of another app — Musical.ly.  Lincoln Southeast High School sophomore Bella Madison was in sixth grade when she first started using the app Musical.ly, TikTok's previous name. 
"Musical.ly was one of the greatest apps ever used in 2017. It was a lot of fun lip-syncing to popular songs and posting them for other people to see," Madison said.

Musical.ly was a semi-popular app from early 2015 to 2017 that was used for lip-syncing to popular songs. Early in 2018, TikTok bought Musical.ly and ended up becoming an extremely popular app by the end of that year. Madison slowly started to gain followers on the app, and by early 2019, her follower count dramatically increased. As of Nov. 15, 2019, Madison has a count of more than 56,900 followers, and is continuously growing in popularity.
Madison's parents know about the app, and are even featured in some of her videos. They watch and support all of the videos she creates.
"My parents enjoy being involved in some of my videos,"  Madison said. "I find it very funny sometimes by how they react to some videos."
According to Madison, the difference between Musical.ly and TikTok is that TikTok requires a lot less work than Musical.ly did. On TikTok, Madison says people can become famous by their looks and doing everyday things that most people do. Musical.ly was the complete opposite. On Musical.ly, people became famous by doing transitions and hand movements. Users of Musical.ly, before it turned into TikTok, are known as "OGs" (original gangsters), meaning that they have had the same app since Musical.ly released in 2014.
"I've had the app TikTok since it was called Musical.ly, which came out in 2014," Madison said. "The first time I ever used the app in 2016-2017, I was kind of caught off guard by how the app worked."
Many people say that they would not be able to live without the app TikTok. However, Madison said she could live without it, even though "it is addicting to look at."  
"Honestly, I could live without the app. Yes, it's very entertaining, and keeps me updated with fashion trends," Madison said.
Many people get paid to make TikToks. Madison gets paid when she live-streams. When people send "gifs" on her live-stream, she gets a certain amount for every "gif" that is sent to her, ranging from a couple of cents, to a couple of dollars. To do a live-stream on TikTok, you need to have at least 1,000 followers. 
"I don't go live that often, but when I do go live, it is usually over the weekends," Madison said.
While many people make at least 10 TikToks during the week, Madison plans ahead. "I usually make my TikToks on the weekends. During the week, I find sounds or ideas that I like and I just save a lot of them to do during the weekend," Madison said.
TikTok is strict on the ages of their users. Users have to be at least 13 years old to be allowed to use the app. TikTok will sometimes delete the accounts of users under the age of 13, just to make sure they are older when they use the app. They want to make sure that their users are mature and can handle some of the adult-like content. People ranging in ages 13 to late-70s and older use the app. While TikTok's target audience is largely teenagers, every once in awhile TikTok users can find a 93-year-old, like Gangster Grandma, who is featured on her grandson Ross Smith's account, trying to fit in with the new trends.
TikTok is not like many other apps. It makes money off of teenagers. TikTok is available in 150 countries and in 75 languages. Since June 2018, there has been a record of more than 500 million people using the app, with a count of more than 800 million installs.
According to Mansoor Iqbal, a contributor to Business of Apps (a website that provides information on app marketing), 82 percent of TikTok users use the app to find funny videos, with talent and daily life being the next most popular categories. 
According to Robert Hayes, a contributor to Tech Junkie, the top five most popular TikTok influencers are Loren Gray, Baby Ariel, Kristen Hancher, Jacob Sartorius and Zach King. They all have more than 20 million followers. Many teenagers follow these popular people for better ideas on making TikToks. Gray makes $300,000 to $400,000 a year from TikTok, Instagram and YouTube. Ariel and Hancher both make $400,000 to $1,000,000 from social media apps they use. 
Many people that use TikTok are sponsored by popular brands. Bang (an energy drink brand), Pizzaslime (a clothing brand) and Champion (an athletic clothing brand) are the main brands that are used to be sponsored. They give influencers clothing items, food, etc. to wear in their TikToks and promote their brands.
"I would love to be sponsored. TikTok is one of my favorite apps I have on my phone. I don't think I will be deleting it any time soon," Madison said.
TikTok, with its wide variety of content, is gaining popularity, day by day. It's an app that many U.S. teens use. With all the attention and popularity this app brings about, it's safe to say that TikTok won't be going away any time soon.