The Streaming War begins
With the release of Disney Plus, other streaming networks fight to stay competitive.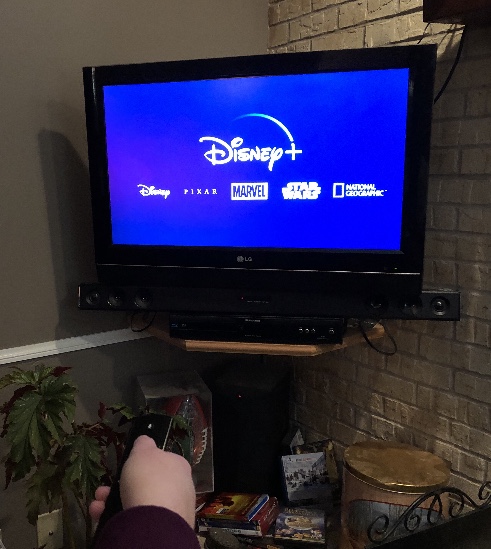 Video-streaming services such as Netflix, Hulu, Amazon Prime Video and Apple TV Plus have a new, bigger competition stirring up. On Tuesday, Nov. 12, The Walt Disney Company launched their own streaming service, Disney Plus, in the United States, Canada and the Netherlands. It'll launch a week later, on Tuesday, Nov. 19, in Australia and New Zealand, before launching in many western European countries such as the United Kingdom, France, Germany, Italy and Spain on March 31, 2020. Disney Plus is a brand-new streaming platform that will provide Disney movies and TV shows. The platform will also include its own new, original content, which will only be found within. 
Freshmen Emma Lauritsen and Anna Reis are both avid Netflix watchers. But will this new streaming service change that?
"I watch Netflix all the time. I'm almost addicted to it. I will still watch Netflix more than Disney Plus because it has more options," Lauritsen said.
With Disney launching their own streaming service, their content has recently been removed from all other platforms. So now, the question is, how will Disney Plus affect other streaming platforms? Lauritsen and Reis believe that Disney Plus will be used by more families with younger children, as the service will not contain anything R-rated or more explicit. This will give Netflix, Amazon Prime and other streaming services a big advantage, according to a Forbes article titled, "Disney Plus Will Only Show PG-13 Content, Giving Netflix And Amazon An Advantage," by Paul Tassi, a senior contributor to Forbes.
Reis, agrees with Tassi. "Yes, [I believe Netflix will have an advantage over other platforms] because there are a lot more adults than there are toddlers [watching videos], and so mature audiences will go for Netflix and other [platforms] instead of going for younger-age [targeted] shows," Reis said.
Disney Plus will cost $7 per month, or if prepaid for one year, $69.99 per year. However, Verizon Wireless users who have an unlimited plan, or switch to Fios Home Internet or 5G Home Internet, will get a year of Disney Plus for free.
With all this competition heating up, will Disney Plus become more successful than Netflix? Students at Southeast and beyond will just have to wait and see.