The Future of Meat: How the shift in consumer diets will shape the meat industry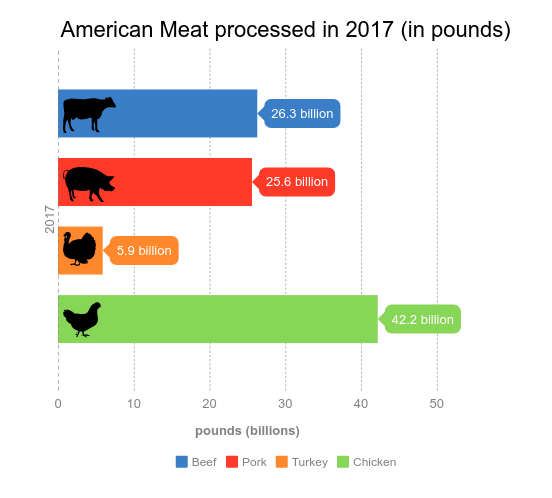 The year is 2050, and the entire world has stopped eating meat. The 26 percent of Earth's land that was once used for cultivating livestock has become a nursery for the restoration of grasslands and rainforests, and food related emissions have dropped by 60 percent. However, the world's economy has fallen into a off-kilter version of itself. Millions of people are out of jobs, and the once booming meat businesses are left providing nothing for the people, as well as nothing for the economy. Meat has been a vital aspect of many culture's history for centuries, and yet people are starting to migrate towards a lifestyle with little to no meat. 
Within the past five years, there has been a drastic change in the market for meat. As people become more aware of the environment and their own health, the shift in attitudes towards the meat market has been monumental. Beyond Meat, a company that specializes in meatless alternatives, went public in May 2019. Although they are a fairly new company, their stock went from $25 a share to $169, meaning the company now has a market capitalization of more than $10 billion. 
"The world is in the advanced stages of the biggest environmental catastrophe our planet has ever faced, and the largest driver of that is food-based technology," Pat Brown, CEO of Impossible Foods, another meatless-alternative company, said. 
According to the Vox article, "The Rise of Meatless Meat, Explained," 15 percent of greenhouse gases come from animal-based food technology. 
A staggering 9 million animals are raised and killed each year, contributing greatly to the climate crisis through constant emissions into the atmosphere. Meatless meat is not only better for the environment in terms of climate change, but also land and water use, according to an article written by Rina Raphael for Fast Company, a business magazine.  
The carbon footprint for an Impossible Burger is 89 percent smaller than that of a burger made from a cow. It also requires significantly less water and land; it uses 87 percent less water and 96 percent less land.
For many people, eating meat is just unappealing. Sophomore Marielle Hinrichs has been maintaining a meatless diet since elementary school. "I mean, [my vegetarianism] kind of came from [a] fear of eating meat," Hinrichs said. "Then it developed into something where it's like, 'Oh, this is an ethical thing that I should be doing anyway.'" 
Although she doesn't like meat personally, Hinrichs understands why it might be hard for people to give up meat. 
"Usually when I tell people that I am a vegetarian, they're like, 'Oh, I can never give up meat,' or they say, 'Yeah, maybe I should try that sometime,'" Hinrichs said.
According to an article titled, "How to Make Meat Alternatives Consumers Want," by Flavio Rump on Medium, consumers typically have "biases about how available food corresponds to their constraints," meaning because it is generally easier to come by real meat products, they are more likely to buy them.
Partially because of these "constraints" that control the average consumer, only 5 percent of Amercians claim they are vegetarian, and 3 percent claim they are vegan — as stated in an article titled, "Who are America's Vegans and Vegetarians [Infographic]," written by Niall McCarthy, a contributor to Forbes Magazine.
Even though vegetarians and vegans are few and far between, food chains are welcoming meatless alternatives to their menus. Impossible Foods announced partnerships with Burger King, Qdoba and many other restaurants. Their competitor, Beyond Meat, started selling at Del Taco, Subway and KFC. Tyson and Perdue have also rolled out their own versions of meatless alternatives. Even Disney announced that they will be offering vegan menu items at all restaurants in its U.S. parks. 
"It makes me [feel] really happy and included," Hinrichs said, regarding the addition of meatless alternatives to many food chain menus. 
But what about the companies without the alternatives? With the rising population of people who don't eat meat, it can be extremely inconvenient and frustrating to go to a restaurant and find that there are no alternatives. 
"It is really nice that they do have these options. It is a big problem when I go to [fast food] places that sometimes don't have any vegetarian options," Hinrichs said. "A few weeks ago, I went to Wendy's, and I had to ask for a burger with no meat, and they were so confused."
With all this being said, the demand for meat has actually gone up since last year, and is projected to continue to grow. Researchers believe that this is because the economies of middle-class countries are growing, and therefore the luxury of meat is more accessible. There are also many more people to feed, and with a constantly growing population, the demand for meat increases with the population.
Topher Vorhies, the store director and owner of Leon's Grocery in Lincoln, has noticed small changes within the market, but doesn't think the change will be drastic. 
"I think there's still going to be a strong demand for meat. I think being aware of the situation as far as consumer trends is something we're always looking at," Vorhies said.  "We're well aware of all the things that are going on, just from industry journals we read and food shows that we go to and that kind of stuff."
Leon's Grocery makes sure to keep up-to-date with consumer and industry trends by receiving and reading 10-15 publications every month, along with attending food shows. This ensures that they get a variety of input so that they can make sure to adjust their products to keep up with the ever changing market. 
The meatless alternative market is something that they will have to continue to  accommodate, even though it isn't a huge part of their business. 
"We don't have a huge demand for it but we do have a little bit just to kind of round out our selection and have something for everybody," Vorhies said. 
If in the near future, the market for meat continues to change, Leon's will continue to adjust the products they sell to accommodate as many people as they can. Leon's already sells a meatless brand called MorningStar Farms. 
"I think [the meatless industry] will continue to grow," Vorhies said. "I just think consumers are a lot smarter than some people give them credit for. And I think there's a big awareness of where food comes from and that kind of stuff and people are more in tune with what ingredients they're using and that kind of stuff."
Hinrichs thinks that more people should try out vegetarianism, because, according to her, it is easier than some may think. 
"They can just make a little effort every day, like don't put as much meat on your sandwich or try the veggie burger when you go out to eat or something like that," Hinrichs said. "Because if everybody did that, I think we'd have a much more healthy [community] and environment."