Eminem Surprises Fans With new Album — 'Music to Be Murdered By'
On Jan. 17, the rapper infamous for the subjects of his lyrics — Eminem, whose real name is Marshall Mathers III — released a new album titled, "Music to Be Murdered By." With no prior announcement, it came as a surprise album. The album's cover and title is an allusion to the Jeff Alexander album titled, "Alfred Hitchcock Presents Music To Be Murdered By," which was released in 1958. Eminem's newest album made the No. 1 album on the Billboard 200, and made Eminem the first artist to have 10 consecutive albums open at No. 1 in the United States. The album sold a total of approximately 279,000 units, and was met with some mixed and a few positive reviews, but the album was also not surprisingly met with controversy.
The second track of the album, which features Young M.A, titled, "Unaccommodating," made a reference to the 2017 Manchester Arena bombing where pop artist Ariana Grande had finished performing at a concert in the Manchester Arena, located in the United Kingdom, when the attacks occurred in the audience, killing 23 people (including the perpetrator) and injuring many others. The lyrics, which go, "I'm contemplating yelling 'Bombs away' on the game / Like I'm outside of an Ariana Grande concert waiting," were interpreted as a joke to many and sparked outrage among others, including the mayor of Manchester, Andy Burnham.
Eminem later responded to the backlash, with an open letter on social media, which, in part, read: "This album was not made for the squeamish. If you are easily offended or unnerved at the screams of bloody murder, this may not be the collection for you. Certain selections have been designed to shock the conscience, which may cause positive action. Unfortunately, darkness has truly fallen upon us. So you see, murder in this instance isn't always literal, nor pleasant. These bars are only meant for the sharpest knives in the drawer. For the victims of this album, may you rest peacefully. For the rest of you, please listen more closely next time. Goodnight!"
Many fans have also come to Eminem's defense, with some explaining that Eminem has always rapped about sensitive topics, so it shouldn't come as a shock. Another track titled "Darkness," also caused shock while bringing awareness to the violence of today's world. "Darkness," is written from the perspective of Stephen Paddock, the gunman of the 2017 Las Vegas shooting, where 59 people were killed, along with the perpetrator, and hundreds were injured. At the end of the music video for this song, a message appears that encourages viewers to vote and fight for gun control.
It was also reported that Eminem helped raise $2 million for the victims of the Manchester bombing around the time of the occurrence.
Grande's now ex-fiancé, Pete Davidson, had once joked about the Manchester bombing at a benefit for Puerto Rico in a stand-up performance in the fall of 2017, saying, "Britney Spears didn't have a terrorist attack at her concert," in reference to Grande's rising fame at the time.
In a Tweet, Grande expressed her disapproval while defending the comedian, saying "This has been v tough & conflicting on my heart. he uses comedy to help ppl feel better ab how f-ed up things in this world are. we all deal w trauma differently. I of course didn't find it funny. it was months ago & his intention wasn't/ is never malicious but it was unfortunate."
Grande has not commented on the controversy concerning "Unaccommodating."
Eminem also mentioned the same bombing in his 2018 freestyle titled, "Kick Off," in the lyrics, "Suicide bomber that's seeing / Ariana Grande sing her last song of the evening / And as the audience from the damn concert is leaving / Detonates the device strapped to his abdominal region / I'm not gonna finish that, for obvious reasons," but the freestyle did not appear to become as much of a hot topic as, "Unaccommodating."
The song also makes a couple of references to other tragedies, such as the 9/11 terrorist attacks and the murder of JonBenet Ramsey. However, this was not Eminem's first time making songs with distasteful lyrics. Since the release of his 1999 album titled, "The Slim Shady LP," his music has often been the subject of controversy, as his songs are often considered to be a bad influence on youths and misogynistic for lyrics about assaulting women, including an infamous song titled,"Kim," where he raps about murdering his ex-wife.
Eminem has also made crude references to Columbine, the O.J. Simpson murders, mentioning politicians and has attacked his own mother on several songs due to his rough childhood, where he claimed she often mistreated him, but eventually took his words back in his 2014 song, "Headlights." Due to the typically large amount of profanity and inappropriate themes in his songs, Eminem's songs are usually censored on the radio.
"Music to Be Murdered By," includes featured artists such as Ed Sheeren, Skylar Grey, Royce Da 5'9" and the late rapper Juice WRLD, with the track, "Godzilla," being his first posthumous song since his death in December 2019.
About the Writer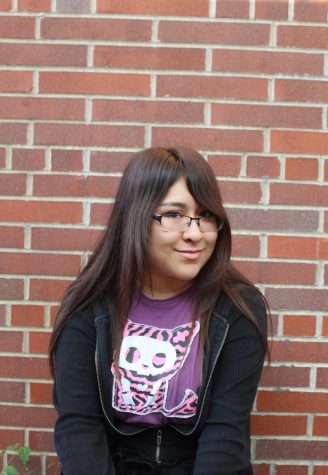 Cheyenne Hernandez, Staff Writer & Graphic Designer
Cheyenne Hernandez is a senior at Lincoln Southeast High School. She is a first-year staffer for the Clarion. She is involved in Prom Club and the Empty...