Opinion: Top 5 alternatives to chocolate and flowers this Valentine's Day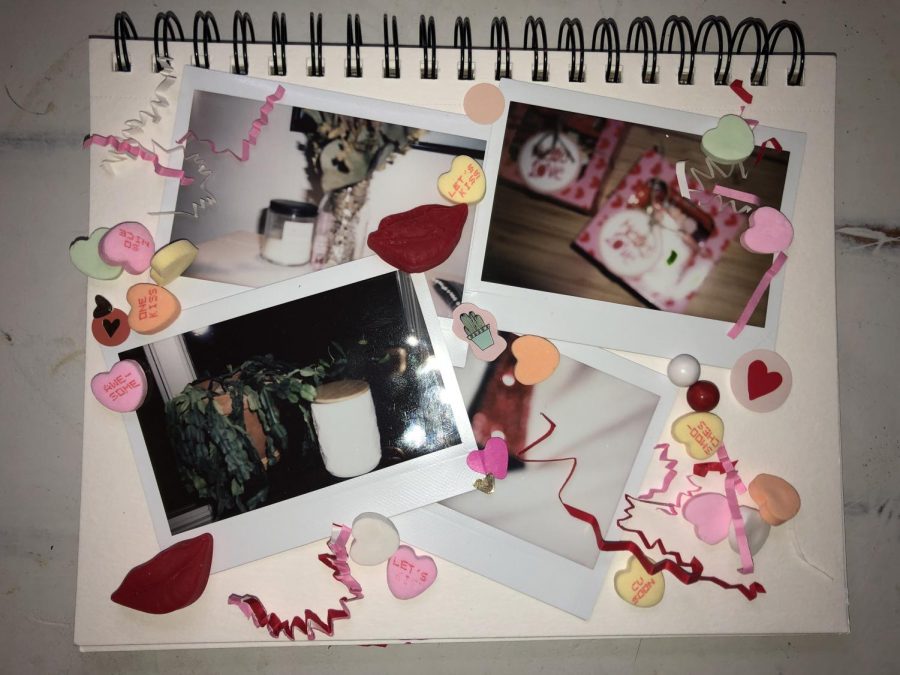 As Valentine's Day draws nearer, images of hearts, chocolate and red roses come to mind. Pondering over what to get your friends or a significant other may feel overwhelming, especially with the pressure to do something special and unique. This year, skip the marked-up pokey plants and mediocre boxed chocolates; Here are five alternative Valentine's gifts for your partner(s) in crime, whoever they may be.
1. Scrapbook or collage 
For those who like to craft and are looking for something new, a scrapbook or simple one-page collage can be a very cute, personable gift. There are so many different ways for you to take the basic idea of a scrapbook and make it special and unique. You can choose to print out photos from your phone at Walgreens, or invest in a polaroid printer to add some memorable photos. Many craft stores also offer a variety of stickers, tape and other embellishments that can really make your pages unique. One of the most rewarding parts of a scrapbook is that you can always keep adding; You could start out with just one page, but keep adding each year to see how you and your friends have grown.
2. Friendship bracelet
Friendship bracelets have an undeniable nostalgia factor and are cherished by many. Not only are friendship bracelets a fun blast from the past, but they are very budget-friendly. Many craft stores carry a multitude of colors for around $.50 to $1.00. If you're looking for a more earthy tone and texture, there is also a wide selection of jute and hemp cording. If you're struggling with the process of making the bracelet, my tried-and-true website is friendship-bracelets.net. This website offers hundreds of free patterns for all skill sets and occasions, and if you're looking to try something new, they even have a couple specifically for Valentine's Day.
3. Succulents
While the price of roses and assorted bouquets seem to skyrocket on Valentine's Day, succulents are not included in the hype. Succulents are an underrated gift and are largely ignored by the big holidays. They can be found at many different stores for a fair price. They are a very hearty and low-maintenance plant that is user-friendly to those who may not have the most prolific green thumb. They come in a variety of different shapes, colors and sizes that appeal to many different people. Succulents, due to their durable nature, have the potential to live a very long time. In fact, a testament to that is my 60-year-old Christmas cactus. This could potentially be a gift that lasts a lifetime.
4. Card 
A homemade card is another very unique and personal gift you can give to anybody. Similar to a scrapbook, but a lot less intimidating, cards can be filled with photos and illustrations. A card is a great way to bring old memories and inside jokes back to the forefront and highlight some of your favorite things about friends and partners. Something that is really nice about the simplicity of a card is that there are so many ways to get creative and add your own personal flare. Another nice thing about making cards for friends and family is that it's super easy to take a quick dive on Pinterest or Google and find a bunch of new takes on the traditional Hallmark Valentine's Day card.
5. Cookies
While chocolates tend to be the first sweet that comes to mind when you think of Valentine's Day, there are many other baked goods that deserve the spotlight. Regardless of your level of talent, there is a Valentine's Day cookie option for everyone; You can make your dough from scratch or buy some pre-made from Eileen's Colossal Cookies or the grocery store. Your effort is sure to be appreciated. Valentine's Day also provides lots of good decoration ideas, from candy hearts to juju lips. Inviting some friends over to help you decorate could be a treat in itself.