TBH: High school can be hard to balance
The alarm goes off at 5:30 a.m, and your eyes snap open to the ringing sound, reminding you of your exhaustion — especially from the previous day's activities. "One more minute," you think to yourself, willing time to stop and hoping to melt back into the mattress. All of a sudden, the day's impending plans come rushing into focus, and your mind starts racing with the anxiety of all that needs to be accomplished: "Where is basketball practice today?" "What's that Algebra quiz over during fifth period?" "Have I prepared enough for the drills we're running at band practice?" Yet, somehow, you pull yourself out of the comfort of your bed and into the hall bathroom; the light floods in, forcing you awake. 
Before you know it, you're marching on Lincoln Southeast High School's baseball field, clarinet in hand and then sitting in Student Council, planning out the next Food Drive. In a blur of homework assignments, leadership commitments and countless free throws, your day is gone in an instant — It's 10:30 a.m., and you can't quite remember that early morning fog you woke up in, let alone the AP Psychology test tomorrow. But yet, it's all worth it in the end — because it drives your sense of purpose and allows for meaningful relationships in your life. 
Southeast students Mason Apking (9), Ellie Nelson (12), Derek Branch (11) and Kendal Fenton (10) live a life similar to this; lives full of commitments, opportunities and dedication. 
MASON APKING
Although he is only a freshman at Southeast, Mason Apking definitely skipped dipping his toes into the water of high school, and instead dove straight into the deep end. Within the last five short months, Apking has involved himself in Student Council, the Drama department and the Broadcasting club — acting as the spring sports director for Knight Vision. On top of all of the extracurricular activities Apking is involved in, he also wants to keep his grades up and spend time with his friends and family. Apking has had to take a lot on starting his freshman year, which, for many students, would be too overwhelming.
"It is very stressful. However, you get this sense of being involved," Apking said.
There is no doubt that, for Apking, the hardest part of his packed life is keeping up with homework and studying after a long day. Sometimes, coming home to do homework after a three-hour long theater meeting about the logistics of costumes and props doesn't sound like the most enticing idea.
"Some nights, we'll be here until 9 [p.m.], and it's just one of those things where I've got to balance it out," Apking said.
Getting involved right away in freshman year was challenging for Apking, but it has also helped him make connections and be better prepared for the vigor of high school. Similarly, being involved in so many activities, such as theater, Knight Vision and Student Council have allowed for better future possibilities for Apking.
"Transitioning into high school has given me a lot more opportunities to grow into a better person, because there are so many more activities that you can get involved in," Apking said.
As it is for many dedicated, busy students at Southeast, meeting new people is Apking's favorite part of being involved, because he loves the sense of belonging that comes with each activity, each practice and each club.
Although being able to hang out with friends takes some time management, Apking usually doesn't struggle to find time to do it. During the winter, there is a big break from a lot of activities, and Apking gets much more time to be with loved ones. As for dealing with the impact of homework, he believes that school comes before anything else.
"You're always a student first —  before you're a sound engineer for the Drama department, or a director of a club or a student council member," Apking said.
Kendal Fenton
   Kendal Fenton is a sophomore at LSE. She is involved in softball, track and Student Council. When she's not on the field or with other Student Council members in room F236 at LSE, Fenton spends most of her time perfecting her grades and hanging out with family and friends. Because of track, Fenton misses full days of school, and it can be tough for her to catch up on the things she's missed in school. Although it can be challenging to manage her time, Fenton is glad that she's able to be involved.
"I think it's way worth it. I get to do all of the stuff I love to do," Fenton said.
Fenton's favorite part of being involved is Student Council, because she's very outgoing and loves to help others. However, because of all of these activities, Fenton sometimes stays up late to ensure that she gets everything done that she needs to.
"There's more stress involved because I want to get good grades, so it's normally staying up later, and then I'm more tired during the day," Fenton said.
Derek Branch
Derek Branch is a junior at LSE who is involved in football, basketball, Distributive Education Clubs of America (DECA) and Future Business Leaders of America (FBLA). He loves all of the things that he participates in, and he works hard to get better at all of them. Good time management is key to Branch's life. He has to make sure that he's balancing his time wisely and in a way that will help him out in the future.
"Sports take up a lot of time. Not just in the sport, but in the off- season, too," Branch said.
Even though being involved takes up a good chunk of Branch's life, he wouldn't change it if he could.
"I think it's all been worth it. I've had a great time doing all of it," Branch said.
Branch still has time to do the things he likes to do and to hang out with his friends. He just has to manage his time more carefully than a lot of other students do. Since Branch enjoys being around the people in his clubs and on his teams, it isn't ever a struggle for him to be there.
"I love being around the team and the people in my clubs. I just love that type of atmosphere," Branch said.
According to Branch, managing time can be hard, and it is stressful at times, but once you get good study habits, you'll be alright.
Ellie Nelson
Ellie Nelson is a senior at Southeast, and despite the fact that she undoubtedly has future plans to prepare for, Nelson still dedicates herself to four choirs, theater, peer mediation and the National Honors Society (NHS). Even beyond these school-related activities, Nelson holds a seasonal job, drives her younger sister to many of her obligations and is in a relationship. Like Apking, a lot of Nelson's time is taken up with theater, as they have three or more hour long meetings, frequently. Although Nelson loves the things she's involved in, sometimes the long days can be a lot to handle.
"Some days are really good and all of the activities go really well, and some days I wish I could just quit," Nelson said.
However, even though it's sometimes tempting to quit, Nelson puts a lot of time and energy into everything that she is involved in, and she always strives to do her best — making it all worth it in the end. Since she's involved in four choirs, it's clear that this specific extracurricular activity is her favorite.
"I think [choir] is really rewarding, just knowing that we're working so hard, and we take an entire class period to get to where we're at," Nelson said.
More than anything, Nelson loves to help others succeed, and she's proud of all of the work that she has seen Southeast students put into choir and other extracurricular activities. Nelson always tries to look at things positively, and she never gives up. 
About the Writer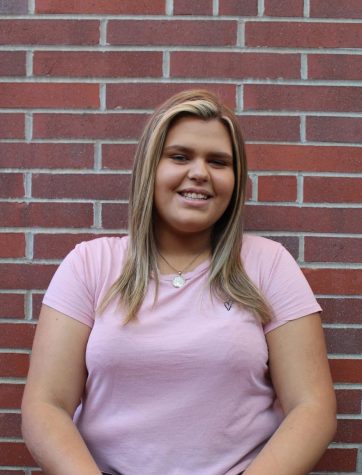 Maya Lange, Staff Writer
Maya Lange is a sophomore at Lincoln Southeast High school. This is Maya's first year with the Clarion, and she is currently a staff writer. Outside of...