Opinion: High school isn't that bad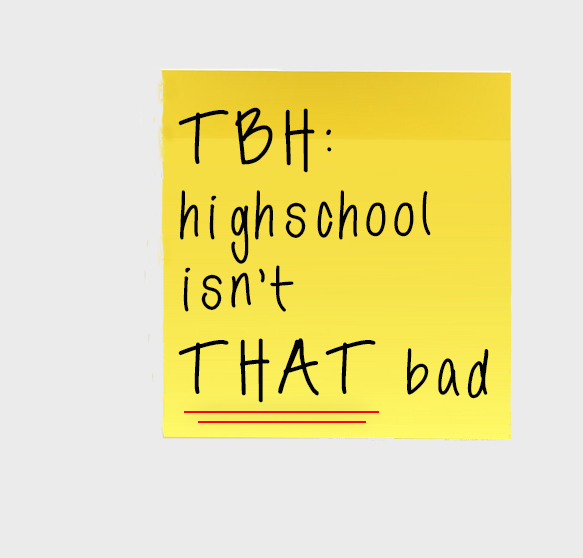 You've gotten three hours of sleep the past two days so that you could study for the four tests that somehow all managed to fall on the same day. You stay after school every day to get help from teachers on things you don't understand, just to go home and do homework until you have to go to practice or rehearsal. This is high school in a nutshell. However, there is so much missing from this stereotypical picture painted by so many students' lives. You don't get to see the friendships made bonding over a study date or the grit built from putting in the work and seeing it all pay off. You don't get to see the impact made by so many teachers and the memories that will be talked about for years to come.
Every high school experience is different and many students could vouch for those tough days, but through those tough days comes growth. For senior Sonja Duval, life has been full of moving to different states as her dad's jobs changed. This meant a new school with every move and starting all over again. Most students don't experience the challenges and lessons that come with each new move.
The first couple of weeks are the toughest in Duval's eyes, specifically.
"In class when the teacher tells everyone to find a partner, and I'm the new kid so I don't have any friends yet," or even "[walking] into the cafeteria and [seeing] all these people, but I don't know a single one," Duval said.
She had to find a way to support herself through the beginning of her time here, but once someone finally reached out she could have that sigh of relief.
"After the first few months, I started to have a couple people I could call my friends. [And now], there's these moments when we're hanging out that I feel so happy because all of the scary moments last year were worth it," Duval said.
For Duval, the biggest lesson she's learned is that everyone's different.
"Everybody has so many different viewpoints and beliefs, and [the best thing to do is] just to respect those and understand where they're coming from."
Duval firmly believes that once she understood that lesson, she was able to become much more understanding and well-rounded.
Starting high school in Florida and moving to Nebraska meant a big change in many things, including the atmosphere created by the different schools.
Duval's time in Florida showed her the need to be confident in who she is, but at Lincoln Southeast High School, Duval has learned what being a community, coming together and being stronger together means.
Another senior, Lane Howell, can corroborate for the sense of community she has felt during her time at LSE after moving from Tennessee and transitioning from homeschool.
Her start at Southeast, like Duval's, was not easy. On her first day in the building, she was unaware that there were guided tours, so instead she wandered around, marvelling at how big the school was and felt small and alone. In one specific memory, Howell could not figure out how to open her locker. Once lunch rolled around, her lunch bag was stuck inside her locker, forcing her to buy her first-ever school lunch. That wasn't the hard part — Once she went to get her silverware, her tray slipped causing a commotion and everyone's eyes turned to her.
"My heart was crushed. I felt like I was the new kid in a movie and everyone was looking at me," Howell said.
The biggest impact on her has been the people here.
"[The] teachers have made this experience such an easier transition for me; last year I just loved every single teacher I had," Howell said.
Being at a new school can become even worse when class becomes miserable. However, Howell found that teachers "were just encouraging and helpful, and made learning fun, and [when] that part is fun, all the other parts of high school [are] easier and more fun."
Outside of relationships with teachers, friendships can make or break the time spent inside the walls of Southeast. For Howell, it was more than moving from middle school to high school and even more than moving to a different school.
It was all about starting over again from the very beginning.
"I had my friends that I'd always had,"  Howell said.
The biggest thing she had to overcome was putting herself out there, because she knew that other people weren't going to do it for her and she never had to learn how to navigate those relationships. Regardless of the struggle, she came out the other side stronger for it.
Zen Boerger, another senior, has definitely embodied what it means to put yourself out there and let it all go.
In his eyes, "high school is about discovering yourself; all these things that people get into help to redefine who [they] are or define how [they] view [themselves] as a person."
Everything that happens in high school, you'll take with you when you leave — good or bad. In his words, the hardest part of high school isn't the classes, it's realizing that you'll have to move on. That the plan you have for your life right now will change and that you'll just have to go with it hoping you are prepared.
Boerger even took the opportunity to get a head start on his post-high school education by enrolling in The Career Academy (TCA), which took him to a whole new level of independence he never thought was possible.
"I knew TCA was the right fit for me after the first week had gone by; I loved everything about it," Boerger said. "I felt excited, it was as if I saw a bright future ahead of myself for the first time and realized that it's finally within reach for me to achieve something and that felt amazing."
"What I've learned in high school I can apply to all aspects of my life," Boerger said.
Lessons learned from high school have even branched into the community, as Boerger discovered his passion for helping others through volunteering. He chose to take advantage of all Southeast has to offer because to him, high school is a time to find what makes you happy.
You may not get much sleep, your heart may be broken sometimes, your emotions may be a rollercoaster, but when these four years are over, you're going to be so much smarter and more ground beneath you than before. While high school may have its unfortunate moments, it will change your life.
About the Writer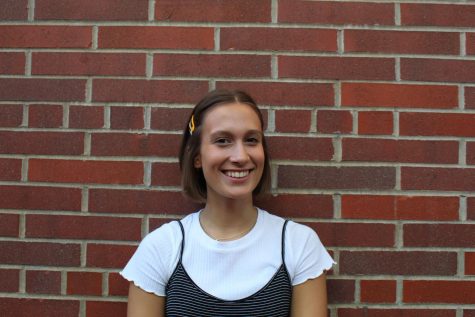 Lily Hefner, Social Media Coordinator
Lily Hefner is a senior at Lincoln Southeast High School. She is currently the social media coordinator and will be on staff for the third year. She is...