33,000 Hours: From freshmen to senior year in high school for the Class of 2020
When freshmen first entered the doors of Lincoln Southeast High School on August 15, 2016, the fresh-out-of-middle-school students had no idea what would come within the next four years. Fashion, trends, memes and world events have transformed these students' years as high schoolers. However, there is one event that has no doubt affected the class of 2020's final year of high school.
The COVID-19 pandemic came at such a pivotal, yet untimely period when seniors would have gone to their last prom, as well as the most significant event of all, graduation. This pandemic has forced Lincoln Public Schools (LPS) to close schools for the rest of the year and cancel many events, often without rescheduling. The graduation ceremony is now set to take place on July 26. However, it is yet to be known if it will be virtual or take place in person. These changes have impacted seniors who were excited to receive their diploma and walk across the stage on May 24. On that very first day, August 15, freshmen would have likely had no idea what would be in store for them as high school students.
When the class of 2020 first began attending LSE, the Pokémon Go app, which had launched the following summer, was all the rage. Its popularity at the time had teachers worried about the distraction it would cause for students, and there was even a page on the LSE website titled, "LPS guidelines and info about Pokémon Go." In part, it reads, "Pokémon Go is a game that has gained incredible popularity over the summer with our students, families and people of all ages enjoying the activity […] In general, it is business as usual: We will handle Pokémon Go through existing guidelines, regulations and policy. Students are not banned from playing the game, but must follow the current school rules and protocol." Although Pokémon Go somewhat died out within the next year, other events and such became a topic during this graduating class's year as freshman.
Not long after ninth graders first began attending their classes, there was some talk about the clown sightings around the country. Freshmen, especially, loved to joke about this, even claiming to see a clown out of the classroom window at times. Though, luckily, LSE never had any serious threats relating to the panic. However, another issue would become a "threat" to freshmen.
At the turn of the semester, the rules concerning the phone policy were tightened even mroe. Though there were always rules which disallowed the unauthorized use of phones, ninth graders, at the time, were the last to experience the overall laxness of having phones out, and it likely did not have to do with the fact that they were still new to high school. Even upperclassmen could leave their phones out on their desk, usually without having it taken away. But by the second semester, that would not be acceptable. However, most students were able to adjust to the stronger enforcements, which still ran high through this year.
Freshmen also had the chance to experience the presidential election; this time with a more matured perspective, as the last two elections occurred in the youths of these students. Freshmen couldn't vote in this one, but like everyone else, they knew how significant the 2016 election was with the polarization that came with it, and they would have to wait another few years before it would be their time to vote.
Back to amusement trends, it would seem as though the Silly Bandz trend had repeated itself in the form of fidget spinners — the little three or so pronged device that could spin around and around within one's fingers, and they were said to be calming. Fidget spinners were must-haves for students, and lingered around until the ninth graders became 10th graders — sophomores — when these gadgets began to die down.
The middle years of high school had their share of events and trends, though perhaps these couple of years were more quiet. Things changed, such as the switch class times for LSE's schedule from the unconventional (9:47) to more even numbers (9:45). But, the political divide remained high, as it did elsewhere in the country, which likely shaped high school for many students. As it finally turned to the 2020s, the freshmen that had once came in inexperienced and new to the world of high school are now just about finished with their senior year.
The 2019-2020 school year had some rather interesting trends come up. As seniors worked through their final year of school, particular fashions became more prominently known with names, like the VSCO girls and E-kid styles. TikTok became one of the most popular apps used by students — so popular that it wasn't rare to see a student dancing in front of their phone, even in a more public area. Seniors, and those who turn 18 before the fall of this year, got the chance to sign up to vote, as it is an election year, and with the political division everywhere, this election may just be as important as the last, especially with the coronavirus potentially affecting it.
When it was announced that LPS would close school for the year, it was as if the last day before spring break was actually the last day of school, ever, for seniors. Yet, they didn't know it. As students stayed home, participating in the remote learning, "Animal Crossing: New Horizons" became a fairly popular game after its release on March 20, 2020, or what would have been the last Friday before spring break ended.
With May 21 being officially the last day of school, it has been nearly four years, or approximately 33,000 hours worth of high school for the class of 2020. Trends came and went, events (both positive and negative) transpired within student's lives and in the world and it is agreed that this school year has met an unfortunate closing as the coronavirus pandemic suddenly interrupted everything, which forced students, especially seniors, to miss out on milestones.
Once the pandemic begins to die down, underclassmen may still have the regular opportunities that current graduates couldn't have during this year of 2020. The number "2020" is often associated with 20/20 vision, or vision that is sharp and clear, but no 20/20 vision could have possibly ever seen this pandemic, nor the impact it brought upon high school seniors. Then again, the class of 2020 went through 33,000 hours of high school: the homework, lectures, projects and events, along with the trends that came with it, and many have tried to be positive and hopeful through it all, despite the current circumstances. Though seniors may have been stricken with the misfortunes of COVID-19, graduation is not off the table, and things will eventually return to normal, whenever that may be.
About the Writer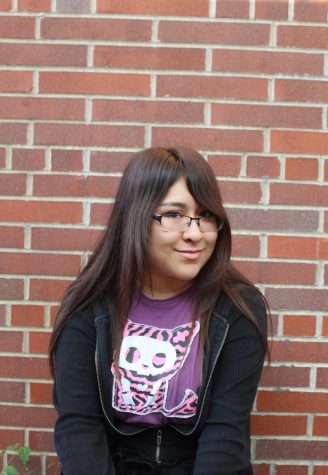 Cheyenne Hernandez, Staff Writer & Graphic Designer
Cheyenne Hernandez is a senior at Lincoln Southeast High School. She is a first-year staffer for the Clarion. She is involved in Prom Club and the Empty...