Opinion: Social distancing might be closing the distance between us
No school. No tests. Unlimited free time. It's what we've always wanted, right? Then how did we go from wishing for more snow days to wanting to be back in school? Two words: social isolation. It's an oxymoron that strikes fear in the hearts of almost all Americans. With the coronavirus (COVID-19) still at large, it is encouraged for people to stay home to prevent the spread of the disease. Avoid crowded places. Do not gather in groups. Always stay at least six feet apart. We've heard it over and over, and, of course, we attempted to find ways around it. Thus, our desire for social interaction — mixed with feelings of boredom — unknowingly created a sense of community that we lacked before quarantine began. In order to fight a common problem, communities have come together and helped those who physically can't, and people have found other ways to hang out with friends, such as Zoom, or even hosting their own proms. In the end, staying six feet apart might've made us closer together. 
There have been many concerns on what this epidemic of loneliness might do to us. Not only is the United State's value of having a "social life" threatened by the coronavirus, but scientists have also linked loneliness to stress, depression and anxiety. However, this isn't just alarming for mental health, but our physical health as well. 
In former U.S. Surgeon General Vivek Murthy's article titled, "Work and the Loneliness Epidemic," for the Harvard Business Review, he warned that loneliness causes a stress hormone called cortisol, which "damages blood vessels and other tissues, increasing the risk of heart disease, diabetes, joint disease, depression, obesity and premature death." 
Certainly, the fear of contacting the virus, as well as the lack of face-to-face contact, has certainly impacted American society. 
However, people have found ways to interact without violating safety guidelines. Social media, for example, has definitely been on the rise. Facebook, on March 24, 2020, reported that in the cities that were hit hardest by the virus, total messaging increased more than 50 percent over the first month of the pandemic. Additionally, voice and video calling have more than doubled on Messenger and WhatsApp. 
Lincoln Southeast junior Nadya Miller has also noticed that she's going on social media more than she did before.
"I like texting my peers directly, giving them a call to see how they're doing, or FaceTiming them," Miller said. "My favorite way to connect with my pals is through social media, like Instagram, TikTok and Snapchat. Taking the time to watch a 5-Minute Crafts video of somebody making a hot-glue flip flop is a lot more interesting considering I have almost nothing better to do. I think it makes this time a little easier when I have somebody to share funny videos with so we can both laugh together, even though we're far away from each other in reality."
Moreover, the coronavirus has not only changed how we interact with others, but also the way we use the internet. Zoom, which was primarily used for work before the pandemic, started becoming the main app for social connection during this crisis. According to CNBC, on February 26, 2020, Zoom added more video conferencing users this year than in all of 2019 due to the coronavirus. Used in classrooms, for meetings and social gatherings, the app has experienced a tremendous increase in usage as well.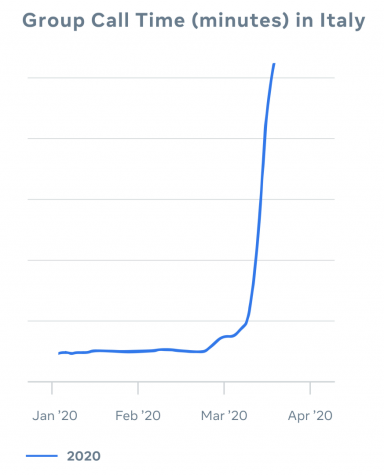 However, it might also be due to the need for a human voice that's making video calling more popular than text. Freshman Larkin Barry has noticed not only a shift in conversation, but also a change in communication methods. 
"I would say that I am definitely calling people more. My interactions are different now because it's more of, 'How are you?' and 'How is quarantine going?' instead of us talking about what's happening at school or in class. I also feel like it's different because we call and text a lot more now that we don't see each other everyday," Barry said.
Additionally, communities are coming together to make life better for those who physically can't go outside. According to an article titled, "Coronavirus: Social distancing measures are bringing communities together, study finds," by Sarah Young for The Independent, on March 23, 2020, a study of 2,000 adults found that nearly a quarter of the participants had been in touch with a vulnerable neighbor to offer help, and one-third offered to go shopping for essentials for those unable to leave their homes. 
However, we see that efforts to help the vulnerable during quarantine happen in our own community in Lincoln, as well. Barry has contributed to her community during this time of crisis through the spread of positivity and handmade donations. 
"I made May Day baskets for all of my friends and family that I can't see right now. I have also been writing positive messages on my sidewalk and writing nice letters to my elderly grandparents, great aunts and uncles," Barry said. "I have also been sewing masks and helping them get groceries. Since my aunt is a nurse, we leave little gifts and notes outside of her door to thank her for everything she is doing right now." 
At the end of the day, we see that quarantine has had a major role in this increase in communication. In the past, we might've taken our daily interactions for granted, but with more free time and social distancing, communication has gained a newfound importance in this time of crisis. As neighborhoods come together and friends look for ways to make up for canceled plans, social distancing might be closing the distance between us.
About the Writer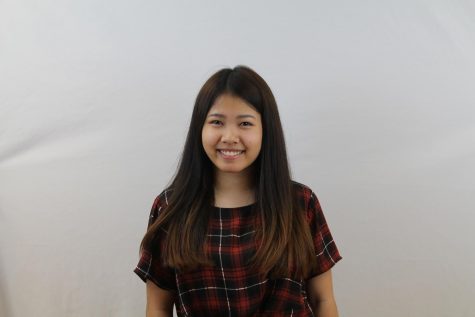 Jen Quach, Editor in Chief
Jen Quach is a Senior at LSE. She is involved in Debate, Band, Student Ambassador, Peer Mediator, and HOSA outside of the Clarion. In her free time, she...