Allison FitzSimmons: Finding her joy in storytelling through acting
The performing arts allows students to tell stories by tapping into human emotions and expression. For senior Allison FitzSimmons, this type of storytelling has been the highlight of her high school career throughout the many roles she has performed on LSE's stage.
FitzSimmons said the performing arts has been a significant part of her life for as long as she can remember. She discovered her love for performing at a young age, and it grew from there. 
"I was about seven when I started," FitzSimmons said. "I would put on plays for my parents and anytime a friend would come over, I'd make them do a play with me."
When she first came to high school, she realized she was able to expand her passion for acting more. "Crimes at the Old Brewery", the first show she did as a freshman, was the most memorable experience for her with her character, Irene Felton. After that first show, FitzSimmons won an Outstanding Actor award and many were able to see her passion and skills. 
"I just loved the story and I loved my character," FitzSimmons said. "It was also my first role that I was honored for here."
Though her love for acting keeps her going, there are many difficulties that she encounters along the way. FitzSimmons says that the most difficult part of being in theater is being true to herself. The thoughts from others can sometimes get in the way of her performance, but she will always remind herself to forget what other people think and to be true to herself. 
"Don't let them keep you from being your most authentic self, because acting is something that fuels [my] flame," FitzSimmons said. 
Looking past the difficulties, she sees the good things that occurred due to her involvement in theater. She was able to meet her closest friends and feels fortunate that she is able to be involved with people who have the same love and dedication towards acting.
"I think the most fun is that you get to present a story for people and you get to work with people who have similar interests," FitzSimmons said.
FitzSimmons is also proud of the things she was able to achieve by being involved in the performing arts. Not only is she doing what she loves, she is also getting recognized for it, too.
"I'm proud of the leadership positions that I've attained over the years and that people trust me to take charge," FitzSimmons said. "I am president of the drama club and I am co-president of Varsity Chamber Choir and Varsity Jazz." 
FitzSimmons has grown a lot as an actress, and credits a former teacher for helping her become the actress that she is today. 
"My voice teacher, who was also a director when I was in children's theater, was one of my biggest inspirations," FitzSimmons said. "She is kind of like a second mom to me and has always encouraged me that I am good enough and would push me to go beyond my comfort zone." 
Looking into the future, FitzSimmons still sees herself acting and performing. She plans on doing theater on the side while she is in college and will see how it goes. As acting plays a huge part in her life, she hopes she can still continue to fuel her passion for acting that she will always love. 
About the Writer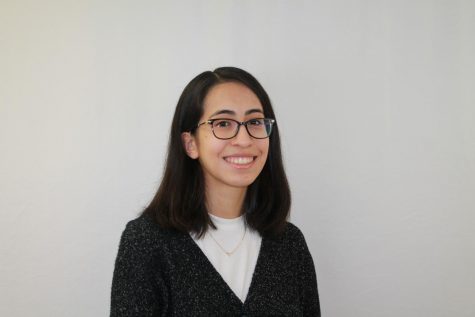 Fatima Al-Jayashi, Design Editor
Fatima Al-Jayashi is a senior at Lincoln Southeast High School. This is her first year on the Clarion News Team.  Outside of the Clarion, she is involved...