Third annual Kindness Week aims to spread positivity throughout LSE
The second annual LSE Kindness Week took place Sept. 28 – Oct. 2. During this week, students and staff members are reminded of the importance of being kind. To start the week off, STUCO members wrote encouraging phrases on sticky notes and placed them on every locker in school. They also sell t-shirts during the lunch hours for students to buy. Kindness Week is filled with uplifting spirits from STUCO members, teachers and other employees. During this week, STUCO members and others often see people smiling more in the halls as they pass by the lockers filled with happy and uplifting quotes.
The STUCO members help organize the Kindness Week, and they help get items to sell. Grace Nelson is the president of STUCO, and is in charge of organizing the week, and decorating for it.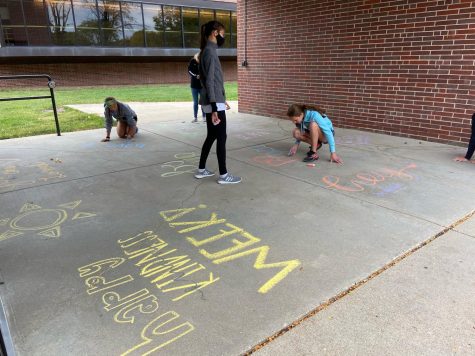 "The idea was originally proposed by Kolton Ryba to former Principal Brent Toalson in 2018, and Kolton was inspired to bring the idea of Kindness Week to Toalson after watching the movie Wonder," Nelson said.
STUCO sells T-shirts during the week and the money raised from the sold items goes to a charity of the Rybas' choosing. 
Nelson has helped with all of the three Kindness Weeks that have taken place at LSE. She was a sophomore when it first started and now, as president, she helps plan and organize the whole week. During this pandemic, the items sold for Kindness Week had to be ordered online, due to the fact that there are some full remote learning students who would need access to buying tshirts.
"Anyone in the building can buy a Kindness Week shirt. This year we created an online order form so that people not physically present had a chance to purchase a shirt if they wanted," Nelson said.
Kindness Week is an overall time to be kind to others. During this pandemic, it is a good time to talk with others, and complement each other. Nelson is working hard, and is helping spread positivity throughout the school.