Beyond Social Media: How students are supporting BLM
Ever since the death of George Floyd on May 25, 2020 many students have taken to social media to spread the message of Black Lives Matter and share information on how others can help. Since this was all happening amidst a pandemic, it became incredibly difficult for students to go beyond social media and attend in person for activities such as marches and gatherings to show support. Two students in particular, LSE junior Elise Anderson and Lincoln High junior Zainab Funnah, were able to find creative ways to go beyond social media and support Black Lives Matter. 
Although racism and inequality have been pressing issues for centuries, Anderson said she "wanted to get educated because of the students around me and how there's still so much apparent racism" and that "the racism against Black people has been happening for so long." 
Anderson decided to take action against the racism she saw by getting more educated and attending protests. With the COVID-19 pandemic and multiple speculations of protests turning violent, Anderson was concerned about her safety and spreading the virus to her loved ones. Luckily, at protests Anderson said that "everyone was wearing masks and it was honestly the safest I felt all of quarantine." In addition to attending protests Anderson went a step further on getting educated and read books such as White Fragility and The Hate U Give to gain a new perspective on systematic racism that she has never experienced. This experience has taught her that "even if you think you know about oppression there's so many viewpoints you haven't even considered.". Finally, in order to get educated and gain a new perspective, Anderson said "you have to take action yourself and have the urge to go and educate yourself". 
Although Anderson  and Funnah's main goals of educating people and spreading awareness were the same, they went about the goal in different ways. Funnah's motives for educating people and spreading the message that Black is beautiful came from her own experiences growing up and attending predominantly white schools leading up to high school. "I wanted to spread the message that Black is beautiful because growing up I never really felt like that was true," Funnah said.  "Lincoln High opened me up to a completely different group of people that I hadn't been around." 
At Lincoln High, Funnah met multiple girls able to be a part of her "Black is Beautiful" qphotoshoot, and she was also able to share many of their stories and how many of them grew up "feeling unwelcome and different." Through Funnah's efforts and hard work, she was able to receive the 2020 Inspire Founders Award in September of this year as well as a donation from Hudl to continue her project. "[It]inspires me to continue with my project," Funnah said. She hopes to continue to spread the message that "we are more than race and there is beauty in everyone."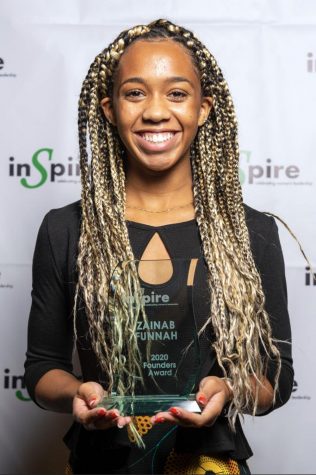 Despite growing up in the same city, Funnah and Anderson's experience with racism has been quite different. While Funnah experienced it first hand and Anderson was educating herself on it, their goals are now similar. The common goal to educate others and prove that people are more than the colour of their skin and that systemic racism is still apparent is what drives both of them to educate others and continue with their efforts.