The Knights reflect on the 2020 Football Season
After the Knights' Varsity Football season came to a close, players and fans agreed it was a successful season for the Knights despite challenges brought by COVID-19. Many players feared that the season would be cancelled and, although there was the disappointment that no students were allowed to watch, Varsity running back Max Buettenback (10) said the Knights had a "great season" and that Covid "did not affect our success at all." 
The Knights went into the playoffs with a record of 7-0 after beating rival Lincoln Southwest, and other tough competition this year. The players worked hard going into the playoffs, and unfortunately fell to Elkhorn South in the second round of playoffs. Buettenback says that "it didn't turn out the way we wanted it to, but we still had a really great season."  Buettenback said that "any smart football player will want to go to Southeast if they want to go on in their life and play football," and the success this season continues to prove that.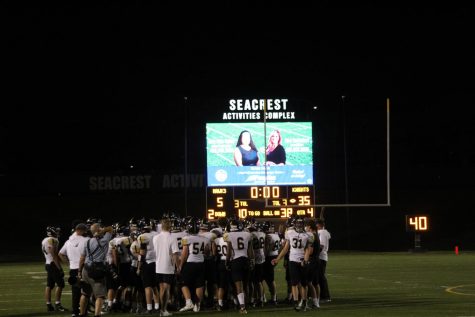 Many upperclassmen and senior football players on the team have helped Buettenback and the team continue to be successful. 
"Derek Branch taught me a lot. He had helpful tips because we play similar positions and he taught me a lot of good lessons," Buettenback said.
 Many other players continue to give the younger players helpful pointers during games and practice. The team looks out for each other because they want the team to be the best it can be. This season has taught Buettenback to "keep on pushing and working, even if you have things holding you back like Covid or anything, just don't give up."
Nobody is quite sure what the 2021 season will bring for the Knights but Buettenback hopes that the team can continue their success next year and he hopes that he can be a good leader for younger kids that play next year. Although all 33 seniors won't be able to be a part of next year's season, they know that the remaining players will continue on the Knight's greatness and continue to work hard and make them proud.