Google's assumptions about users make for better targeted ads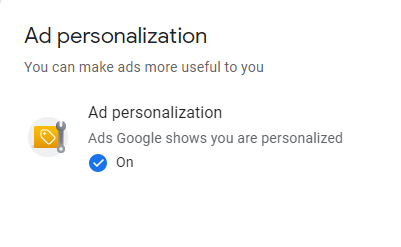 In this age of the internet and data collection, it is a well-known fact that websites and companies collect information about us as we browse, but how much do they really know about us? 
The most popular search engine on the planet, Google, is no exception. For every search you make, Google begins to make assumptions about you. From your gender, age, and education, to your interests and hobbies, Google will attempt to guess them all. While its assumptions may not always be perfectly accurate, it is interesting to see what is and isn't correct. For example, my Google account correctly assumes my interest in cats and graphic design, but incorrectly assumes my interest in classical music and sports. 
To check Google's assumptions about you, just follow these steps:
Click on your Google account icon and go to "manage your google account"

Find "manage your data & personalization" under Privacy & Personalization

Finally, go to "ad settings" under Ad Personalization
Not only can you view Google's assumptions, you can also correct those that are incorrect. If you don't want Google to continue tracking your information and personalizing your ads, you can also turn off ad personalization. 
This does call into question how much do companies really need to know about us, and how beneficial are personalized ads for the average consumer. While some of it's predictions make sense to track, it does seem a bit overboard to guess your marital and income status and even the size of the company you are employed by. Personalized ads can be beneficial but it all depends on the person and their browsing habits. Some may feel intrigued by the ads they see, looking into the products, while others just ignore them as a nuisance. Regardless, it is still interesting to see what Google can assume about you based on your browsing.