Hot Takes
A hot take is an unpopular opinion. These contrary perspectives are over a variety of topics such as movies, food combinations, and other consensus views. Many people have their own unique hot take, although it may not be vocalized frequently.
Lincoln Southeast High School (LSE) has many students with hot takes. LSE senior Rachel Odabasi has a hot take of her own. "Today's current music, or at least most of it, is really bad". Popular music on the radio, for Odabasi, all sounds the same. The similarity in music has led Odabasi to no longer listen to the radio, but instead find new ways to listen to music.
Debate coach and English teacher Mr. White, also has a hot take. "Milk chocolate is trash compared to dark chocolate," White said.
Hot takes can vary in how light-hearted or intense they are. But no matter what the hot take is, it can be hard to go against the grain. With an increase in social media usage and trends, cultural and societal norms continue the pattern of seemingly 'acceptable' and 'unacceptable' opinions to have about a subject.
"It's unpopular for the same reason that people are nervous to speak in general, because there's risk to going against a consensus," White said. However, most people do have unpopular opinions, as everyone has different things that they like or dislike. It is not uncommon to have an unpopular opinion, yet many people still feel like they must fall in line with popular trends and perspectives.
"Everyone likes a different blend of things," Odabasi said. With all the fast-moving trends and events that take place, it often feels like everyone is expected to have a stance on every subject.
Especially after 2020, polarized viewpoints have become more expressed by people of every age and 'side'. During a year with an election, many big social issues and more time to digest and form genuine opinions, hot takes have become more frequent. With more people sharing their hot takes, these shocking opinions can easily become entertainment on social media.
Algorithms on apps like Tik Tok and Twitter are full of viral tweets and videos that go viral for their shock factor. Because of this, White encourages everyone to be mindful of the opinions they express and see.
"Think critically about when you see strong takes on the internet, taking that with a grain of salt and recognizing what's happening… because it's a hot take and regardless of how much substance is there," White said.
The thought behind these opinions may vary, which can make it more complicated for students and social media users to want to share their opinions. For some students, a lack of confidence can make it harder to go against the grain. In debate, students rely on confidence frequently when public speaking.
White, who has been involved with debate for 10 years, is the Debate coach at LSE, says confidence is key when presenting a convincing argument. "If people don't have confidence in what they're saying, people tend to notice."
Confidence can be one of the most important aspects when it comes to sharing information, yet it is something many students struggle with. Anxiety has also become more influential on this generation of highschool students.
According to the National Education Association, in 2011, 50 percent of students said anxiety was a major problem in their peers, where in 2016 that 50 percent increased to 70. In addition, anxiety now affects 25 percent of teenagers, a number that has been consistently increasing in the past 30 years according to Psychology Today. However, this isn't the end all be all.
"I've had plenty of students who are very anxious speaking and still do an incredibly excellent job," White said. "I think it may track with an increase in anxiety among younger people. Either because we're more aware of its existence, or because of structural things that cause [anxiety]."
Struggles with confidence and anxiety make it harder for students to want to stand out, but it's important to think about these issues, and how impactful they can be.
"Sometimes my issues with confidence come from people saying things that I read too much into… and I think for everyone in general with confidence, they think too much about what others think about them, and they try to become what they think others want," Odabasi said.
By working to grow confidence, it can then become easier to form your own opinions and be proud of them. "I think it takes confidence to be willing to stand out and not fit the status quo, and make your own path," Odabasi said.
It's not easy to grow confidence, but it can be very beneficial. To gain confidence, practice and humility are key. "Confidence helps people digest what you're saying and see it as something with credibility," White said. "Humility is a huge piece. You need to get over the concept of embarrassing yourself too much… And acquainting yourself with the thing that you're uncomfortable with over time."
When it comes down to confidence in one's self, their actions and their words, the nerves may never go away. However, having a sense of self, thinking through opinions and what is put onto social media can be informative and influential.
"If what you're saying matters to you, or if what you're doing matters, there's always going to be some nerves attached to that, because there's stakes involved. "
Hot takes at LSE vary by topic and depth, but they were all shared by students with their own ideas. As high school students have less confidence and more anxiety it can make it hard to be a unique individual, but thoughtfulness and taking time to get informed can help with feeling sure when forming an opinion. Whatever unique perspective there may be, confidence is key and everyone is their own person, with their own values; no matter what they are.
About the Writer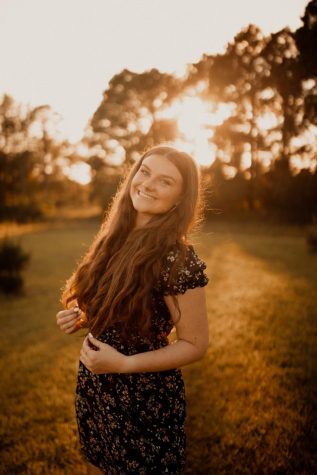 Emily Stoner, Photo Editor
Emily Stoner is a senior at Lincoln Southeast. She is involved in Student Council, HOSA, Peer Mediation and more. Emily plans to study a social science...