LSE Choir prepares for first in-person concert of the year
Whether in-person or online, the Lincoln Southeast High School (LSE) Choir members continue to sing and perform with pride. With this school year coming to an end, auditions for next year have taken place and decisions have been made regarding who will perform in which choirs. Nonetheless, now's the perfect time to look back at how LSE Choir remained resilient and flexible during the pandemic. However, it's also important to look forward to what's to come which, in this case, is the first in-person concert of the year. 
Although there were many differences in how rehearsals and concerts were conducted this year, adaptations have been made that allowed for the choir to run more smoothly. Senior Briallen Satterfield is involved in both Court Choir and Bel Canto, and she was able to experience the different ways in which her respective choirs adjusted to the pandemic by moving concerts online. 
"We recorded a first concert just for us because we were still figuring out how to do it in the first quarter, but in the second quarter we filmed another concert and we did a YouTube live premiere," Satterfield said. "Everyone's family watched it on Youtube one night instead of coming to the school because it was pre-filmed."
Satterfield also holds the position of Student Director for the freshman choir. During this time, she watched how the choir she led and the ones she participated in gradually adapted to wearing masks when singing. 
"With the masks, at the beginning it felt like it was more of a barrier than it actually is," Satterfield said. "It's harder to get in that mindset of understanding that even though it's there it doesn't stop you from singing – you just have to sing out. We've gotten used to that now, and I feel like we have a really good sound."
Although singing with masks and hosting concerts during the pandemic no longer pose much of an obstacle to the success of LSE's choirs, the lack of in-person interactions outside of rehearsals has been hard for some of the members. With the pandemic, none of the groups were able to finish the year with their last concert either, so developing connections is more important now than ever. However, Satterfield believes that being able to sing together makes up for it. 
"[Choir] is like it's own little family," Satterfield said. "Singing with someone creates a bond that you can't really get through any other way. Learning to harmonize and listen with someone is different from just telling others about yourself, and it's kind of like your souls connect in a way. Singing together is just so different – it creates a connection."
Although LSE Choir wasn't able to have complete closure last year with the lack of a final concert, Court Choir and Royal Court are now preparing for their first in-person concert of the year, which is set to be April 12, 2021. 
"I'm really excited and I hope things don't change due to the pandemic," Satterfield said. "We're going to go to Christ Place Church, it's a big venue and there will be space between groups. So it'll be a bit longer for the concert, but it's definitely worth it for the music."
About the Writer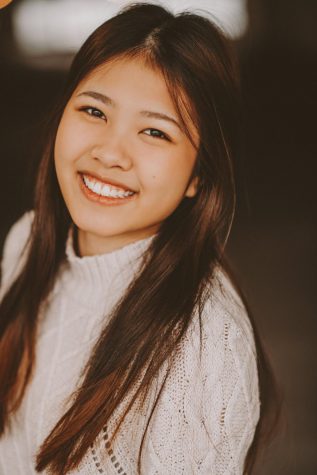 Jen Quach, Editor in Chief
Jen Quach is a Senior at LSE. She is involved in Debate, Band, Student Ambassador, Peer Mediator, and HOSA outside of the Clarion. In her free time, she...